2022•04•04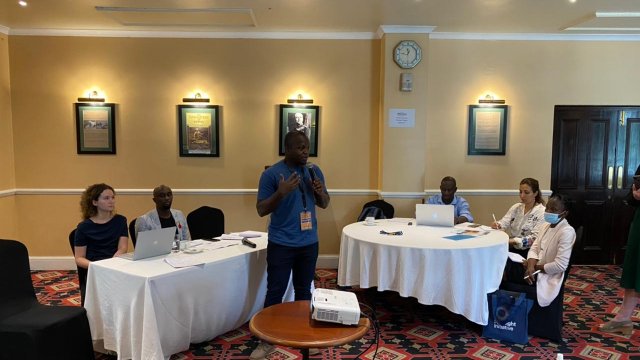 by Ronald Musizvingoza, Postdoctoral Fellow, UNU-IIGH 
On 21-24 March 2022, I had the privilege of attending an Expert Meeting on Data and Research on Female Genital Mutilation in Nairobi, Kenya organised by the UNFPA-UNICEF Joint Programme to Eliminate Female Genital Mutilation. The meeting brought together over 100 experts both online and offline from across the world with representatives from civil society, governments, UN agencies and academia to discuss the UNFPA's Global Agenda for Research on FGM.
The meeting came at a critical time as the number of girls facing the risk of undergoing FGM continue to increase, with more than 200 million girls and women alive today having undergone FGM, and an estimated 4.6 million girls are at risk of being cut by 2030. As the Sustainable Development Goals (SDG) target zero new cases of FGM by 2030, there is an urgent need to end FGM.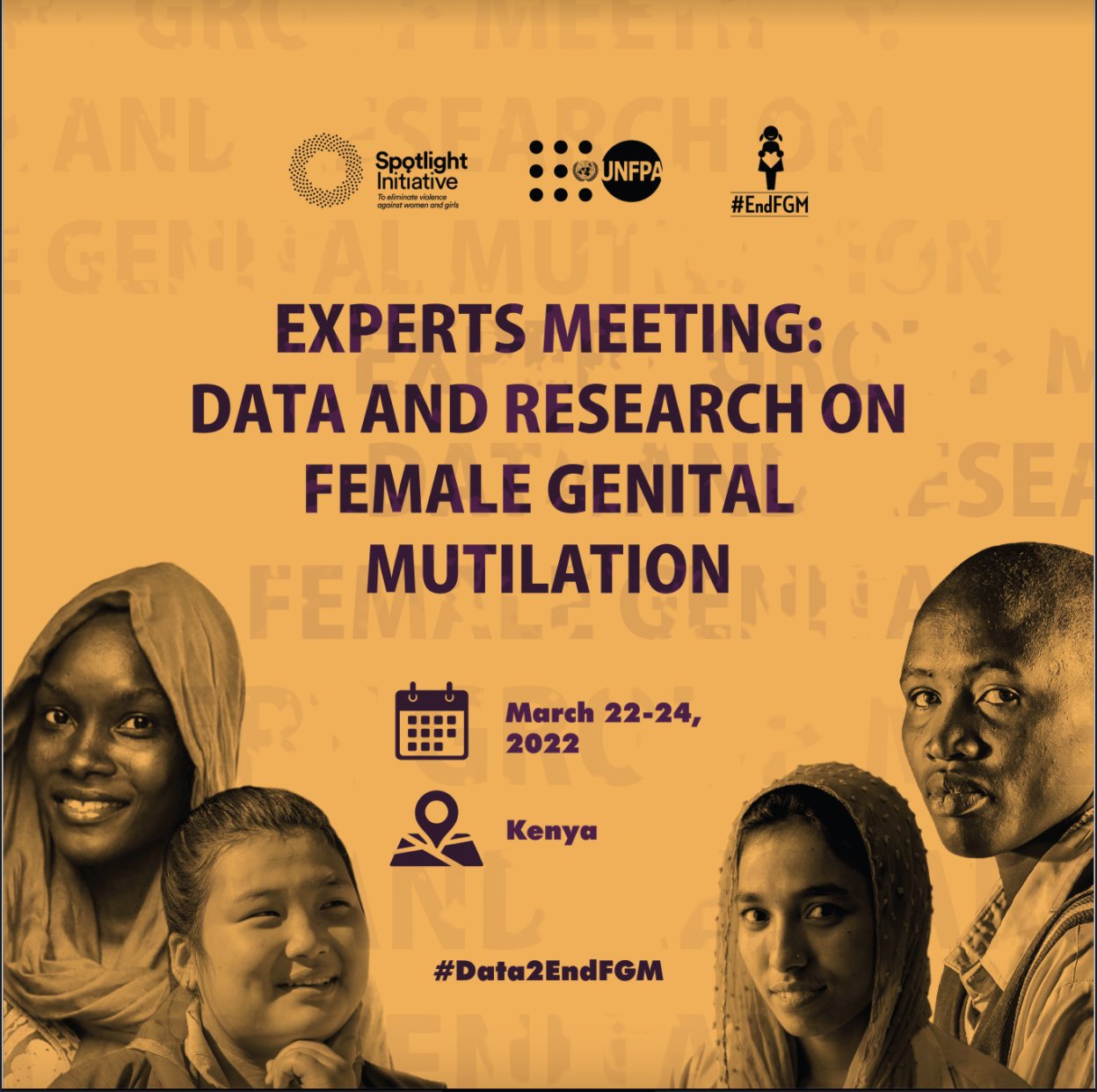 Discussions at the Nairobi meeting centred around the call for more robust data and evidence to inform policies and programmes to end FGM. The UNFPA's Global Agenda for Research aims to contribute toward reducing evidence gaps in key areas of FGM through innovative solutions. As part of this effort, UNFPA established an FGM Data Fellows Programme to spearhead the generation of this evidence and innovative analytical solutions for the advancement of FGM programming and knowledge generation. To this end, an expert meeting was convened to showcase the work of the FGM Data and Research Fellows and galvanize the expertise of various FGM data and research experts as well as other key stakeholders towards the use of the most appropriate methodologies and research questions in line with the global FGM research agenda.
Female Genital Mutilation Linkages with Child Marriage and Intimate Partner Violence
While progress has been made towards ending FGM, the COVID-19 pandemic could potentially reverse decades of global progress in stamping out the practice. Ms Bernadette Loloju, CEO of the anti-FGM Board of Kenya expressed the need to ensure that girls are safe at home while pointing to the increased risk faced by girls due to COVID-19 induced school closures. In the absence of vital services, schools and community networks, millions of girls are at risk of FGM, threatening their health education and future.
The meeting came at a critical time as the relationship between FGM and other forms of harmful practices such as child marriages and intimate partner violence (IPV) is being explored and more attention is being paid to the new and emerging risks linked to these practices. From the deliberations in the meeting, it was clear that data and evidence on the linkages between FGM, Child Marriage and IPV are critical for programming purposes, to enable interventions to efficiently tackle these three manifestations of gender inequality. The expert meeting also called for more integrated approaches to ending FGM, recognizing some of the main challenges the movement to end FGM has faced such as the lack of a multisectoral approach and lack of coordination to tackle cross border FGM. Additionally, there is evidence of FGM occurring in humanitarian settings and an increase in the medicalisation of the practice presents challenges to current approaches. While collecting data during emergencies remains an issue, leveraging innovative tools and existing mechanisms is key to ensuring that FGM services are included in the continuum of essential services in fragile contexts.
There was a consensus during the meeting that efforts to end FGM should begin with robust data and evidence, especially at the community level. Participants called for the need for data and evidence that is "useful, usable, and used", referring to the existing gaps between policy and research and the lack of effective tools and methodologies for FGM research. Mireille Tushiminina, the Global Coordinator of the UNFPA-UNICEF Joint Programme on the Elimination of FGM emphasized the need to have the right data including how to correctly measure FGM to ensure we achieve zero cases by 2030. The UNFPA Kenya Country representative also highlighted some of the major challenges facing current FGM research which include ineffective communication and dissemination of data that is meaningful and usable to all key stakeholders.
While we aim to eliminate FGM by 2030, the sticking point is how to measure the progress towards zero cases. Nationally representative surveys such as the Demographic and Health Surveys and Multiple Indicator Monitoring Surveys remain the only sources of data to track progress on FGM. Limitations for household census data include the long timeframe needed to produce data meaning waiting a bit longer to determine if progress is made in ending FGM. An example is Kenya which has a deadline to end FGM by 2022 but there are upto date sources of data to track this progress since they rely on DHS which is available in 5 year intervals. Surveys also results in data gaps for certain countries and populations due to incomplete sampling frames usually designed for nationally representative data. Household surveys rely on self-reported data on FGM which is prone to inaccuracies due to recal bias, ambiguity in questions and underreporting because of the sensitivity of the topic or illegal status. Another challenge arising is the secrecy surrounding, FGM making it difficult to accurately capture the extent of the practice while data collection in emergency settings which has seen an increase in the practice remains an issue.
Towards new innovative approaches to FGM research
As we work towards eliminating FGM, the meeting highlighted the importance of new innovative approaches for generating evidence, programme implementation and service delivery. For example, logbooks at the healthcare facility level can be used to estimate the prevalence and incidence of FGM and tackle the rise in the medicalisation of the process. Participants also highlighted the importance of qualitative data especially utilising the most significant approach to document case studies for programme evaluation and monitoring as an effective way of building evidence toward ending FGM.
Coinciding with the rapid proliferation of digital technology in many regions of the world, the panel discussion on Measurement the impact of social media towards elimination of FGM highlighted some of the major risks and opportunities of adopting such tools for FGM research. While digital technologies offer research opportunities, I argued that not all platforms are suitable. As a good practice research endeavour should be preceded by media landscape analysis to understand who and how people use social media in given communities. The digital divide in terms of gender, literacy, residence, and age results in communities most affected by FGM being missing on digital platforms. Participatory citizen-generated data methodologies integrated on conversational media platforms (e.g., WhatsApp) are more suited for the collection of gender data that reflects the experiences of women and girls. Additionally, innovative approaches for the generation of evidence include the use of interactive radio programmes, U-report, and citizen scorecards.
A key message emerging from the discussions was that it should be possible to end FGM by 2030. However, ending FGM is not easy since it entails changing social norms within communities. As the practice become penalised by law in many countries, it has moved underground and difficult to track its progress. Data should be timely, accurate and accessible to policymakers. Triangulation of data from different sources is critical to overcoming the shortcomings of single data sources and methods. Instead of providing elaborated statistics, researchers should provide data in a form that is actionable by policymakers.
There is still more work to do to respond to the FGM Global Research Agenda. UNU-IIGH has a role to play to contribute to one of the recurring topics at the meeting: the need for improved coordination between policymakers, researchers, and programmers on integrated FGM research. As an institute that aims to bridge science and policy, UNU can help guide scientific insights to influence debates at multiple levels. Additionally, as the UNFPA Data Fellows Programme is aimed at building capacity for FGM research, UNU IIGH through its capacity building programme may collaborate with the fellows to exchange knowledge and collaborate in our forthcoming flagship courses such as gender data.
As the world prepares to end FGM by 2030, the Nairobi Experts Meeting on Data and Research on FGM provided an opportunity to critically reflect on the UNFPA-UNICEF Joint Programme to Eliminate Female Genital Mutilation over years. It served as a platform to galvanise support for FGM research that will better understand the problem and inform solutions to end the practice. UNU IIGH will closely follow the work of the UNFPA-UNICEF Joint Programme to Eliminate Female Genital Mutilation including the Global Research Agenda to look for opportunities for impact.
Dr Ronald Musizvingoza is a Post-Doctoral Fellow at the United Nations University International Institute for Global Health (UNU-IIGH). His work at UNU-IIGH falls at the intersection of gender equality (SDG5), health, and well-being (SDG3). Dr Musizvingoza's research interests include digital health, SRH, maternal health, child development outcomes, biodiversity, migration. Follow him on Twitter @ronaldmussi