2017•08•14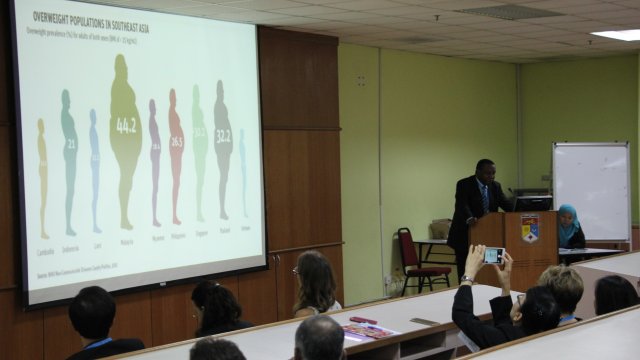 UNU-IIGH Officer-in-Charge and director ad-interim Dr Obijiofor Aginam (standing) giving his welcoming remarks at the conference. | UNU-IIGH
UNU-IIGH Officer-in-Charge and director ad-interim Dr Obijiofor Aginam (standing) giving his welcoming remarks at the conference. Photo: UNU-IIGH. Creative Commons BY-NC-ND 2.0.
30 July 2017
Obesity is a neglected public health problem, says University Malaysia Sarawak (Unimas) Department of Community Medicine and Public Health Associate Professor Dr Zafar Ahmed.
He explains: "Nobody is approaching it for the sake of managing the obesity; we are trying to address it indirectly by trying to reduce the burden of its co-morbidities, such as diabetes or hypertension.
"For me, we must manage the obesity per se, and only if we are managing it, will we get the right results."
Applying the concept of prevention being better than a cure, he says: "Instead of trying to manage the complications that exist because of the obesity, we should start managing or trying to prevent the obesity per se."
This is especially as even a five to 10% reduction in weight, which is maintained, can bring about long-term health benefits for an obese person.
As part of his research, Assoc Prof Zafar and his team presented two questions based on three hypothetical situations to randomly-selected obese and overweight patients attending government primary care clinics in the Kuching district of Sarawak.
The questions were: would they rather reduce their weight by 5kg in three months via drugs and exercise, diet and exercise, or drugs, diet and exercise, and how much would they be willing to pay for the method they choose.
To the researchers' surprise, 94.1% of the participants opted to lose weight via diet and exercise, followed by 71.8% via drugs and exercise, and 70.6% via drugs, diet and exercise.
Given a minimum option of RM10 for each scenario, the participants were willing to pay an average of RM88.80 to lose weight via diet and exercise, RM48.87 for drugs and exercise, and RM60.18 for drugs, diet and exercise.
This, according to Assoc Prof Zafar, is a reflection of the economic burden obesity and overweight has from the patient's perspective, and can be used to help formulate appropriate policy to deal with the issue.
He was presenting on Estimating Clinical Burden and Valuation of Weight Management Strategies (Using Willingness to Pay – WTP) For Overweight And Obesity In Primary Care Setting In Sarawak, Malaysia at the recently-held Obesity Crisis In Southeast Asia: Issues, Challenges And Policy Pathways conference.
The two-day international event was organised by the United Nations University – International Institute for Global Health (UNU-IIGH) at Universiti Kebangsaan Malaysia's Faculty of Medicine in Cheras, Kuala Lumpur,
Assoc Prof Zafar was followed by his colleague, Dr Euphrasia Bari, who presented on Perceived Barriers Toward Weight Management in Primary Care Facilities.
According to Dr Euphrasia, the factors affecting whether or not a person manages their weight includes their health status (if they have an illness related to their weight), enabling factors like education, income and occupation, and predisposing factors like age, gender, marital status and lifestyle.
The data they collected via face-to-face interviews found that 69.3% of the obese and overweight patients they spoke to were worried about their weight.
However, only half (50.8%) have actually tried to lose weight, with 42.3% going on diets and 32% trying exercise.
Dr Euphrasia says: "From this study, it was found that 20% to 21% of the overweight and obese patients had barriers to weight management.
"It was found that older patients, males, and patients who were not working, without co-morbidities and without prior efforts at weight loss, had a poor attitude towards weight management."
She adds: "These findings can help us develop personalised approaches to weight management for each patient, for example, we can take into account their preferences, lifestyle and social situation."
Behavioural modification is an important component that needs to be included in weight management, Dr Euphrasia believes.
However, she acknowledges that it is difficult to implement, and would require long-term monitoring and follow-up.
Perceptions and consumption
While the actual amount that we weigh can be clearly established, what may differ from person to person is the perception of whether that weight fails within the normal, underweight or overweight category.
Dr Kuan Pei Xuan, a medical officer with the Clinical Research Centre in Kuching, took a look at this topic in her study on Overweight, Obesity and Body Image Perception Among Medical Students In Sarawak, Malaysia.
Specifically, her study recruited more than half of the Unimas medical student population during the period of September to October 2016.
Among the interesting results she found were that more than half of the overweight students (56.1%) and 13.3% of the obese students perceived themselves as having normal weight.
And in fact, 8.2% of the overweight and obese students were satisfied with their current perceived body image.
Conversely, 59.4% of the normal and underweight students thought they were too fat, with one underweight student considering him/herself to be obese.
Another factor affecting obesity in Malaysia is the frequency of eating non-homecooked food.
"There are quite a lot of surveys that demonstrate an association between food choices while eating out and higher energy content," says Taylor's University senior lecturer Dr Elise Mognard.
She was presenting on Food Supply Practices and Effects On BMI: Insights from The Malaysian Food Barometer.
According to the findings, 61.65% of individuals eat at least one meal per day outside their homes.
And even among those individuals who only eat at home, 12.5% of them consume one meal that is prepared outside the home, i.e. takeaway or delivery.
Says Dr Mognard: "Here we have a total of about 75% of individuals who are eating at least one meal that is coming from outside, whether they're eating outside or at home."
She adds: "If we are looking at intake, we can observe that about 64% of food intake is coming from outside, either consumed outside or at home."
While food intake is still generally regarded as an individual decision, Dr Mognard says: "We need to take into account the fact that the decision is not actually relying on individuals only, but also on different stakeholders, especially the owners of food stalls, mamaks and so on, who are partly deciding what's on the plate at the end of the day."
In total, there were around 20 presenters at the conference, including three keynote speakers, from seven Asian countries and Scotland.
At the end of the conference, it was decided that the presentations would be consolidated into a policy brief, op-ed piece and a special journal edition, in order to help policy decisions on obesity.
***
This article originally appeared at The Star.