2017•06•08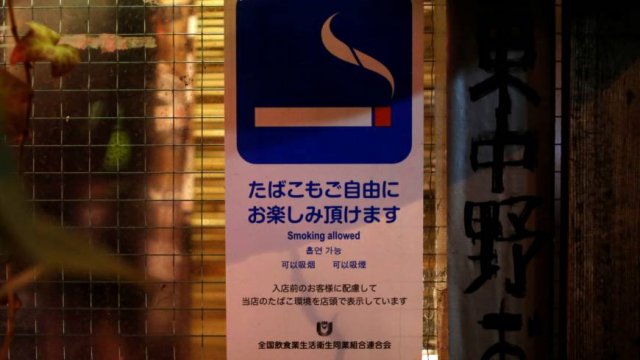 A sign reading 'smoking allowed' is displayed outside an 'izakaya' (pub) in Tokyo in March. | REUTERS
Photo: Reuters. Creative Commons BY-NC-ND 2.0.
31 May 2017
The government's move to ban smoking in indoor public places ahead of the 2020 Tokyo Olympics has hit a snag due to staunch resistance from lawmakers in the ruling Liberal Democratic Party trumpeting smokers' rights and the need to protect the tobacco industry.
But if Japan stalls in its attempts to push anti-smoking legislation through the Diet, it could be "singled out" for violating an international treaty on tobacco control, to which it is a signatory, warns a health governance expert at a United Nations University-linked research institute.
In 2004, Japan joined the WHO Framework Convention on Tobacco Control (FCTC), the first international public health treaty, which went into force in 2005. Now signed by 179 countries and the European Union, the FCTC aims to reduce demand for tobacco consumption and protect the public from exposure to tobacco smoke.
The treaty urges signatories to implement measures to prevent passive smoking in "indoor workplaces, public transport, indoor public places, and as appropriate, other public places."
"When you accept a treaty internationally, it creates an obligation on you as a state," Obijiofor Aginam, interim director of the UNU-International Institute for Global Health in Kuala Lumpur, said in a telephone interview last week. "If you look at Article 5 of the FCTC agreement, it talks about how every country has to put in place a national coalition that makes legislation … and that is to try as much as possible to exclude the tobacco industry from this process.
"So what's happening in Japan is actually a violation of Article 5," he said.
Article 5 states that signatory nations trying to implement tobacco control measures must "protect these policies from commercial and other vested interests of the tobacco industry in accordance with national law."
While other countries have gone through similar battles over smoking regulations, Japan's situation is unique and complex.
The country's sole cigarette manufacturer Japan Tobacco, which was entirely owned by the government until 1985, still has a third of its shares held by the Finance Ministry. The government raked in over ¥70 billion in fiscal 2015 just in dividends from JT shares, while the central and local governments collect roughly ¥2 trillion per year in cigarette taxes. Such financial interests have long been at odds with the stance of the health ministry, which is responsible for protecting the public from the hazards of smoking.
Aginam, however, stressed the FCTC is unequivocal in its call for states to remove industry influence, adding that if Japan fails to follow through with its commitment under the treaty, it could be criticized as reneging on its promises in the next biennial convention review, called COP8, to be held in Geneva next year.
"Japan would not want to be singled out in that meeting for criticism," said Aginam, who was born in Nigeria and trained as an international lawyer. "The LDP and those MPs need to be reminded that they have an obligation on the international treaty to pass anti-smoking legislation. And in doing this, they should exclude the interest of the tobacco industry. That is what they signed onto."
***
This article originally appeared at Japan Times.