2020•05•06
The Global Health Reflections series brings together opinion pieces, commentaries, and summaries of major issues related to global health. It is informed by the research and activities of UNU-IIGH fellows and our partners.  
by Rashila Ramli, Principal Visiting Fellow of UNU-IIGH, Professor of Political Science and former Director at the Institute of Malaysian and International Studies (IKMAS) at UKM Bangi, Malaysia, and President of the Malaysian Social Science Association.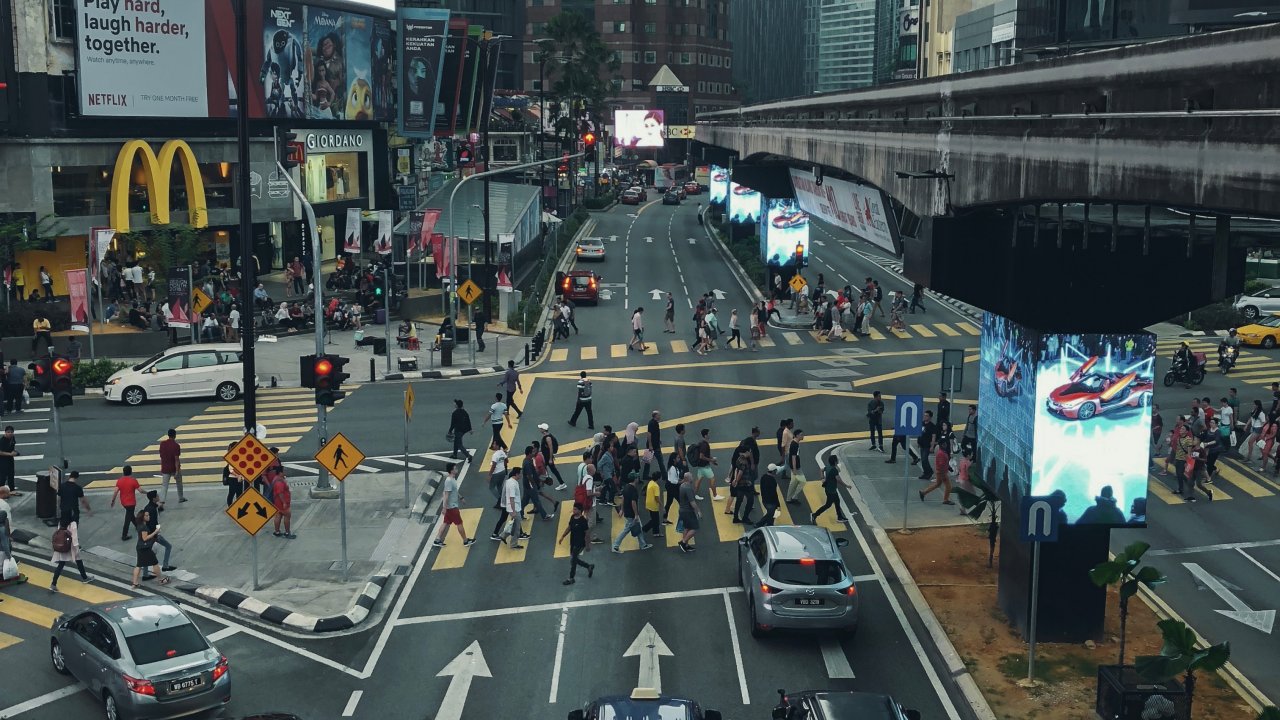 Major intersection in Kuala Lumpur, Malaysia. Photo by Omar Elsharawy for Unsplash.
In 2015, Malaysia, together with 193 other UN-members nations, endorsed the 2030 Agenda for Sustainable Development. The 2030 Agenda, along with the 17 Sustainable Development Goals (SDGs) that lie at its heart, provides a universal framework for countries to 'promote prosperity while protecting the planet' and to leave no one behind. Malaysia, like many governments, aligned its 2016-2020 country development plan with the SDGs.
However, these commitments were made before the COVID-19 global pandemic erupted. Since December 2019, the novel coronavirus, SARS-CoV-2, has spread worldwide. Many countries, including the most developed and powerful, have become almost incapacitated. A global recession is taking place, which some analysts predict will be deeper than the 1930's Great Depression.  A humanitarian catastrophe seems to be in the making with predictions of great hunger and excess deaths, especially in the least developed countries with very weak healthcare systems and equally weak social safety nets.
At present, the global narrative is focused on COVID-19 and the global recession, not the SDGs. But like COVID-19, the SDGs touch on all aspects of life. Development thinkers and practitioners have had to rethink and reboot to address some vital questions: How can the SDGs be realigned to account for the unprecedented COVID-19 pandemic? What lessons can be learned from the successes and missteps of the global response to integrate with the SDGs and rebuild the economy and society? And specifically, what role can Malaysia play in the fight against COVID-19?
Some views in this article are based on the media statement issued by the Malaysian Social Science Association on 12 April 2020 which succinctly states that "the pandemic seriously challenges the country's governance and the healthcare system, dictating the practice of the 'new normal'". We conclude this article with five proposals to rebuild the economy and society, the implementation of which are vital for a post-COVID-19 Malaysia.
COVID-19 in Malaysia
On March 18, 2020, Malaysia entered a partial lockdown. The Movement Control Order (MCO), which has now entered phase four, successfully prevented an exponential rise of cases.  At the time of writing, the number of COVID-19 positive cases is below 6,500 with a recovery rate of 70%. The use of intensive care units and ventilators are on the decline, and the fatality rate is under 1.7%, much lower than the global average fatality rates of 6.9% and highs of 18% in certain badly hit developed countries.
The impact of both the virus and movement restriction on people's health and well-being is clear (SDG 3). Globally, nearly 250 thousand people have died. With many people confined to their homes, there has been a rise in domestic violence against women and children. Longer-term, the pandemic is predicted to have a "profound and pervasive impact" on mental health.
An unprecedented public health crisis, the COVID-19 pandemic has triggered deepening economic and social turmoil, verging on a humanitarian catastrophe in some countries,  and contributed to already widening inequality (SDG 10: Reduced Inequalities). For Malaysia and many other countries, the pandemic could not have come at a worse time. The global economy has been facing severe problems due to the US-China trade war, troubles in Europe due to Brexit, and the US interest rates cut, which affected other countries' central banks. Malaysia's economy, in particular, has taken a massive hit from the ban of palm oil in Europe and the recent plunge in crude oil prices.
The closure of factories, offices, and most businesses and educational institutions has had far-reaching consequences. Suspension of business is costing Malaysia RM2.4 billion a day. Many companies are facing severe cash-flow problems and face imminent closure. This is especially true for the small and medium establishments, which constitute 98.5% of Malaysian businesses, employ 60% of the labour force, and contribute almost 40% to the national GDP. If companies are forced to permanently close, there won't be jobs for people to return to even after the pandemic eases (SDG 8: Decent work and economic growth).
The ramifications of large-scale job losses would be catastrophic. Many individuals and families have been forced to dig into already meagre savings. Data shows that 71.4% of self-employed Malaysians have less than one month's savings, while 82.7% of those working in the private sector have savings for less than two months. A government scheme to allow individuals to make early withdrawals from their pension fund was announced in March. It received 3.51 million applications before the April 30th deadline. As Malaysia begins to lift some restrictions, long queues have formed outside of pawn shops (SDG 1: No Poverty).
Family lives, work lives, and community dynamics have changed. Families are spending more time in close proximity.  While greater interaction can contribute to better family ties, increased tension and stress among family members can lead to increased domestic violence.  Exacerbating this, patriarchy is a problem in many homes. Other gender dimensions of COVID-19 that should not be dismissed are the higher possibility of lost employment among women, and for women who are still employed, many face the double burden of household responsibilities and work (SDG 5: Gender Equality).
We must also take note of the problems faced by the poorest and most vulnerable groups in society including the homeless, street children, migrant workers, and refugees. They are finding it difficult to feed themselves and a growing number find it hard to have shelter over their heads.  There are also those who have to stay in over-crowded flats or apartments, exposing themselves to the danger of infection.
What Malaysia is doing
On 11 March, the Malaysian Government set up a high-powered body, the Economic Action Council (EAC) chaired by the Prime Minister to address economic problems and challenges arising from the COVID-19 crisis, and to formulate appropriate plans and strategies. To date, two economic stimulus packages have been rolled out; a RM250 billion package on 27 March, of which RM25 billion is to provide one-off assistance to ease the financial burden of the low-income groups,  and an additional package of RM10 billion on 6 April mainly as wage subsidies for SMEs to retain their workers for at least six months. Steps have been taken to feed and house the most vulnerable groups in temporary shelters together with health screening.
While these moves, namely the economic stimulus packages, are most welcome in the short term to ease the people's burden and to prevent massive layoffs, more sustainable risk resilient plans for the medium and long term should be in the pipeline and should be anchored in the 12th Malaysia Plan (2021-2025), which will be announced later this year.
The Malaysian Social Science Association made five proposals for a post-COVID-19 Malaysia, all of which we feel are vital to hasten Malaysia's recovery and increase resilience. They are:
1) Disaster preparedness:
Build on the strengths of the Malaysian public healthcare system which has shown tremendous robustness and resilience in this crisis. Raise the level of disaster preparedness (SDG 3.d) through the use of Big Data for predictions and alerts, and maintain a ready stockpile of emergency supplies.  Ensure that the provision of public goods like healthcare remains the responsibility of the government (SDG 3.8)
2) Culture of civic responsibility:
Keep up campaigns to promote personal hygiene, public cleanliness, and health and safety awareness as mutual responsibilities (SDG 4). Ensure an efficient system of participation and involvement by non-government organisations to alleviate the negative impacts on all people and ensure a better quality of life (SDG 16& SDG 17).
3) Sustainable risk-resilient game plan:
Business and the broader economy need increased resiliency. In the short term, the Malaysian government needs to develop a comprehensive and sustainable social protection system to help the M/SMEs to cope with unprecedented economic situations (SDG10.4). Going forward, the country needs a people-centred economic policy; for instance, better policies on flexible work for both women and men.
Since many women work in the informal sector, social protection must be considered substantively (SDG 5 and SDG 10). Aimed at reducing inequality and ensuring sustainable development (SDG 17.4), policies need to be embedded in the 12th Malaysia Plan (2021-2025) to ensure greater cooperation and policy coherence between agencies as well as between federal and state governments.
4) High-speed cost-effective connectivity:
Many daily activities have moved online – business functions, school, and university classes, and purchasing food and other essentials – but gaps do exist. We need to identify the gaps in our preparedness and connectivity so that all organisations are fully prepared for this eventuality (SDG 9.1). Connectivity needs to be cost-effective and available even in remote areas (SDG 9.c).
5) Research & Innovation:
Research and innovation are crucial for Malaysia to progress in this highly competitive world. Funding for high-quality research and innovation is a key part of that and the COVID-19 crisis makes such research and development more imperative and urgent. While financial resources are not easy to come by with the looming global economic recession, Malaysia should at least maintain its present level of R&D expenditure (1.44% of GDP) and increase it later when the situation allows ( SDG 4.7 and SDG 9.5).
Priority areas need to be revisited and adjusted. Research in areas of the economy, social, health, and environment should be evidence-based and collected data made accessible to relevant stakeholders. Special attention must be given to governance (SDG 16) and partnerships (SDG 17).
On 23rd April, the Malaysian government extended the fourth phase of the MCO to ensure the outbreak in Malaysia will remain under control. As of 4th May, some restrictions have been eased. This is in line with the "soft landing" exit plan – a staggered approach towards lifting the MCO and opening-up – announced by the Health Ministry. We should use this extended period of 'staying at home' to stay engaged with the various urgent issues and plan for the work ahead.
This article is based on the Press Statement "Let Us Together Stop The Covid-19 Pandemic, And Rebuild The Economy And Society" issued by the Malaysian Social Science Association (PSSM), 12 April 2020. I would like to acknowledge with thanks the critical inputs of the Special Advisor of the Malaysian Social Science Association, Emeritus Professor Dato' Dr. Abdul Rahman Embong, in the preparation of this article.

The views expressed in this post are those of the author and may not reflect those of UNU-IIGH.