2021•05•04
The Global Health Reflections series brings together opinion pieces, commentaries, and summaries of major issues related to global health. It is informed by the research and activities of UNU-IIGH fellows and our partners.
By Harvy Joy Liwanag and Emma Rhule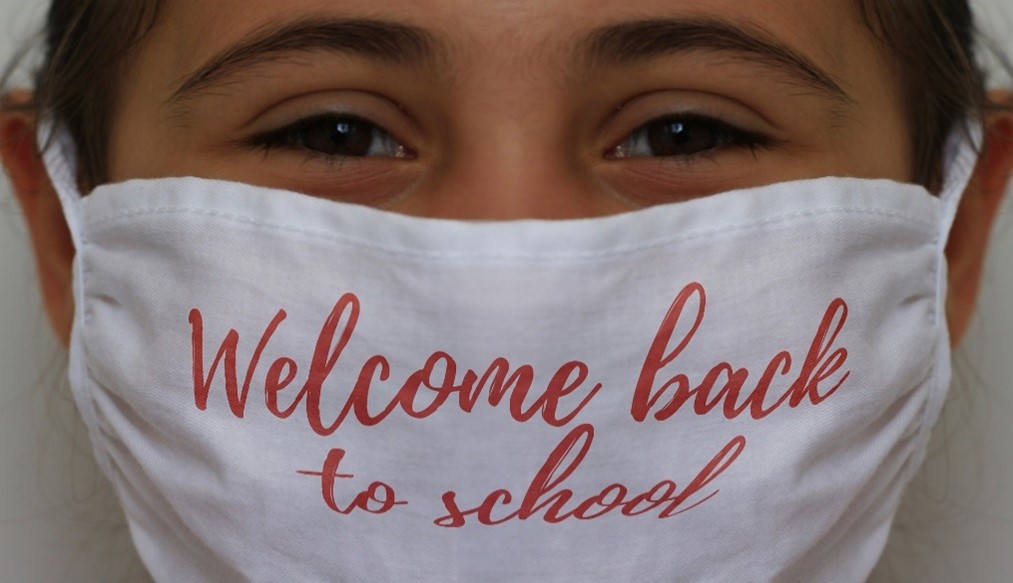 Image by Gerd Altmann | Pixabay
We advocate for the importance of evidence-informed decision-making in global health. However, this process is rarely straightforward because evidence does not exist in a vacuum. We acknowledge that for evidence translation to succeed, what we understand about bridging research and policy in development is also true (Figure 1). Evidence is but one component among the interacting dimensions of politics and brokers of information (links) all sat within a broader socio-economic and cultural environment (external influence). Together, these factors influence both policy and decision-making and the successful implementation of enacted policies. A failure to adequately consider these external factors and to put processes in place to build public confidence undermines policies from the outset.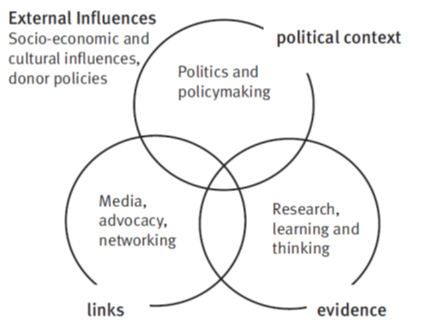 Figure 1. The Research and Policy in Development (RAPID) Framework (Overseas Development Institute, 2004)
Take the case of school closures during the COVID-19 pandemic as an example. Since June 2020, UNESCO, UNICEF, the World Bank, and the World Food Programme have jointly advocated for the safe re-opening of schools worldwide, and the WHO issued updated comprehensive guidelines for safe school re-opening in September 2020. However, in many countries schools have only partially opened or have remained closed despite the evidence that full re-opening can be safe and feasible. A snapshot of the school situation vis-à-vis incidence of COVID-19 globally in March 2021 has revealed that, except for most of Africa, schools are still not fully open in many countries in America, Europe, and Asia (Figures 2 and 3).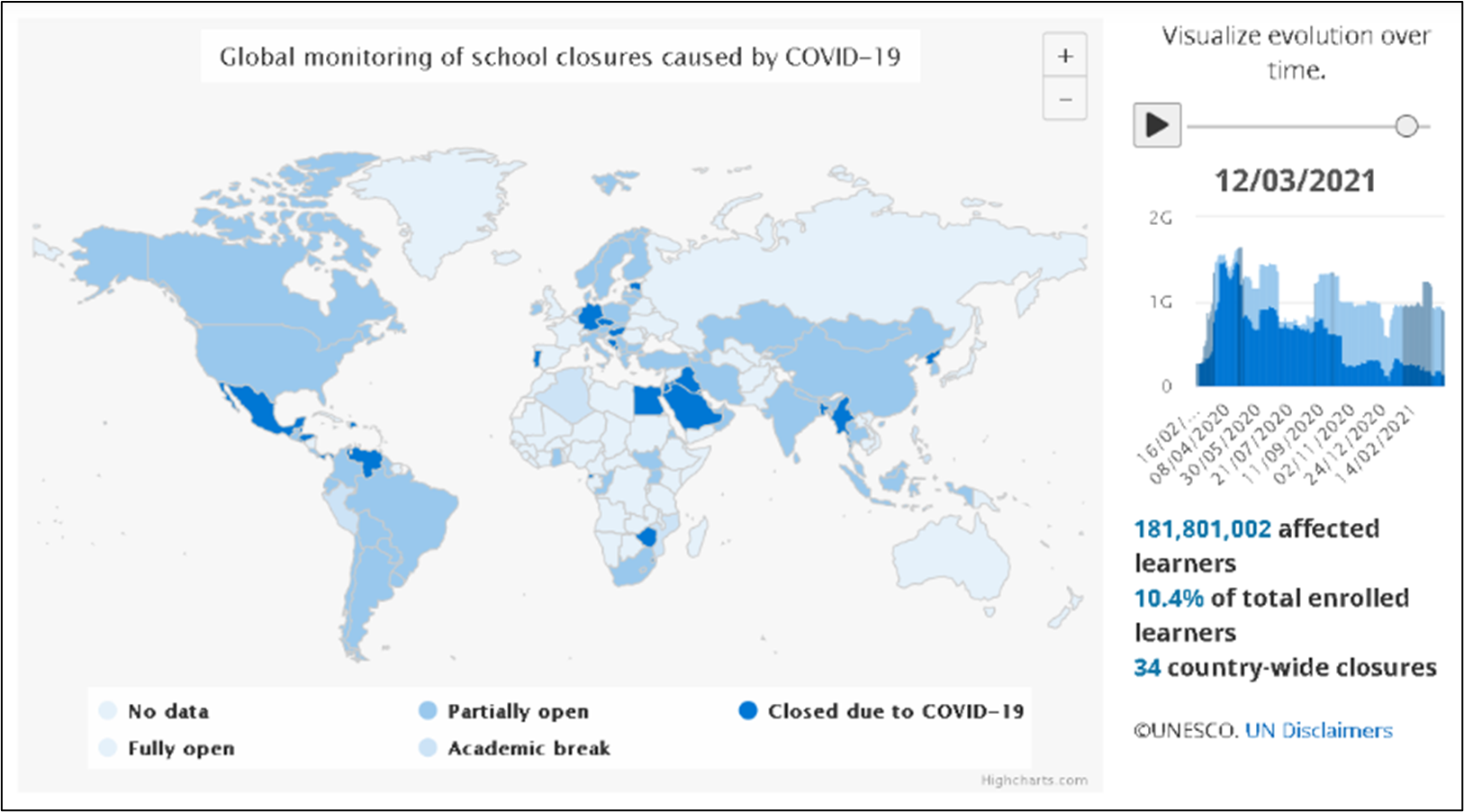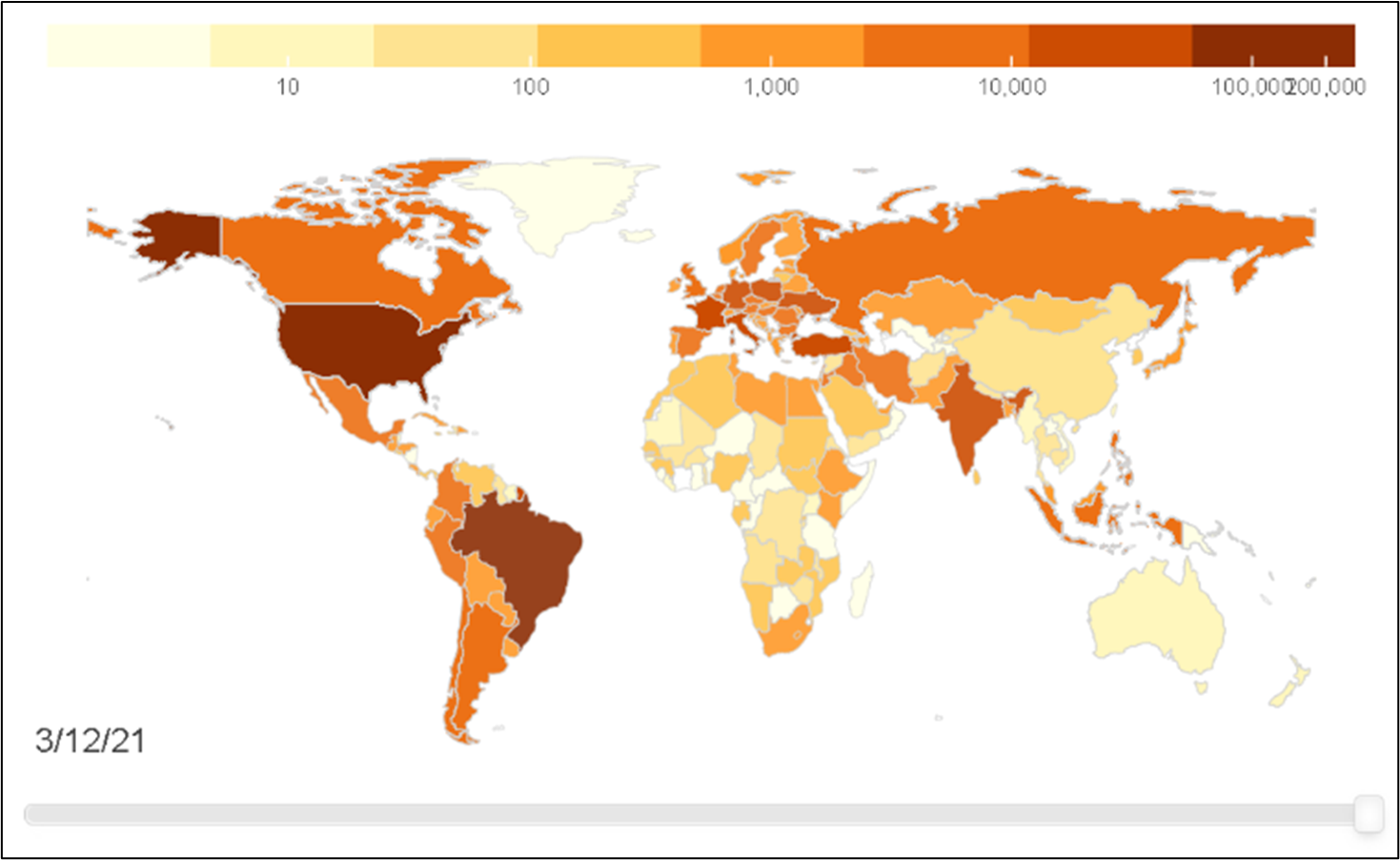 Figure 2 (top): Global snapshot of school status (partially open, closed due to COVID-19, fully open, academic break) on 12 March 2021, including the number of affected learners (pre-primary, primary, and secondary levels) (Source: UNESCO, 2020);
Figure 3 (bottom): Global snapshot of COVID-19 outbreak activity measured by the five-day moving average of new cases also on 12 March 2021 (Source: Johns Hopkins University, 2021)
Here we argue that to re-open schools amidst COVID-19, public confidence is as important an element as the supporting evidence. This is particularly important in a time of globally declining trust in governments. The most recent WHO guidelines on school re-opening currently focus on a risk-based approach and ensure physical distancing, mask use, adequate ventilation, hygiene practices, and screening of students and school staff. Building public confidence should be added and integrated into these guidelines. We, therefore, propose some public confidence-building measures to help accelerate school re-opening in all countries.
What does the evidence say?
To build public confidence, governments first need to absorb and understand the evidence that has emerged regarding children's susceptibility to COVID-19 and the role of schools in community transmission. It is fair to say, however, that the evolving dynamics of the pandemic especially during its early phase when little was known meant that governments had to make decisions ahead of the evidence. "Hindsight is always 20/20, but you can't have all the information to base the decision [on] in the time of a crisis," as the Indian author Aditi Chopra once said.
Governments already knew then that school closures have adverse effects on children's health and wellbeing, severely impact their learning and future earning potential, and exacerbate inequities when vulnerable children in resource-poor settings lose access to school-based services such as vaccination, mass deworming, feeding programmes, and psychosocial support. Governments nonetheless decided to close schools last year with the assumption that it would be temporary and that the potential benefit would outweigh the risks given the evidence from previous influenza outbreaks in the United Kingdom where school closures have been shown to effectively stem transmission.
However, the evolving evidence about COVID-19 over the last several months has indicated that most of those <19 years old who get COVID-19 are asymptomatic or mildly symptomatic; that younger children with COVID-19 have a very low risk of mortality compared to adults; and that schools are not significant drivers of community transmission based on a study in England, and so closing schools may not have been effective to control transmission. This evidence also means that due to the lower risk for younger children, primary schools should be prioritised to re-open first. Prolonging school closures will exacerbate adverse effects on children who are severely and disproportionately impacted by this control strategy when their contribution to the transmission of SARS-CoV-2 (the virus causing COVID-19) is relatively small, as shown in studies of schools in Norway and France.
Risk communication and transparency are key
Second, governments need to effectively communicate the evidence to the public and actively counter misinformation. One key message to parents and teachers is that the benefits of re-opening schools outweigh the risks. Building public confidence requires governments to be transparent when some questions remain unanswered and prepare the public to anticipate likely changes in policies due to the pandemic's evolving nature. Issues like the potential impact of the COVID-19 variants on school re-opening plans and the role of vaccination not only for teachers but also for students remain unanswered but should not be used as excuses to prolong school closures further.
Transparency also means that governments should explain the reasons for their decisions in this pandemic, especially when these seem to contradict the evidence. For example, when secondary schools are re-opened first rather than primary schools, as was the case in Pakistan, the public ought to understand the reasons for such a decision. When governments can communicate the risks effectively and are transparent about the reasons for their decisions, or the fact that policies might change based on new learnings from this pandemic, they help manage public expectations and build public confidence.
Stakeholders and adequate investments
Third, governments need to listen to parents, teachers, and school staff. For example, in the United States, the Biden administration has committed to re-open schools within 100 days, yet has faced opposition from parents and teachers alike. We believe that stakeholders mount resistance to school re-opening when they feel that their concerns are not taken into account. Public confidence means that key stakeholders are solidly on board with the decision to re-open schools.
Finally, governments need to put their money where their mouth is. Public declarations of school re-opening will build public confidence when governments can demonstrate the mobilisation of the required resources, including infrastructure, materials, and systems to safely implement re-opening policies consistent with the global recommendations. Only then is the anxiety expressed by parents, teachers, and school staff likely to be alleviated. Investments should include the provision of adequate handwashing facilities in school settings, establishment of a case detection system, training of teachers and school staff on managing the "new normal" of in-person education, as well as support for virtual learning for students still unable to physically attend schools, but with the end in mind that remote learning is temporary and will not replace in-person education. Governments would do well to understand that resourcing to support school re-opening is an investment to revitalise stagnant economies.
Learn more from LMICs
Most of the studies that have provided evidence informing global guidelines come from high-income countries (HICs). It is time to expand the narrative of evidence-informed decision-making in this pandemic beyond HICs. If we want to build public confidence to accelerate school re-opening, we need to make sure that the evidence being generated and used to support school re-opening consider the contexts of those where re-opening will take place. We need more evidence from the experience in low- and middle-income countries (LMICs) for successful school re-opening and other pandemic-related challenges.
There are certainly lessons to be learned from LMICs like Bhutan, Rwanda, Senegal, or Vietnam, which have succeeded in curbing the pandemic despite sharing borders with China. Vietnam acted very early even before COVID-19 was declared a pandemic and mobilised provincial governments to detect cases and monitor border movements. The small nation of Bhutan has also been recognised for its strong sense of community as the public volunteered to help while the political opposition joined the ruling party for a unified COVID-19 response.
When global guidelines include lessons from both HICs and LMICs, we help build public confidence in the feasibility of safe school re-opening worldwide as governments and the public realise that their situations have been considered in the development of these guidelines. Whilst the COVID-19 pandemic may have exacerbated inequities, it also offers an opportunity for a paradigm shift so that LMICs are no longer viewed as inferior but instead as sources of lessons for the world moving forward.
Public confidence for school re-opening and beyond
With more than six months of in-person education already lost and an estimated 1.6 billion learners affected globally at one point, schools urgently need to re-open to arrest the catastrophic consequences on children and adolescents that will derail socioeconomic progress across countries. Public confidence is key for a whole suite of COVID-19 policies, not only to accelerate school re-opening. Take for example the backlash against lockdowns and mask-wearing, or the reluctance to vaccination in certain countries. As governments implement COVID-19 recovery policies, citizen buy-in will be vital to ensure that we can "build back better".
While hindsight is 20/20, foresight is better. Foresight means securing the world's future by protecting children's health and wellbeing today. Let us, therefore, accelerate safe school re-opening in all countries by building public confidence to support it.