2021•04•07
The Global Health Reflections series brings together opinion pieces, commentaries, and summaries of major issues related to global health. It is informed by the research and activities of UNU-IIGH fellows and our partners.
By Emma Rhule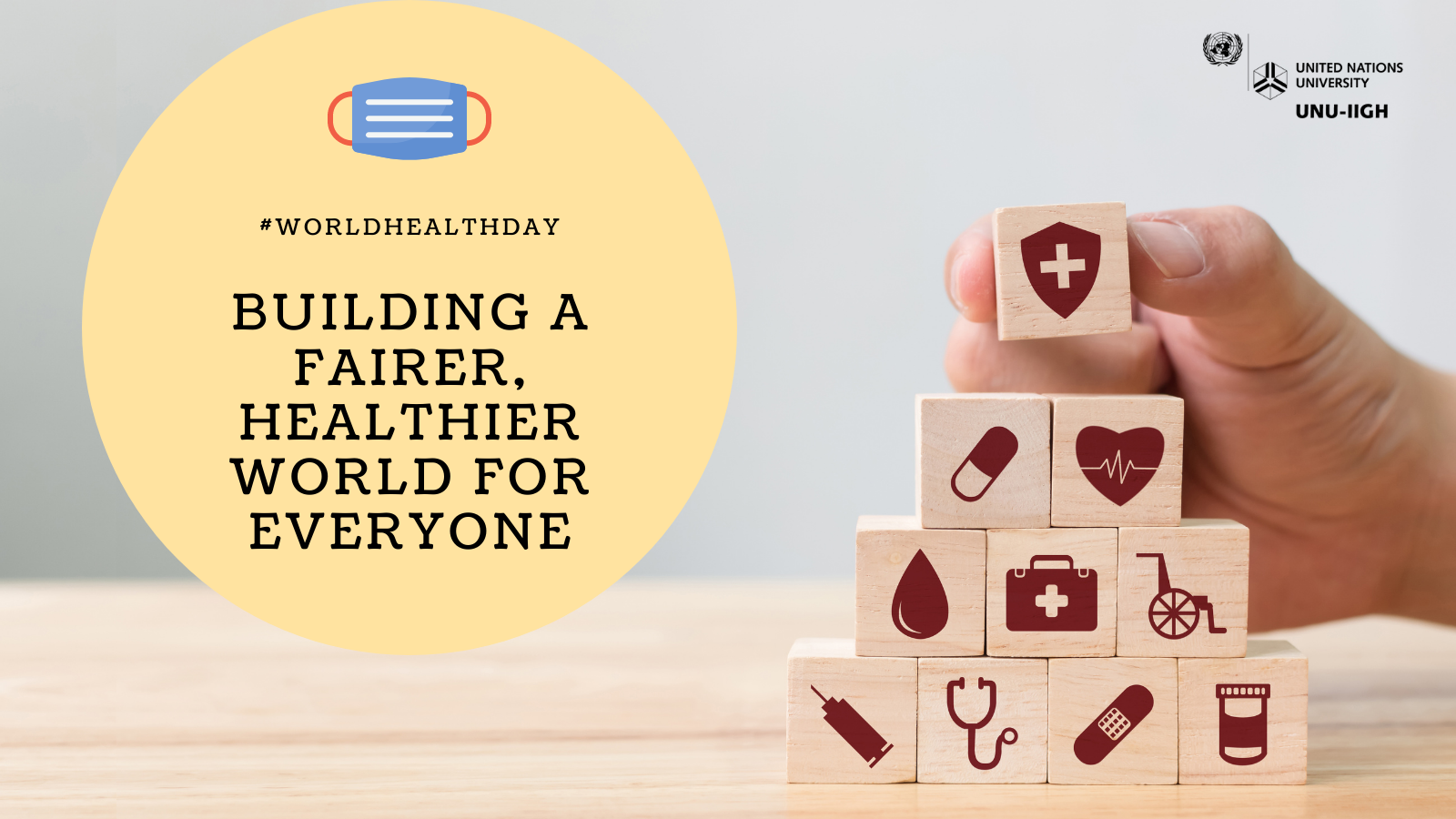 This theme for this year's World Health Day is 'building a fairer, healthier world'. The COVID-19 pandemic has highlighted (1) the many inequities that exist within global public health. Global health is inequitable when 77% of the globally administered COVID-19 vaccinations have been given in just ten countries (2). It is inequitable when amidst the worldwide closure of schools, children from lower socioeconomic backgrounds cannot participate in education, miss vital vaccinations, or face food insecurity. It is inequitable when women disproportionately shoulder the economic and social burden of lockdown measures (3). But these inequalities did not suddenly appear in 2020. COVID-19 has merely shone a spotlight on, and exacerbated, existing health inequities, many of which are built into the global public health architecture.
Many have written about global health's transition from colonial medicine to the global health we know today (4). Others still have debated and dissected what we actually understand the global health of today to be. Variously described as 'a notion (the current state of global health), an objective (a world of healthy people, a condition of global health), [and] a mix of scholarship, research, and practice (with many questions, issues, skills, and competencies) (5)', however we define it, we know that opportunities for system change abound.
As the world strives to #buildbackbetter and as we seek to radically reimagine what the global health of the future could look like, it will be vital to ensure that we do not design a system that replicates existing inequitable structures.
Not just what, but who is speaking matters
There are many different pieces to the global health jigsaw. An ongoing IIGH review of the decolonising global health literature from 1990-2021 (in prep) shows that discussions cover five main areas. The first is a general desire to decolonise global health (6). Within that, others touch on different parts of the puzzle  – to decolonise knowledge production (7), knowledge brokering (e.g. publishing) (8), and to decolonise global health funding (9). There is also, understandably, a noticeable focus on decolonising education as it relates to global health (10) and medical education (11,12) more broadly. Notable by their absence were discussions related to the broader societal ecosystem within which global health operates, for instance, on governance, accountability, and ethics. It's within this broader ecosystem that the decolonising discussions sit.
As the UN's global health think tank, a core part of UNU-IIGH's role is to provide a neutral convening space for debate on cross-cutting global health priorities. Our recent webinar on the subject of 'decolonising global health in the wake of COVID-19' saw Drs Sridhar Venkatpurum, Krushil Watene, and Ṣẹ̀yẹ Abímbọ́lá engage in an open discussion about the ethical values underpinning the decolonising movement in global health. The result was a wide-ranging conversation that covered the many different groups and agendas within the decolonising 'movement', the importance of learning from and building on existing efforts that pre-date COVID-19, particularly bottom-up approaches originating in local communities, and a reflection on whose voices are being heard or privileged and the associated implications.
The conversation also prompted as many questions as it answered:
To what extent can global health be 'decolonised' when the tools used are themselves colonial methods and which are often deployed in the language of the coloniser?
How effective are global health voices in the diaspora in bridging the gap between the global south and north, and are there concerns about the legitimacy of these voices?
How can we challenge the existing incentive structures to truly transform global health infrastructure and avoid just 'tinkering at the margins'?
Whilst the process of unpacking and addressing these questions and many others is the work that we all need to engage in, what was clear from both the panel and participants is that no one wants to see 'decolonising global health' become just another 'movement' that is mostly rhetoric or a 'thing' that institutions in the global north 'do'.
The need to further these discussions beyond their current Euro- and US-centric geographics was also evident. There has been an explosion of webinars and conferences on the topic of decolonisation, but many of these take place at times that unconsciously exclude or marginalise voices across large parts of the world, including in many low- and middle-income countries. As we continue to contribute to the global conversations, UNU-IIGH will actively be seeking to provide a platform that amplifies voices from across the global south and from populations and communities that are often excluded from policymaking processes and the global health field more generally.
The time for change is now
Undoubtedly there are challenges ahead, but this is also a time for hope. Conversations about health inequities and the systemic factors that enable and perpetuate them are taking place not just in the well-worn halls of global health but as a result of the pandemic, across mainstream and social media and in peoples' home. Not only are we buoyed by the opportunity to contribute to imagining a decolonised global health, but also to be making that vision a reality. Together we can build the fairer and healthier world that we all deserve.
References:
Shadmi E, Chen Y, Dourado I, Faran-Perach I, Furler J, Hangoma P, et al. Health equity and COVID-19: global perspectives. Int J Equity Health. 2020 Jun 26;19(1):104.
Coronavirus (COVID-19) Vaccinations – Statistics and Research [Internet]. Our World in Data. [cited 2021 Apr 7]. Available from: https://ourworldindata.org/covid-vaccinations
'We are losers in this crisis': research finds lockdowns reinforcing gender inequality [Internet]. the Guardian. 2020 [cited 2021 Apr 7]. Available from: http://www.theguardian.com/global-development/2020/may/29/we-are-losers-in-this-crisis-research-finds-lockdowns-reinforcing-gender-inequality
Richard Smith: Moving from global heath 3.0 to global health 4.0 [Internet]. The BMJ. 2013 [cited 2021 Apr 7]. Available from: https://blogs.bmj.com/bmj/2013/10/08/richard-smith-moving-from-global-heath-3-0-to-global-health-4-0/
Koplan JP, Bond TC, Merson MH, Reddy KS, Rodriguez MH, Sewankambo NK, et al. Towards a common definition of global health. The Lancet. 2009 Jun 6;373(9679):1993–5.
Affun-Adegbulu C, Adegbulu O. Decolonising Global (Public) Health: from Western universalism to Global pluriversalities. BMJ Glob Health. 2020 Aug;5(8).
Keikelame MJ, Swartz L. Decolonising research methodologies: lessons from a qualitative research project, Cape Town, South Africa. Glob Health Action. 2019 Jan;12(1):1561175.
Iyer AR. Authorship trends in The Lancet Global Health. Lancet Glob Health. 2018 Feb 1;6(2):e142.
Chataway J, Dobson C, Daniels C, Byrne R, Hanlin R, Tigabu A. Science granting councils in Sub-Saharan Africa: Trends and tensions. Sci Public Policy. 2019 Aug 1;46(4):620–31.
Green A. The activists trying to 'decolonize' global health [Internet]. Inside Development | Global Health. 2019 [cited 2019 Jul 1]. Available from: https://www.devex.com/news/the-activists-trying-to-decolonize-global-health-94904
Naidu T. Southern exposure: levelling the Northern tilt in global medical and medical humanities education. Adv Health Sci Educ Theory Pract. 2020 Jun 4;
Lokugamage AU, Ahillan T, Pathberiya SDC. Decolonising ideas of healing in medical education. J Med Ethics. 2020 Apr;46(4):265–72.