2015•09•29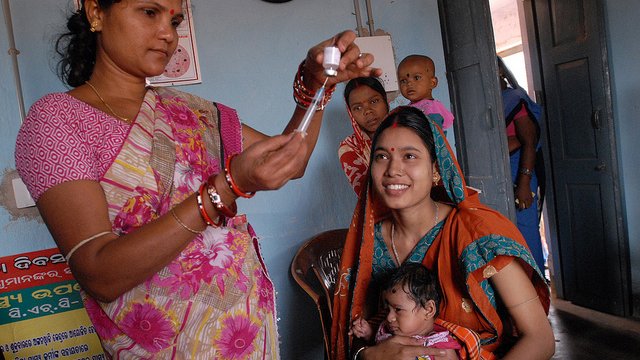 Photo: Pippa Ranger, DFID, UK
This article is part of UNU's "17 Days, 17 Goals" series, featuring research and commentary in support of the United Nations Sustainable Development Summit, 25-27 September 2015 in New York City.
Goal #3: Ensure healthy lives and promote well-being for all at all ages
Like many other negotiations at the United Nations, the process of reaching a consensus on the Sustainable Development Goals (SDGs) has been tortuous and nerve-racking. In the words of UNU Rector and Under-Secretary General of the UN David M. Malone, "the Sustainable Development Goals process, leading up to their finalization at the September 2015 Summit, has been unsteady, worrying (even for insiders) and has exhibited many of the worst pathologies of UN sausage-making".
Influenced by the report of the High-Level Panel established by the UN Secretary-General, the SDGs are driven by five big transformative concepts: leave no one behind; put sustainable development at the core; transform economies for jobs and inclusive growth; build peace and effective, open and accountable institutions for all; and forge a new global partnership.
The issue of health is primarily anchored in SDG #3: "Ensure healthy lives and promote well-being for all at all ages". This goal has 13 ambitious and specific targets: for example, reducing maternal mortality and preventable deaths of newborns; ending epidemics of AIDS, tuberculosis, malaria, and neglected tropical diseases; strengthening the prevention and treatment of substance abuse; ensuring access to sexual and reproductive health services; and achieving universal health coverage.
Like the other SDGs, Goal 3 is driven by a universal agenda of "leaving no one behind". This takes us back to the debates on "global public goods", underlined by two well-known criteria: non-rivalry in consumption and non-excludability. Global public goods should be enough for everyone to consume without rivalry, and thus no one need be excluded. And the benefits of public goods should be quasi-universal in terms of countries, people (all population groups), and generations (present and future).
Most debates on achieving consensus for providing and financing public goods must grapple with differences between various groups of actors, and their interests and involvement in the public and private sectors. While governments drive the development process, private actors (both "for-profit" and "not-for-profit") are increasingly playing a major role. Governance of global health in the post-2015 era must tackle the mechanics of public–private partnerships to ensure healthy lives for all of humanity.
With deeply embedded interests, structural inequalities, and cultural and "ideological" differences between countries, will this be achievable by 2030? What ought to be the best mechanism to finance Goal #3 and its targets? Is our world motivated by a sufficiently high level of "enlightened self-interest" and altruism to drive optimism regarding this goal and targets?
To contextualise these questions more pragmatically: Why should the industrialised countries invest in the control/eradication of neglected tropical diseases of the poor (malaria in Africa, or chagas disease in South America)? Who should incentivise the private sector, especially the global pharmaceutical industry, to devote more research and development (R&D) budget to neglected topical diseases (sleeping sickness, elephantiasis, malaria, onchocerciasis, schistosomiasis, trachoma, etc.)?
Past efforts by the World Health Organization (WHO) to tackle these problems through two commissions — the WHO Commission on Macroeconomics and Health and the WHO Commission on Social Determinants of Health — have not yet catalysed effective responses. So, who should finance safety nets in the developing and least-developed countries if health or other essential services are commodified through partial or full privatisation and commercialisation? If this inevitably leads to forms of public–private partnerships, it raises questions about the transparency and accountability of the private sector.
One of the targets of SDG #3 is to provide "access to affordable essential medicines and vaccines, in accordance with the Doha Declaration on the TRIPS Agreement and Public Health …" This raises an age-old question about the impact of trade agreements on public health. Because the TRIPS (trade-related aspects of intellectual property rights) agreement is enforced by the World Trade Organization (WTO), this target must be aligned with SDG target 17.10 (of Goal #17) that aims to "promote a universal, rules-based, open, non-discriminatory and equitable trading system under the World Trade Organization".
Can the United Nations effectively push for these targets? So long as the WTO (a non-UN organisation) remains the norm-setting centre for global trade policies, the ability of the UN and its agencies to influence the global trade agenda for positive health outcomes remains doubtful. To paraphrase Nobel laureate Joseph Stiglitz, trade has neither been free nor fair. Since the establishment of the WTO in 1995, UN agencies have been marginalised in terms of catalysing positive changes at the WTO on issues of "trade and health", "trade and human rights", "trade and the environment", and "trade and food safety".
Ultimately, the SDGs are 17 integrated, indivisible, and interdependent goals. Goal #3 (health), for instance, is meaningless without Goal #2 (ending hunger and achieving food security). Neither will Goal #4 (ensuring inclusive and equitable quality education) make much sense if children are too sick or hungry to attend school. But without an accountability mechanism in place, governments around the world (to paraphrase UNU Rector Malone), will treat the SDGs' 17 goals and 169 targets as a "menu of options, to be selected a la carte."
In 2030, 15 years from now, we will look back and assess the harvest: how many people in the world are living healthy lives!
•••
Creative Commons License
Getting Past the Pathological: Governing Global Health by Obijiofor Aginam is licensed under a Creative Commons Attribution-NonCommercial-ShareAlike 4.0 International License.