2015•11•30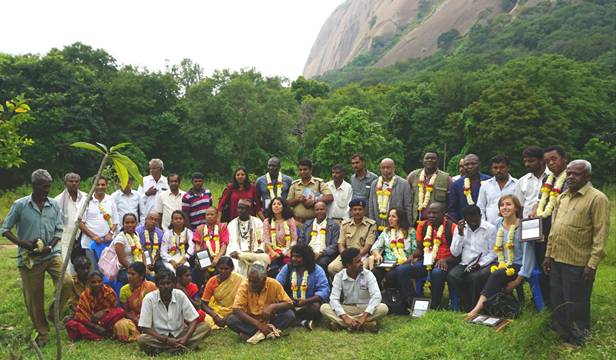 Contribution of biodiversity in securing public health and community wellbeing is being recognized increasingly in recent years in mainstream forums (SOK, 2015). The significance of ecosystem specific plants and other resources and related indigenous and local traditional knowledge towards the health and nutritional security of people in insufficiently connected and marginalized regions of the world is much more profound. To improve health care access for communities, there is a renewed interest to strengthen the potential of traditional medical knowledge as well as health practitioners and augment medicinal and nutritional resources to fulfill this role (Unnikrishnan & Suneetha 2013).
Identifying local health priorities and supplementing them with ecosystem and community specific traditional medical knowledge and resources through primary health programs is critical both to ensure conservation of biodiversity and health security at the local level. Furthermore it provides a platform to develop more interdisciplinary education and tailored capacity development tools given that it is easier for people to relate to the above concepts based on their close association with biological resources and search for good health at low cost. This is especially important in the context when progressively high out of pocket spending for health, increasing privatization, over medicalization of healthcare and curative focus are becoming important challenges of health systems. While there are several models at the local level on diverse nodes of interventions, concerted policy attention and integrated frameworks/approaches for bringing together multiple institutions and stakeholders are missing.
In addressing these knowledge and capacity gaps, UNU (IAS and IIGH) in partnership with other leading agencies and initiatives, including Biodiversity and Community Health (BaCH) initiative, ABS Capacity Development Initiative hosted by GIZ, Bioversity International, UNDP Equator Initiative, The Christenson Fund as well as the Transdisciplinary University of the Foundation for the Revilatizlation of Local Health Tradition organized a Community-to-Community Exchange and Capacity Development Workshop For Traditional Knowledge Holders. A key goal of the event was to expand peer-to-peer learning particularly amongst Indian and African based local stakeholders working on key issues around conservation and livelihoods, particularly the BaCH Initiative partnered with the ABS Capacity Development Initiative.
The event which was held between 28 September and 4 October 2015 in Bangalore, India covered key issues related to Nagoya Protocol on Access and Benefit Sharing (ABS) and traditional knowledge in the framework of the health sector. The event gathered community level participants from 22 countries to interact with Indian counterparts. This involved field visits to sites in three different states in South India (Karnataka, Kerala and Tamil Nadu) where communities have taken proactive measures relating their wellbeing to activities that may be considered ABS-compliant. This was followed by a structured workshop involving external experts and community representatives. The workshop enabled a better sharing and learning around different aspects involved in the supply, use and valorisation of biological resources.
The outcomes of the workshop resulted in a joint statement by the African delegates calling for further actions to implement the Nagoya Protocol at the local level as well as two co-operation networks being established between communities in Africa and Central Asia with plans for a larger network to be established within the aegis of the World Indigenous Network (WIN), co-ordinated by one of the BaCH Initiative's partners the UNDP Equator Initiative. This peer learning event also highlights that when local communities are exposed to the same policy issues from a context they identify with, it motivates their resolve to plan, collaborate and innovate to achieve multiple benefits.
Securing good health at the community level is a multidimensional process as it involves availability of a diversity of biological resources, knowledge related to their use, sustainable utilisation and capturing value from any actual or potential commercial use. With the adoption of the Nagoya Protocol related to benefit sharing including sensitive development of new products, managing expectations related to benefit sharing depending on scale of operation, improving symmetries in information and negotiation skills between community actors and industry and other external actors, among others need to be addressed.
The BaCH Initiative seeks to bring together and synergize the expertise and efforts spread over the different partners to operationalize a comprehensive health and wellbeing approach at the local levels of governance. The idea is to leverage on the natural resources namely ecosystems and biodiversity as well as knowledge, skills and capabilities of the populations living in close proximity to biological resources in achieving the goals of biodiversity conservation and health security. In the process, the Initiative aims to facilitate contextually relevant models of related enterprise development using biological resources such as medicinal plants, intermediate products for commercial utilization, dietary interventions fostering enhanced livelihood security. Participants from UNU included Prof. Anthony Capon, Dr Suneetha M.Subramanian, Dr Unnikrishnan Payyappalli, Dr Natasha Kuruppu and Ms. Negar Tayyar.
For full report of the workshop please see: www.bachinitiative.org