2020•06•05
This blog is part of a series linked to the UNU Evidence, Policy, and Interventions for COVID-19 Tracker. It aims to: 1) raise a range of research and policy challenges in addressing the health of migrants in the context of the COVID-19 pandemic; and 2) demonstrate the purpose and potential of the UNU EPIC Tracker as a comprehensive repository for a wide range of issues impacted directly by the SARS CoV-2 (Coronavirus) or indirectly by the measures taken to control the pandemic.
Underlined words are search terms or tags that can be used to search the database. 
5 June 2020
by Pascale Allotey, Zhie X Chan, Fatima Ghani, Emma Rhule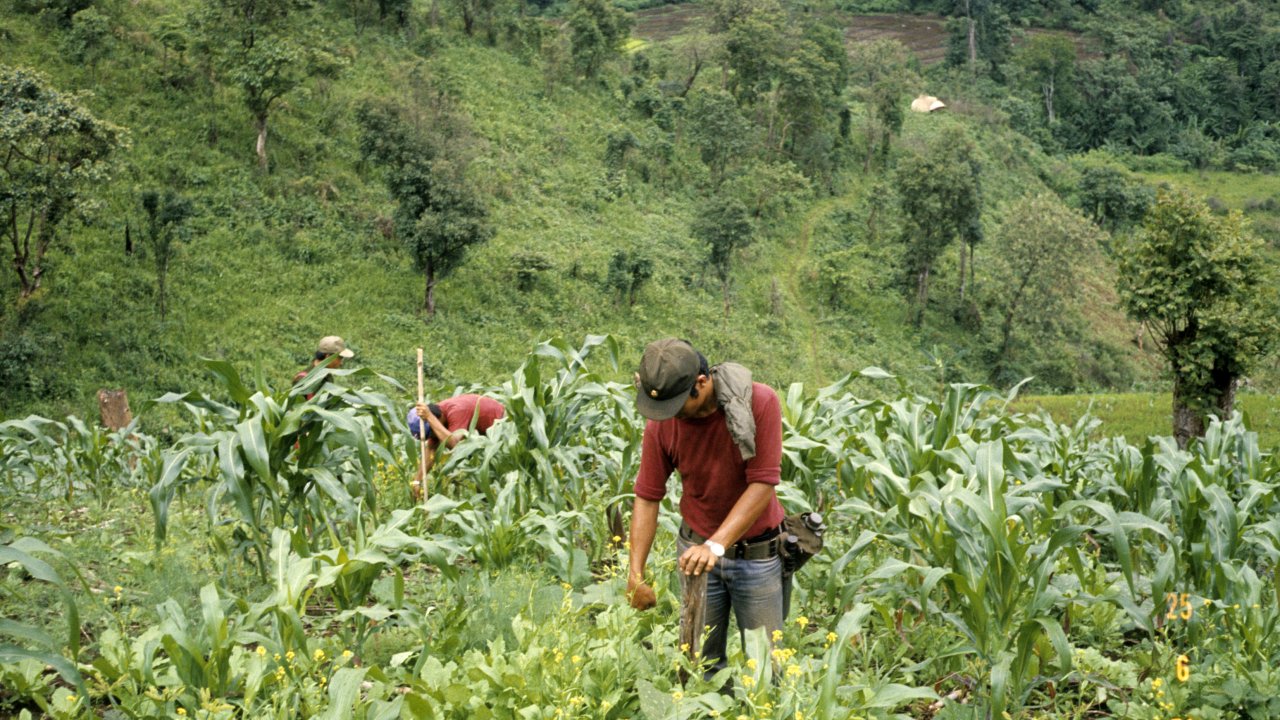 Agriculture worker in Northern Thailand (UN Photo)
The impacts of COVID-19 on migrants have made headline news around the world:
The COVID-19 pandemic could not have hit at a worse time for migrants and migrant health. Human mobility was a direct contributor to COVID-19 becoming a pandemic. This fact has been used to justify the use of migration management tools, (e.g. border closures, travel restrictions, and bars on asylum) to contain the spread. Despite the recognition of the over reliance on migrant workforce across multiple sectors in most countries, migrants have borne the brunt of the COVID-19 pandemic measures. The reasons for this are discussed below.
The transience of the migrant experience

 
In order to mitigate the spread of the virus, governments across the world have placed populations under partial lockdown or full lockdown. Daily wage earners in urban areas have sought to return to their communities before internal travel restrictions are in force, leading to large crowds at transport hubs and increasing their risk of exposure to the virus. Unavailable or unaffordable transport has resulted in these labourers risking long journeys home by foot with exposure to the elements, hunger, and violence along the way which has sadly led to many deaths.
For migrants working abroad, some governments have used COVID-19 as justification for sweeping migrant crackdowns. Under the Global Compact for Safe, Orderly and Regular Migration (GCM), signed by 152 Member States, objective 13 seeks to "(P)rioritise non-custodial alternatives to detention … using detention as a measure of last resort only". Conditions in many migrant detention facilities – overcrowding, inadequate access to nutrition, healthcare, and sanitation – lend themselves to the rapid spread of COVID-19. Furthermore, detention increases the risk of human rights violations, including the rights of children and women, including through reduced access to sexual and reproductive health services and increased exposure to gender-based violence (GBV).
As urged by the UN High Commissioner for Human Rights, the release of undocumented migrants and those in pretrial detention for non-violent offences should be a priority of governments to mitigate the risk of COVID-19 transmission and maintain public safety. This is particularly important for vulnerable groups such as senior citizens, women, and those with physical disabilities and/or chronic conditions.
Several governments have used international travel restrictions and spatial distancing policies to enforce border protection laws at the expense of humanitarianism. The repatriation of migrant workers has been a significant contributor to patterns of spread in several countries, with clusters related to returnee healthcare workers as well as construction and factory workers.
Access to testing, protection from infection, and health care
There has been a concerted effort to lobby governments to introduce policies that ensure health insurance and social protection for migrants. Although this is an ongoing challenge across nations, several countries have waived the cost of testing for SARS-CoV-2 and COVID-19 treatment for migrants.
The identification, isolation, and treatment of migrants and refugees remain a challenge in contexts where authorities continue to arrest undocumented migrants and refugees who have potentially been exposed to the virus. Governments should facilitate safe access to testing and care for these populations to limit the in-country spread of COVID-19, as well as using best practice humanitarian standards to guide support for refugees, asylum seekers, internally displaced people, and migrants living in crowded camps.
Deincarceration of prison populations
Many undocumented migrants are being imprisoned, and most prisons are unprepared to manage COVID-19 outbreaks. The UN High Commissioner for Human Rights, Michelle Bachelet, noted that imprisonment should be a last resort measure has encouraged governments to release inmates who are especially vulnerable to COVID-19, such as older people and low-risk offenders.
Employment and the migrant workforce
Despite anti-migrant rhetoric that accuses migrant workers of 'stealing local jobs', the majority of migrant workers fill vacancies in sectors that are understaffed, such as healthcare, or in which local workers do not want to work, notably '3D' jobs – those classified as 'Difficult, Dirty, and Dangerous'. As such, migrant workers constitute a substantial proportion of the COVID-19 'at risk' workforce in many countries.
In developed countries, migrants fulfil many roles within the health workforce and social and private care sectors. Often frontline workers in positions that require a high degree of close interaction with patients, they face an increased risk of contracting COVID-19. In precarious positions, migrant workers have reported feeling uncomfortable speaking up about insufficient equipment and supplies, for example, a lack of face masks. It will be essential to monitor the direct morbidity and mortality among the migrant health care workforce. There is also evidence of further increases in 'brain drain' of the health workforce from low- and middle-income countries to fill the care gaps in higher-income countries.
Fiscal policies developed by governments in response to COVID-19, such as income support, may not cover informal workers and those working within the formal economy but on precarious contracts. In many countries, migrant workers are also not eligible for vital social care provisions, for example, housing support or cash transfers.
From a legal perspective, lockdowns or "shelter in place" orders have led to a reduction in operations of immigration departments in many countries. For individuals who need to renew visas and work permits, these closures put them at risk of being undocumented or working illegally. It is essential policies are revised to enable a temporary extension of work visas.
Moving forward
Countries need to ensure that respect for human rights is embedded in their COVID-19 policies which see migrants included as part of a whole of society approach. The Global Compact for Migration, grounded in values of state sovereignty and responsibility-sharing, also has non-discrimination and human rights at its core. The Human Rights Watch has produced a human rights checklist regarding COVID-19 to guide a rights-based response that addresses the needs of vulnerable groups, including migrants and refugees.
There is a need to collect, collate and analyse disaggregated data to be able to identify and address the needs of different categories of migrants, and the range of ways they are affected by COVID-19. In this way, there is an opportunity to understand not just the impact of this current pandemic on different groups, but to put in place policies and practices that mitigate the effect of future pandemics on migrant communities.
To find out more about how you can contribute to the EPIC Tracker, please see our accompanying news article: EPIC Tracker: call for contributions or visit epictracker.org