2020•06•19
This blog is part of a series linked to the UNU Evidence, Policy, and Interventions for COVID-19 Tracker. It serves two main purposes. The first is to raise a range of research and policy challenges in addressing the health of migrants in the context of the COVID-19 pandemic.
The second is demonstrate the purpose and potential of the UNU EPIC Tracker as a comprehensive repository for a wide range of issues impacted directly by the SARS CoV-2 (Coronavirus) or indirectly by the measures taken to control the pandemic. Underlined words are search terms or tags that can be used to search the database. 
19 June 2020
by Mike Penkunas, Nik Norma Nik Hasan, David Tan, and Rashila Ramli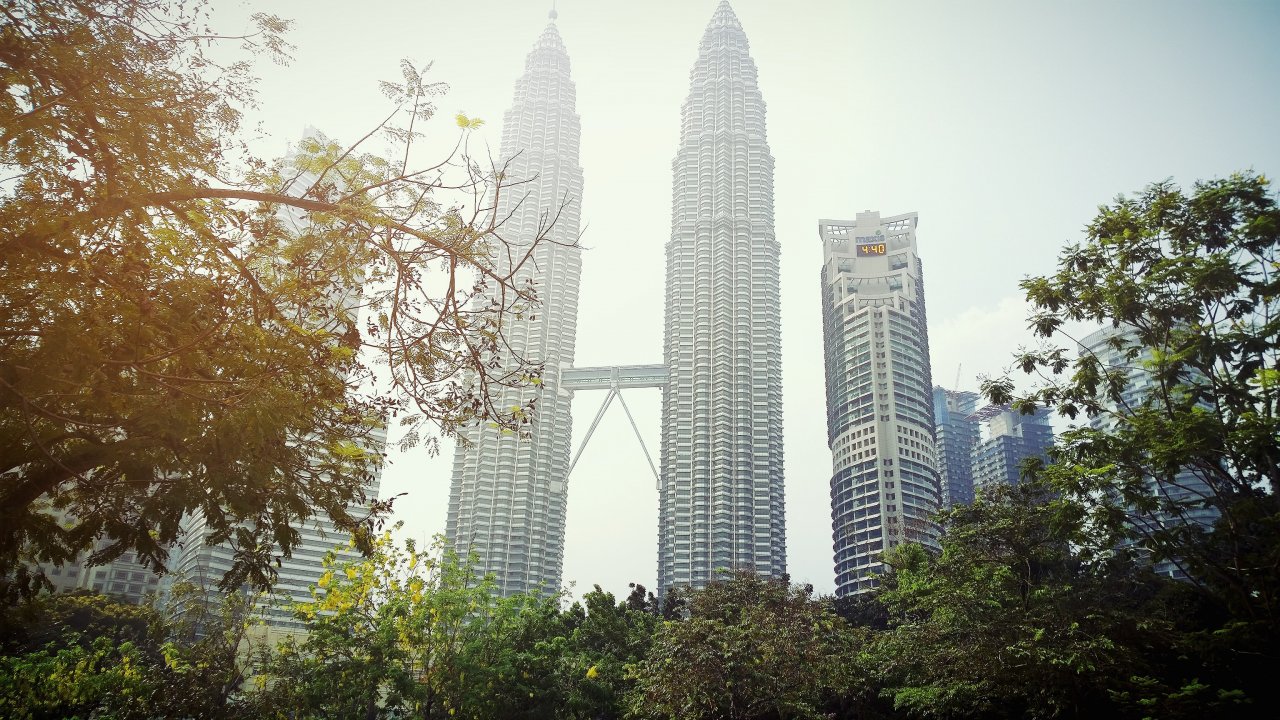 Photo by Oliver Twist for Unsplash
Before governments shifted their focus to fighting the global COVID-19 pandemic, the Sustainable Development Goals (SDGs) were gaining prominence in policy discussions. The SDGs provide leaders at all levels and sectors of government with a framework to meet targets related to health and well-being, equity, and food security. Malaysia and other governments around the world regularly monitored and reported their SDG progress to the UN. However, COVID-19 demanded that policy conversions quickly shift focus to mitigating the health and economic impacts of the pandemic. These rapid policy decisions can be appraised through an SDG lens to better understand how such actions will impact progress on the SDGs in the long run.
The Evidence, Policy, and Interventions for COVID-19 Tracker (EPIC Tracker) hosted by UNU-IIGH offers researchers and policymakers an opportunity to view the policy decisions made by governments through the SDGs. The EPIC Tracker is a crowdsourced, living platform that catalogues the public health, economic, social, and community policies created in response to COVID-19. Several high-quality trackers exist online, including efforts from the International Monetary Fund and the Organisation for Economic Co-operation and Development. Uniquely to the EPIC Tracker, all policy entries are evaluated and tagged as relevant to one or more specific SDGs. The tracker entries and tags are assigned by volunteer contributors and through the aggregation of entries found in other COVID-19 policy databases. We present a first look at the data collected by the EPIC Tracker using data from Malaysia to understand how the policy decisions made thus far correspond with the SDGs.
COVID-19 in Malaysia 
Malaysia has confirmed over 8,500 COVID-19 cases with 121 deaths as of 18th June 2020. A Movement Control Order (MCO), in effect a full lockdown, was enacted on 18th March and has been extended four times. The most recent version, the Recovery MCO, is effective until 31st August 2020. The MCO brought with it a flurry of policy decisions intended to limit the spread of the virus, these included restrictions to internal travel, the closing of borders (international travel), school closures, operating restrictions non-essential businesses as well as the banning of public gatherings. These measures were successful in "flattening the curve" of infections, and the government began easing business and social restrictions as of 4th May 2020.
At the time of writing, the EPIC Tracker contains 126 policy entries for Malaysia with a total of 247 SDG tags.
Some policy entries were associated with a single SDG, such as the establishment of a microloan scheme for small businesses (SDG8 – Decent work and economic growth), while others were tagged with up to three SDGs, like the provision of one free gigabyte of data to all mobile phone customers (SDG3 – Good health and well-being; SDG9 – Industry, innovation, and infrastructure, and SDG10 – Reduced inequalities). When presented visually, it is evident that some SDGs will be significantly impacted by recent policy decisions, while others will be less prominent or only indirectly impacted.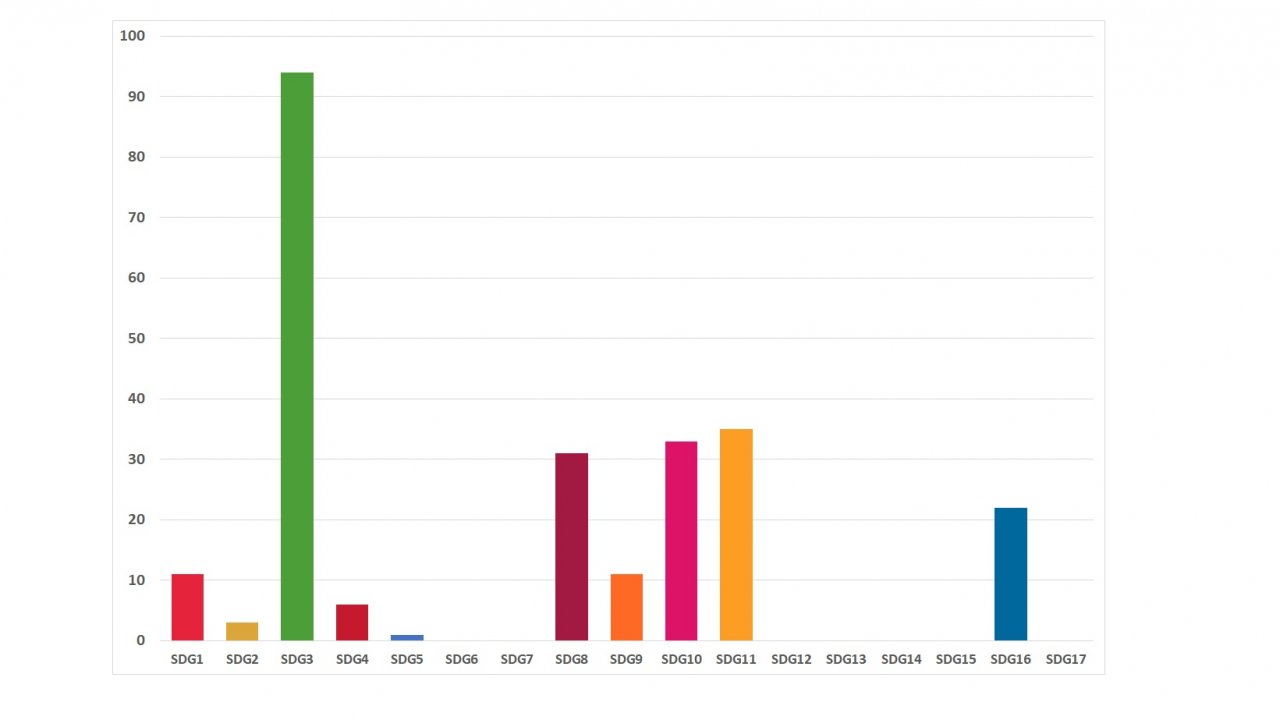 Not surprisingly, SDG3 (Good health and well-being) was the most commonly tagged SDG: 94 out of the 126 policy entries included this SDG tag. The policies enacted around SDG3 were extensive in breadth. For example, policies were developed to provide budgetary support for hospitals providing COVID-19 services (economic affairs, fiscal), reduce the cost of COVID-19 care to patients, and curb the spread of the virus by banning gatherings. It is important to note that the policies enacted to promote well-being can also have unintended effects. This is demonstrated by the severe drop off in blood donations during the MCO and the subsequent 40% reduction in blood supply. Many additional examples of adverse health consequences caused by lockdowns exist globally, such as severe increases in psychological distress and significant disruptions in vaccination services. Keeping childhood immunisations on track is particularly crucial in Malaysia given that just before the pandemic in December 2019, the country saw its first polio case in 27 years.
Although Malaysia's COVID-19 policies have been largely successful in containing the virus and treating those who were infected, increased attention is now needed to re-prioritize and bolster routine services to ensure the population is accessing the non-COVID-19 care they require. The full extent of disruption to essential services such as antenatal care and chronic disease management remains unknown, but the downstream effects of a prolonged interruption of these services will have an enormous impact on the health of the country post-COVID-19.
Special attention must also be paid to the overall health of vulnerable populations—COVID-19 and otherwise—who are often underserved, such as women, children, people with disabilities, and migrants and refugees. As collected in the EPIC Tracker, the Malaysian government has pledged free treatment to all individuals with COVID-19 regardless of nationality (tagged with SDG3). However, also captured in the tracker and tagged with SDG3 are news articles reporting police raids within undocumented migrant communities. While testing vulnerable populations is a positive contribution to SDG3, the implementation of raids among migrant workers has been sharply criticized for driving vulnerable communities away from government services and risking further spread of the virus. Indeed, a recent spike in cases has been due to spread within migrant detention facilities.
Looking across the board, the majority of Malaysia's SDG3-related interventions have thus far had a positive effect in the fight against COVID-19 itself. Still, it is crucial to also enact proactive policies for the historically underserved to ensure we "build back better" the supports for these individuals after the MCO is lifted.
Overlooked SDGs 
The EPIC Tracker remains a work in progress, and crowdsourced policies will be entered into the tracker as they are enacted. For Malaysia, there remains a clear gap in policies related to a handful of SDGs. Perhaps of greatest need are pro-woman policies related to SDG10 (Reduced inequalities) and SDG5 (Gender equality). The EPIC Tracker tagged 33 policies to SDG10 in Malaysia, but an analysis of these policies shows that none are aimed at reducing inequalities historically experienced by women. Instead, these policies are mostly oriented towards lessening the economic blow caused by the MCO through income support schemes for certain groups of workers, cash transfers for low-income families, and weighted discounts on utility bills.
Before the COVID-19 pandemic, labour force participation for women in Malaysia was just 55% compared to 80% for men, meaning women already had more limited access to cash than men. Moreover, nearly 40%  of informal workers are women, translating to fewer social protections for women who were unable to continue their work during the MCO period nor take advantage of new COVID-related government assistance schemes. Single mothers who have lost childcare due to the MCO are particularly hard hit and likely at the highest risk of falling into poverty.
Malaysia's progress in meeting the targets related to gender equality (SDG5), a cross-cutting goal relevant to many SDGs, is well documented in the 2017 Voluntary National Review. The review highlighted the high educational attainment achieved by women and girls and new legislation criminalizing violence against women. However, at the time of writing, the EPIC Tracker identified only a single policy for Malaysia related to SDG5 (geared towards single mothers). This comes at a time when there are stark reports of increases of domestic violence (GBV) in Malaysian news outlets and while the hotline for women and children experiencing abuse was temporarily suspended due to the MCO. There is a clear need for pro-women policies in Malaysia, both during and after the COVID-19 crisis. The economic effects of the crisis on women will need to be actively countered by targeted policies, in contrast to existing gender disparities that are instead exacerbated by social issues like gender-based violence and discrimination. Malaysian policies captured by the EPIC Tracker are not gender-sensitive, and the move to make them so has not yet been widely adopted. The fact that less than 15% of the Malaysian parliament is comprised of women may play a part in this.
Contribute to the EPIC Tracker 
The EPIC Tracker aims to be a one-stop-shop for researchers and policymakers searching for COVID-19 policies related to their country, region, or sector of interest. The EPIC Tracker website will also feature outputs created through the analysis of data presented in the tracker. The SDG assignments presented in the EPIC Tracker set it apart from other online policy databases and are useful in forecasting how a country's COVID-19 response may affect their progress on achieving their SDG targets. For Malaysia, it is evident that the majority of policies enacted thus far are intended to promote health during the pandemic (SDG3), but other SDGs are not receiving the same attention by policymakers. The EPIC Tracker does not currently report if a policy will have a positive or negative impact on the progress of an SDG, something that would be useful for those attempting to assess the knock-on effect of a county's reaction to COVID-19. The EPIC Tracker entries for Malaysia were actively updated before launching the site. However, the tracker is a living platform and is dependent on crowdsourced contributions. As such, the information collected for Malaysia could be incomplete and will need to be updated as new policies are developed. The success and accuracy of the EPIC Tracker rely on the engagement of others who enter COVID-19 policies for countries around the world. Please sign up on the EPIC Tracker website if you would like to become a contributor or to learn more about the initiative.
Read More:
EPIC Tracker: call for contributions
EPIC Tracker Blog | Mobility, migrants, and COVID-19: an enhanced challenge to health and human rights
The views expressed in this post are those of the author(s) and may not reflect those of UNU-IIGH.