2022•02•18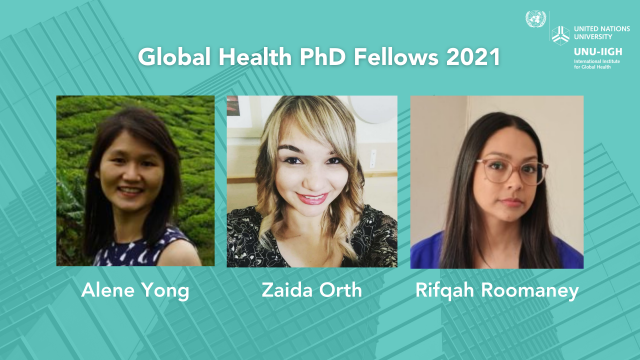 Beyond serving as the UN-designated think tank on global health, UNU-IIGH also provides a venue for honing the capacities of early-career academics and researchers in global health research and policy analysis.
Our Global Health PhD Fellowship programme welcomes PhD candidates from all over the world to be part of the process of policy analyses and translation within the UN global health context. The half to one-year-long programme presents the fellows with a unique opportunity to add value to their PhD experience through an enriching UNU mentorship and hands-on research work outside the realm of academia.
Presenting the stories of our 2021 PhD Fellows Alene Yong, Rifqah Roomaney and Zaida Orth, this blog post provides a window into the UNU-IIGH Global Health Fellowship Programme and what it offers.
Hear from our Fellows on their time and experiences at UNU-IIGH.
How did you find out about the UNU-IIGH PhD Fellowship Programme and what attracted you to apply?
Alene: Sometime last year I was looking for internship opportunities to learn something beyond my PhD and came across the UNU-IIGH Academic Internship programme. On being interested, I looked more into this on the UNU-IIGH website and found it was also offering the Global Health PhD Fellowship programme. So, on being interested, I applied and the rest is all history. Here I am!
Rifqah: On seeing the advert on our School of Public Health page, I was interested in the gender and policy component of the programme and also in working at UNU – a global organisation. However, I did not think I would be accepted and at first, did not apply. When my supervisor saw the advert, he emailed it to me and thought I could make it and so, I quickly pulled the application together (with my hopes still low!). Once selected, I was ecstatic and so glad I took the chance.
Zaida: I initially saw the advert for the fellowship through our university mailing list and even though the programme looked great, and I was interested in the research areas, I was not sure if I met the requirements. However, my supervisor also sent me the invitation and asked if I would consider applying. With his encouragement, I decided to push down my doubts and take a chance on an amazing opportunity.
The fellowship position appealed to me as I was interested in learning more about policy analysis and gender-responsive programming in a practical setting. I saw this as an opportunity to reconnect with the scope of practice outside my PhD work and to engage and build working relationships with new colleagues.
What does a typical day in your life as a UNU-IIGH Global Health PhD Fellow look like?
Alene: I always start my day by noting down my work priorities and any important tasks I need to complete on my planner. Following this, I attend meetings, conduct literature reviews and interviews, work on ethics applications and attend stakeholder engagement meetings – working together with a wonderful team of people. I am currently working on a project to identify barriers to optimal hypertension care in Malaysia. Besides this, when it is time to take a break and wind down for a bit, I go out with my colleagues and grab a nice meal, which I would say is my favourite time of the day!
Rifqah: I work remotely from my home in Cape Town, South Africa. My typical day would be waking up to the radio, getting myself dressed and then getting my daughter ready for daycare. I try to get ready for work before 8 am because of the time difference in Malaysia – when many meetings are scheduled for that time and on occasion, having attended meetings at 6 am (thankfully not too often!). During our Pillar meetings, we get to hear everyone's updates and what they're up to, after which I meet with my UNU-IIGH supervisor to discuss my week, how things are going and what I'm learning. I then take a quick break to have breakfast and water the garden. The rest of my day might involve some deep work, reading and doing literature reviews. Often, I meet with some collaborators in India (usually in the afternoons) via Zoom to discuss how our papers are going and what needs to be done. As the workday closes (I usually stop working at around 4 pm), I get back to my other duties at home, such as playing with play clay and crayons with my daughter!
Zaida: I am currently based in South Africa; therefore, I work remotely. This has been an interesting experience as I must coordinate work with my supervisor across the different time zones. However, with the right time management routine and the advancement of remote working technologies during the last two years, this has not been too challenging. During the week I would typically schedule a call with my supervisor to plan the activities for the week. There are a few projects that I am working on now which means I need to be flexible in terms of planning. For example, I am currently working on a book chapter on women leadership in Southeast Asia – a project for which I am required to do literature searches, draft the chapter and set up and conduct interviews for our case studies. However, this is why I love doing research – it's never boring because no two days look alike! I love the flexibility and the variety of the work I am doing.
Any specific experiences or lessons you learnt from your time at UNU-IIGH that you consider most helpful in your professional and/or personal life?
Alene: As I think back on my experiences at UNU-IIGH, I think what it teaches me the most is to think of my research in terms of its impact, because as a researcher, particularly a PhD student, it is very easy to get caught up in a rat race, trying to get more papers published and more projects done. Here, at the UNU, it is really more than just getting your papers published – It is about getting the message across to convene with the right stakeholders. It is about how we train people and empower them to make sure we see the change we 'want' to see.
(P.S. Other than working on projects, there are plenty of opportunities for capacity building!)
Rifqah: It gave me a lot of confidence to think that a prestigious organisation like the UNU would be interested in working with me and my work here has helped me to see things from a more global perspective. It's been wonderful getting to know people in other countries, across time zones – people I might have never met had I not gotten this opportunity. Learning about gender mainstreaming has really impacted my life. As a woman, reading academic literature on the many ways that women are disadvantaged has been eye-opening and affirming of my own experiences.
One of the greatest things from this experience is getting to see women in power, managing children and their work. I sat in a few zoom meetings where a colleague was presenting and had a baby crying, and everyone was so understanding – I really loved that inclusive environment. It made me feel that the UNU does not only speak gender but it lives by its principles too.
Zaida: The people and the work culture at UNU-IIGH has left a lasting impression on me. Everyone is very welcoming and supportive and the communication is efficient to allow everyone to do their best work. At the same time, there is a sense of compassion and care within the work environment – the recognition that we are all human and even though we may make mistakes there is always support and room to learn and grow from those mistakes. Additionally, it is also clear to me that everyone has a sense of passion and pride in the UNU-IIGH projects they are involved in, which has reignited my own excitement about doing research in health and gender. While the experience has definitely helped me to hone practical skills such as time management, adaptability and work ethic, it has also reminded me of the human aspect of the work we are doing and not to only get caught up in the academic rat race!
You can follow us on Twitter, Facebook, LinkedIn and Instagram for updates on all UNU-IIGH events and announcements.