2021•03•10
by Dr Fatima Ghani, Dr Nasir Ismail, Yasmin Jasmy, Rebecca Lee and Hyeinn Cecilia Roh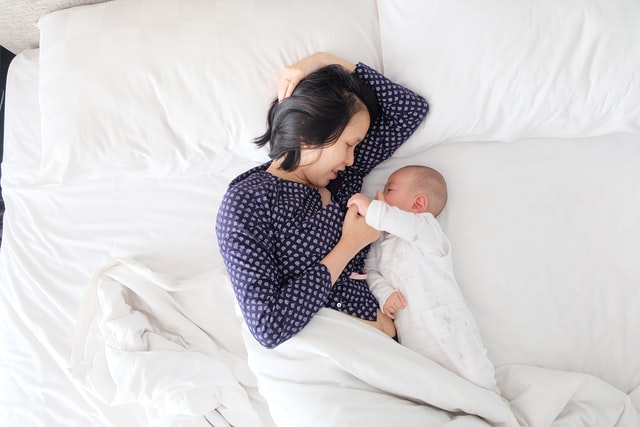 Photo by kevin liang | Unsplash

International Women's Day is a time to celebrate the achievements of women who have contributed to their communities, reflect on the progress made, and call for action that accelerates change in the challenging context of the COVID-19 pandemic. Ensuring the provision of evidence-based care during the vulnerable perinatal period safeguards the health and wellbeing of mothers and newborns. It is a priority for all nations in achieving the Sustainable Development Goals (SDGs) by 2030, particularly Goal 3: Good Health and Wellbeing; and Goal 5: Gender Equality.
Confinement practices are traditional postnatal processes related to diet and daily routine lasting 28-44 days post-birth to help mothers recover their physical and mental health while transitioning into motherhood and caring for newborns. Mothers rest and receive support from their families and confinement care providers. There are cultural variations in confinement practices, some of which may be outdated and potentially be harmful to mothers and newborns. Thus, these practices should be informed by the latest evidence-based perinatal guidelines to ensure the wellbeing of mothers and newborns involved.
In Malaysia, each ethnicity (Malay, Chinese, Indian and other ethnic minorities such as Orang Asli and Sabah and Sarawak native people) has its own unique confinement practices associated with postnatal care regarding diet, daily routines and behavioural taboos inherited from the elderly. For centuries, confinement ladies (pui yuet or bidan) would receive a modest wage during confinement to either visit homes or stay with families to support mothers (preparing special diets and herbs and keeping the mother's body warm via steaming or hot stones) and newborns (bathing, feeding, massage and night-time care).
In recent times, the shift towards urbanisation, higher educational levels for Malaysian women, and nuclear family trends have driven the demand for confinement practices that cater to different cultures and preferences. Confinement practices are being commercialised via Confinement Centres operating as private businesses with mostly female staff, offering mothers a wide range of services (both medical and traditional), modalities (mobile or with a physical location) and prices.
Mothers appreciate these centres as part of their postnatal recovery, receiving the support of specialised staff (e.g. confinement ladies, cooks, dieticians) to lighten their workload. Some centres hire dedicated medical staff (either doctors or registered nurses), which has driven best practices in breastfeeding and infection control for staff and mothers. In some cases, confinement centres also welcome husbands and older children to stay, allowing mothers to recover while receiving family support.
Over the past decade, Confinement Centers have been increasing in number, and are mostly located in Selangor, Penang, Johor and the Federal Territory of Kuala Lumpur. Most cater to the Chinese community and their cultural practices, although some offer services for other ethnicities. Confinement Centers are also recruiting and training women from low-income households and single mothers as staff, and therefore, provide important economic support for disadvantaged women. This is particularly relevant for vulnerable women negatively impacted by COVID-19 with fewer working hours, job loss and general economic instability who can diversify their skillset, and earn an income stream during the recovery period. Training modules are now delivered online, which has reduced the training costs, making them more accessible to disadvantaged women.
However, Malaysia has no existing laws, regulations, or standards to guide confinement centres in their operations, and there is no responsible overseeing agency to ensure the standardised and safe provision of confinement services, despite these centres caring for mothers and newborns during a vulnerable period.
Confinement Centres Study
The UNU-IIGH is conducting a study of Confinement Centres in Malaysia, commissioned by the UNFPA and supported by the Ministry of Women, Family and Community Development (MWFCD) to generate evidence that informs recommendations for the standardisation of regulations. The goal is for confinement centres in Malaysia to operate with quality standardisation procedures that ensure the health and well-being of women and newborns.
The study is led by Dr Fatima Ghani and supported by Dr Nasir Ismail and has three components to inform the recommendations: 1) a literature review of the existing processes, regulations and practices that confinement centres abide by across selected countries, including Malaysia; 2) a 15-minute online survey for confinement centres in Malaysia to understand their characteristics and procedures; and 3) interviews with a range of relevant stakeholders including legal and medical experts, relevant ministries, training centres, Local Councils, and confinement centre management, staff and clients during the first half of 2021.
The study components will be evaluated to understand how confinement centres operate and what type of support they might require to ensure the health and wellbeing of mothers and newborns, particularly in the challenging context of the COVID-19 pandemic, and results are expected to be published by late 2021. Preliminary survey results indicate that most Confinement Centres have been impacted by movement restriction orders to minimise the spread of COVID-19. With fewer clients, they have been providing limited services with reduced opening hours and staff, while adapting to alternative work arrangements (working from home, virtual meetings). In a few cases, the centres were unable to sustain their business, and have had to close. This highlights the need to support the continued operation of these female-oriented businesses during the pandemic. Some suggestions include offering government subsidies, facilitating standardised online training (particularly in breastfeeding and infection control) and formalising standard operating procedures.
Importantly, for longer-term impact and given the absence of regulations, a regulatory framework must be agreed upon and implemented by relevant stakeholders along with standardised staff training and operating procedures to guide the operation of Confinement Centres. The feasibility of several regulatory mechanisms such as government regulation, co-regulation and industry self-regulation (each with their own relative advantages and disadvantages, as noted in Figure 1) is currently being discussed with the key stakeholder groups listed above to identify the next steps in formalising regulations.
Confinement Centres' key stakeholders have the opportunity to directly inform the study recommendations anonymously, as only collective findings will be reported and published by late 2021. (1)
Future guidelines should incorporate existing international best practices for mother and newborn care, as well as be culturally sensitive to facilitate endorsement by different ethnic communities. An Expert Advisory Committee (EAC) is being established with medical and legal advisers, alongside other experts to guide the research and champion the recommendations arising from this study.
Figure 1: Regulatory options for Confinement Centres in Malaysia being discussed with key stakeholders (2)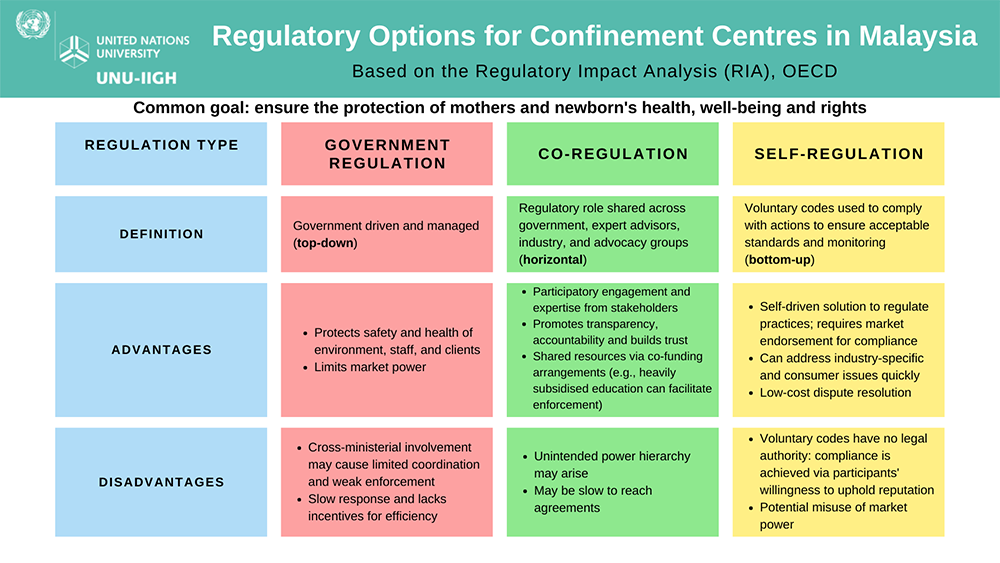 Confinement Centres play an important role in helping Malaysian mothers heal during postpartum (particularly for those away from extended family members) and teaching them important skills such as breastfeeding techniques and means of infection control. They also offer training and work opportunities to disadvantaged women, which is particularly relevant for vulnerable communities to recover from the pandemic. These diverse roles place Confinement Centres in an important position to advance postnatal care in Malaysia. This study, and particularly the ongoing consultations with key stakeholders, will inform feasible recommendations for a regulatory framework that supports Confinement Centres in ensuring the health and wellbeing of mothers and newborns in Malaysia, accelerating the progress towards achieving the SDGs by 2030.
(1) For further information about this study or if you wish to participate as part of the listed stakeholder group, please contact Dr Nasir Ismail.
(2) Based on the Regulatory Impact Analysis (RIA), further described in the following OECD resources: Hepburn, G. (OECD) Alternatives to traditional regulation and Larouche, T (OECD) Improving Regulatory Quality Using the Regional Charter for Regulatory Quality Effectively: A Training Course for Practitioners in Arab Countries.