2021•03•01
by Shrijna Dixon (India)
Authored by our talented interns, this series provides a window into the workings of UNU-IIGH and the different projects that our interns have contributed to.  UNU-IIGH offers a range of internships and fellowships to early-career individuals looking to gain global health experience as well as work placement internships for those who wish to gain programme support experience within a UN agency.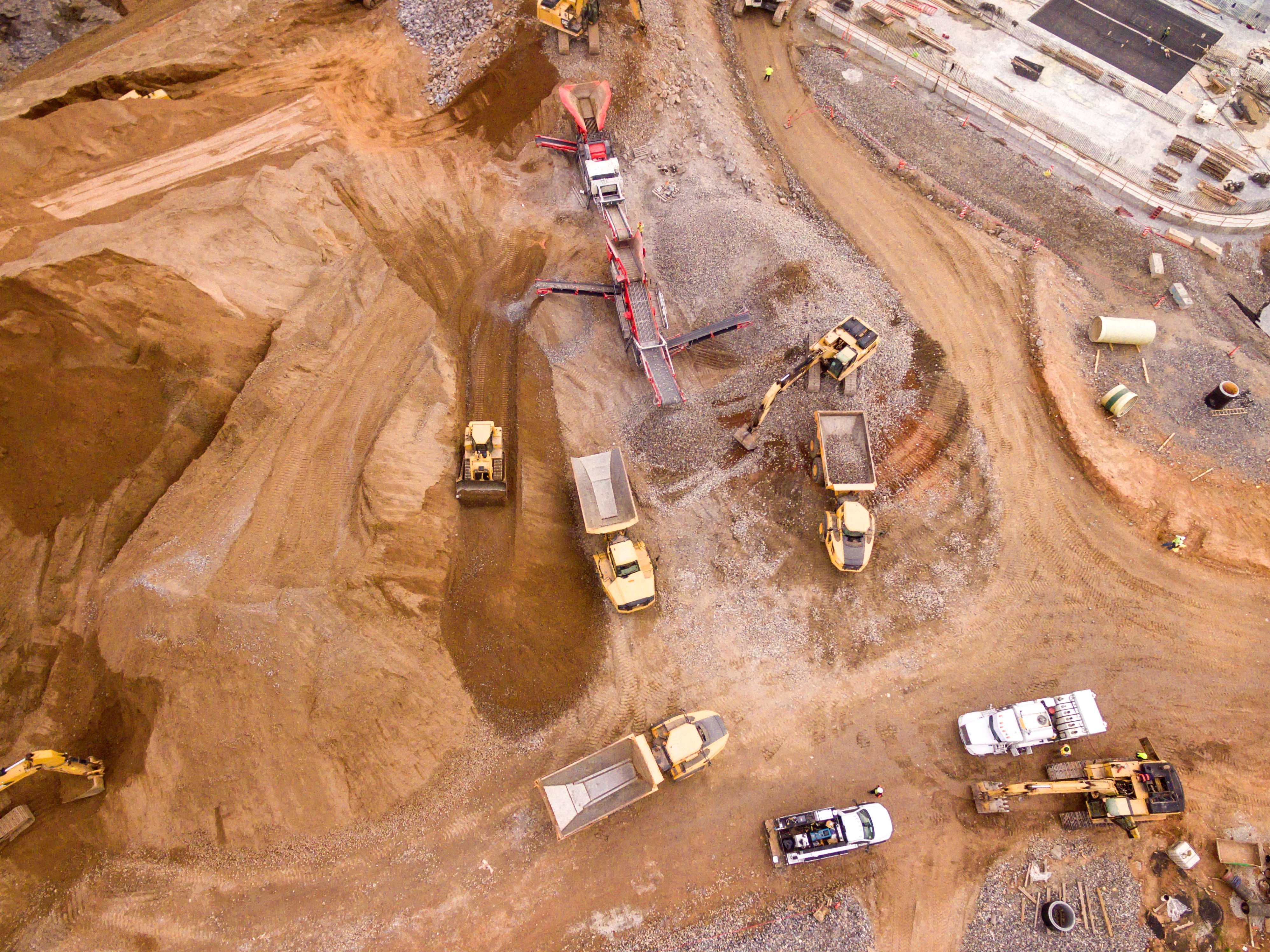 Photo by Shane McLendon | Unsplash
COVID-19 lockdowns in the informal economy
Globally, the lockdowns to contain the COVID-19 pandemic have stripped bare their disproportionate impact on poor and vulnerable groups. The International Labour Organization (ILO) warns that worldwide, 1.6 billion workers in the informal economy, who make up nearly half of the global workforce, stand in immediate danger of having their livelihoods destroyed due to the crisis.
Informal workers face a heightened risk from the 'double crisis' of the COVID-19 impact on their livelihoods and the non-guarantee of their human and labour rights. In rural and informal economies, women, children, migrant workers, and indigenous peoples are most at risk of being denied their fundamental rights at work. ILO designates artisanal and small-scale mining (ASM) and quarrying among high-risk activities amid the pandemic. A global study has identified mines as hotspots for the spread of COVID-19. Where mining continues to operate as an essential service, mining companies' responses to the COVID-19 pandemic have received little public scrutiny compared to other industries. The study cautions that communities whose health is impacted by contamination generated by mining extra-activism, and indigenous and rural communities, face an acute risk from the virus.
"A global study has identified mines as hotspots for the spread of COVID-19. Where mining continues to operate as an essential service, mining companies' responses to the COVID-19 pandemic have received little public scrutiny compared to other industries."
Informal workers in India
90% of India's workforce is in the informal economy, with 400 million informal workers at the risk of falling deeper into poverty during the COVID-19 crisis. The country's informal workforce is extremely segmented along the supply chain across major industries and services. An estimated 88% of Indian males and 90% of females work in the informal economy. With female workers facing gendered structural barriers and disadvantages and declining participation in the labour force over the years, their work in the informal economy is more heavily concentrated in lower-level and low-paying jobs, yet it remains unaccounted for, thus giving female informal workers even lower bargaining power.
Alongside over 40 central and 200 state-wide labour laws and regulations, India has ratified ILO's conventions and protocols. Although these legislations provide strong normative frameworks to regulate work in formal and informal settings, they have done little to address labour rights violations, especially in the informal sector due to implementation barriers.
While India is reported to have the largest cash transfer coverage in absolute terms, reaching over 200 million people, the planned or implemented cash transfer programs are estimated to cover only 16% of the country's population amid the pandemic so far. These scale-ups, though necessary, might not be sufficient in themselves unless supplemented with income relief packages to target the diverse at-risk constituencies of informal workers, including mine workers. In January 2020, the government announced the creation of a nationwide database of an estimated 450 million informal sector workers to provide them social security coverage. Amid the COVID-19 crisis, the lack of this kind of database is a glaring public policy gap when addressing informal workers' needs during the pandemic. Several state governments are considering relaxing labour regulations that purportedly increase the maximum workday from eight to up to 12 hours and exempt investors from labour rules for at least 1,000 days.
What are the legislative guarantees for informal workers in mines and quarries?
Mining is an integral component of industrial development and economic growth in India. The mining industry's share was estimated at 2.6% of the GDP in 2018-19, down from 3% in 2011-12. Small quarries and traditional mineral acquiring and processing activities in India are mostly part of the informal sector, contributing up to 88 % of the total mining output and employing a large number of people living at low levels of income. Accurately estimating the number of impacted workers presents a challenge.
There are wide variations in the reported numbers of mine workers in India. One official estimate reports 0.5% and 0.2% rural males and rural females, and 0.6% urban males and 0.2% urban females respectively have employment in mining and quarrying. Overall, in the sector, 40.6% of working males and 65.9% of working females are casual labourers, 51.2% working males and 32.3% working females are regular wage/salaried workers, and 8.2% working males and 1.8% working females are self-employed. Another estimate is that average daily employment, not disaggregated by sex, consist of 81% regular workers, with the remaining being contractual workers. In contrast, the latest India Wage Report estimates about two-thirds of the total workforce are contract labour in registered mining and quarrying.
Given the historically exploitative and highly unorganised nature of labour in mining, there is little evidence as such, on the status of mine workers in the country. Legislative and institutional mechanisms for the welfare of mine workers are fragmented between union and state governments. State legislations and policies have not targeted the welfare of mine workers by recognising them as a critical constituency, and largely responded with ex gratia interventions. The welfare of workers in ASM and other small-scale settings, mostly operating outside of legal jurisdiction, is not covered by any central legislation barring the Mines Act, 1952.
With the existing operational guidelines and protocols for labour, health, and environmental safety, the Mines Act, 1952 is the overarching legislation at the national level, guiding state interventions. While the act does not apply to certain stones and minerals extracted at a small scale under specific criteria, the provisions for inspection and child labour apply to mines that are otherwise exempt from the law. The Mines Act, 1952 Amendment Bill was introduced in India's Upper House legislative body in March 2011 to make it more relevant and effective in the present time and remains to be amended.
In 2015, the amendment of Mines and Minerals (Development and Regulation) Act (1957) provided that states establish district mineral foundations (DMF) to ensure the welfare of communities affected by mining. In the same year, the Ministry of Mines launched the Prime Minister's scheme on pan-India guidance for states and district authorities to utilise funds under DMFs. As of 2016, 10 out of 12 mineral-rich states in India had framed rules for DMFs set up in 287 districts across the country.
While  DMFs need to identify beneficiaries as outlined in the state-specific DMF rules, districts had not identified beneficiaries. There was no representation of the local government members in the DMF body. DMF funds were increasingly indistinguishable in terms of administration and fund use from any other general development funds. By January 2020, contributions from 21 mineral-rich states into DMF stood at USD 5 billion (approx). Amid the COVID-19 crisis, the Finance Minister of India requested states to use DMF funds to supplement and augment medical testing, screening, and other relief measures.
What can we do to protect mine workers' rights amid the pandemic?
With the non-recognition of their labour, the COVID-19 pandemic presents a differentiated and aggravated risk to mineworkers amid prevailing healthcare, human rights, and labour rights violations affecting them. I propose four urgent key actionable agendas to be integrated in the welfare and protection of mineworkers in COVID-19 and in a post-COVID-19 context.
"I propose four urgent key actionable agendas to be integrated in the welfare and protection of mineworkers in COVID-19 and in a post-COVID-19 context."
Recognise mine workers as labourers: Mineworkers face a 'double exclusion' as unrecognised workers within the informal workers' constituency. With the government of India's commitment to create a nationwide database of informal sector workers to provide them with social security coverage, mine workers must be covered as a designated informal worker constituency in this database. This database must also capture gender statistics like sex-disaggregated data to recognise female mine workers as labourers fully.
Account for occupational diseases as high-risk co-morbidity to COVID-19:  The concept of occupational health nursing is non-existent in unorganised/informal sectors in India. Occupations related to construction, mining and agriculture have high levels of related occupational diseases. These include pneumoconiosis, asbestosis, other chronic lung diseases, musculoskeletal injuries, noise-induced hearing loss, pesticide poisoning and accidents. Due to the non-recognition of mine workers as labourers, their exposure to, and the diagnosis and treatment of occupational diseases is not effectively tracked. As a preventative measure, mining-heavy areas operating in the vicinity of communities and employing mine workers should prioritise COVID-19 testing.
Allocate emergency relief funds under DMF: Although the guidance and rules under DMF specify mining affected areas and affected people, they do not explicitly mention mine workers and their families as a critical constituency. DMFs are required to prepare and maintain an updated list of affected persons/local communities. This list across DMFs can be aggregated to supplement and validate the effort of a nationwide survey of informal workers to be undertaken by the government of India. In a directive order, the Ministry of Mines has asked states to use up to 30 % of DMF funds for healthcare, screening and food distribution to combat the COVID-19 crisis. While this is a welcome move, DMFs should consider transferring cash to supplement mine workers and their families' income amid the pandemic.
Amend the Mines Act, 1952: The Mines Act, 1952 is the primary legislation on the regulation of mine workers' health and safety. The amendment bill to the Act is pending since 2011. Relevant stakeholders, including labour unions and the national and sub-national governments, must prioritise the amendment of the Act to fully recognise and mitigate the social, cultural, environmental, and economic impact of mining on mineworkers and mining areas.