2021•07•09
By Tiffany Nassiri-Ansari (Malaysia)
Authored by our talented interns, this article series provides a window into the workings of UNU-IIGH and the different projects that our interns have contributed to.  UNU-IIGH offers a range of internships and fellowships to early-career individuals looking to gain global health experience as well as work placement internships for those who wish to gain programme support experience within a UN agency.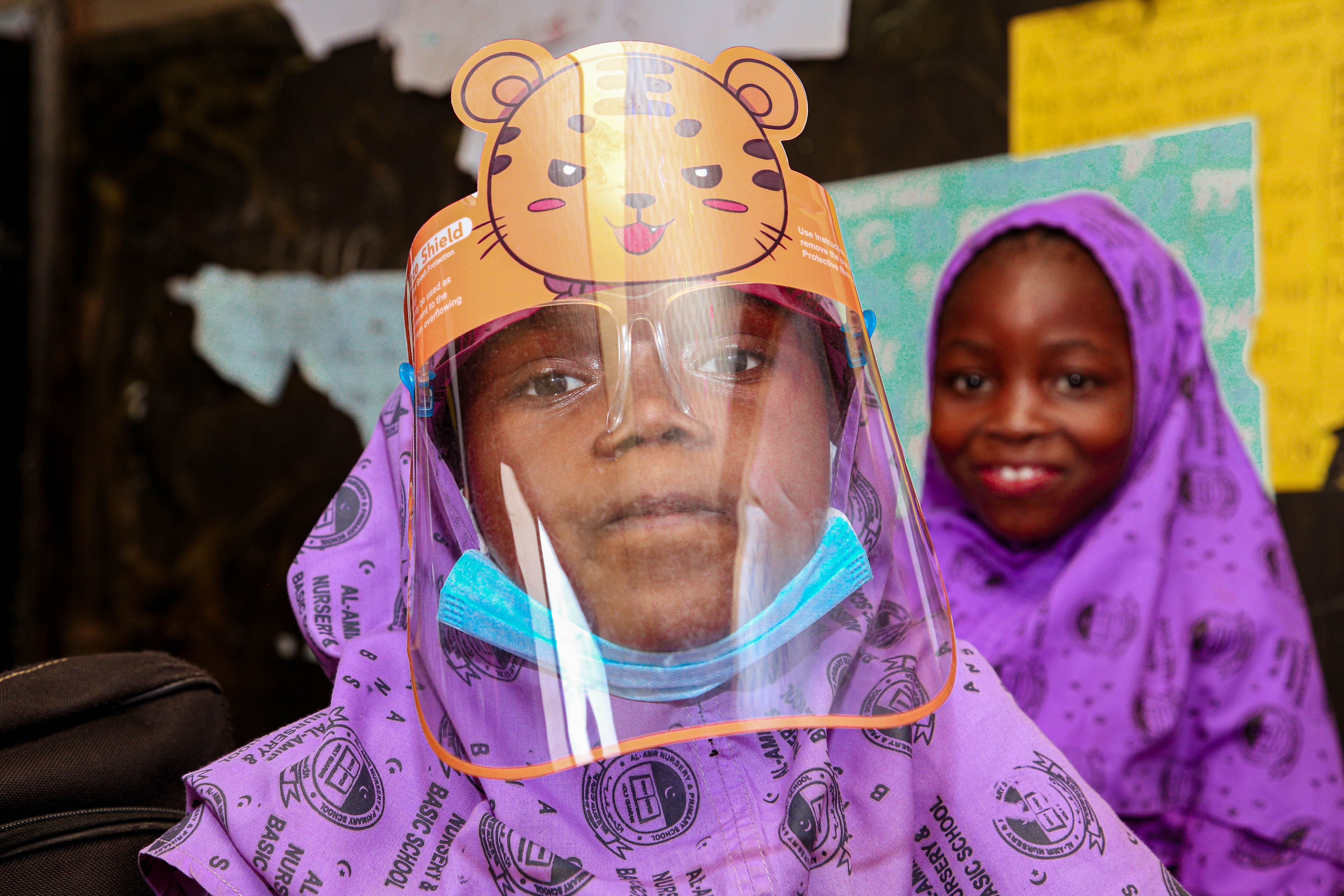 Photo by Omotayo Kofoworola on Unsplash
I joined UNU-IIGH as an intern right on the heels of two back-to-back online semesters, an experience I shared – albeit virtually, as so many things now are – with millions of fellow students around the world. Some of us struggled with lagging Internet connections, others with a lack of devices capable of video calls, and others yet with the logistical challenges of attending classes while located in a different time zone. And yet, all of us were considered the lucky ones in comparison to those with no Internet access for online learning, a group that makes up a whopping two-thirds of the world's school-age children.
With these challenges fresh in my mind, I was eager to dedicate a bulk of my internship to an analysis of school closures and their repercussions based on the publicly available datasets generated by the Survey on National Education Responses to COVID-19 School Closures, jointly carried out by the World Bank, UNESCO, and UNICEF. While we are still awaiting results from the third round of survey responses to gauge how successful reopening efforts have been thus far, our initial analysis carried out in the last quarter of 2020 yielded some insights that remain salient to this ever-evolving situation, especially now that vaccines have entered the playing field. In this article, I highlight the unacceptable costs of continued school closures and amplify growing calls to vaccinate teachers and students to argue that vaccine equity today is a viable path to educational equity tomorrow.
The unconscionable cost of keeping schools closed
Over a year into this pandemic, the global economy is more strained than ever before, with a recent UNCTAD report estimating that the crash in the tourism industry alone could rack up over $4 trillion of losses to the global GDP by the time all is said and done. Treasuries are struggling to keep afloat and resources are stretched thin, leaving many governments hesitant to take on the additional costs associated with safe reopening of schools. Numerous reports, studies, and op-eds, however, warn that now is not the time for penny-pinching in the education sector; as expensive as it might be to safely reopen schools, the socioeconomic costs of keeping them closed are astronomically higher. The World Bank warns that school closures might lead to a cumulative loss of $10 trillion dollars in lifecycle earnings for this generation of learners, force an additional 72 million students into learning poverty, and exacerbate existing inequalities in education.
Despite prophecies of COVID-19 as "the great equalizer" and platitudes about how "we are all in this together", we now know beyond the shadow of a doubt that the pandemic, while unpredictable in so many other ways, continues to operate along familiar fault-lines of race, gender, class, and other markers of marginalization. It comes as no surprise that the most immediate, devastating, and irreversible consequences of school closures are disproportionately felt by those who were already struggling with inequities pre-pandemic. Disadvantaged students who rely on schools for immunizations, meals, and safe havens find distance learning a far cry from their daily schooling routine – if they can even access distance learning platforms to begin with. Girls who rely on education to chart a path away from poverty, child marriage, and sexual abuse are likelier to drop out of school than their male counterparts during this turbulent period, leading to significant consequences that will linger long after the pandemic subsides. New studies on the mental health of students from all walks of life emerge seemingly every other week and, in a trend that should come as no surprise, those with marginalized identities are struggling more than their peers as they now face a double burden of minority stress and pandemic stress.
Prioritizing teachers and students in vaccination rollouts
In light of these repercussions, both short- and long-term, the notion of keeping schools closed any longer than strictly necessary is difficult to stomach. While evidence has long shown that schools are unlikely to be drivers of community transmission and young children are both less susceptible and less contagious, there is understandable concern and confusion amidst a flurry of new variants and changing transmission patterns. However, the arrival of multiple efficacious vaccines for both adults and children aged 12 and above brings us one huge step closer to being able to not only safely reopen schools, but keep them open long enough to begin making up for the losses of the past year, in line with Mission: Recovering Education in 2021 as outlined by UNICEF, UNESCO, and the World Bank.
Mission: Recovering Education in 2021 identifies three priorities for safe reopening of schools: firstly, students must be allowed to return to school; secondly, remedial learning programs must be designed to make up for lost time; and thirdly, sufficient attention, resources, and support must be given to teachers who will shoulder the bulk of the burden in remedying learning losses. For any – let alone all – three of these goals to be met, students, staff, and guardians must first receive adequate reassurance so as to garner widespread support for the safe reopening of schools. With vaccines proving to be just as effective in real-world settings and emerging research suggesting that they will remain a valuable first line of defense even against new variants, prioritizing teachers and students in the coming phases of vaccination rollouts will be one of several possible strategies to gain public trust and support. However, only one in four teachers globally is prioritized in the first phase of national vaccination rollouts according to UNESCO, and vaccine prioritization for students has seen a mixed bag of approaches with some countries prioritizing those going abroad to pursue tertiary education and others focusing on those scheduled to sit for public examinations.
Despite the many hurdles left to be cleared on the road to safe reopening of schools, the good news is that calls to prioritize teachers in vaccination rollouts are finally gaining momentum, in tandem with countries showing increasing interest in and support for the use of vaccines on children aged 12 and above. The focus now shifts from convincing countries to vaccinate teachers and students to enabling them to do so, a far bigger challenge if current trends in vaccine inequity are allowed to continue on.
Lessons on inequity during a global health crisis
As we have seen time and again throughout this pandemic, existing inequities have only worsened in our time of need. Early warnings about vaccine inequity and its devastating ramifications were sounded well before the first shipments of COVID-19 vaccines were made available, and yet little – if anything at all – was done to preemptively tackle this potentially catastrophic manifestation of inequity in global health. Today, we are inundated with conflicting and confusing headlines about countries that are all but begging their citizens to get vaccinated and countries that are desperately waiting for vaccines to arrive. Vaccine inequity is yet another heartbreaking instance of the most vulnerable among us receiving the least help, and within the context of students and educational inequity it hammers home a much-needed reminder of how markers of marginalization can intersect and experiences of oppression can snowball to lead to a never-ending cycle of social injustice. Throughout my internship, I learned a great deal about injustice and inequity within our systems and structures and societies, about the histories of oppressive structures and the proponents of unjust systems, but I also learned about the potential benefits of reformed structures, about the brave advocates who challenge these systems, about the solutions that are dangling just out of our reach, waiting to be unlocked by our next generation of great minds, hidden among the most vulnerable of us now urgently in need of protection and education.
As a scholarship student myself, I am acutely aware of how crucial a role education plays in breaking cycles of inequity and creating worlds of opportunity. In our increasingly stratified world, schools are one of the very few settings in which students from all walks of life are given a chance to prove themselves and rise above the limitations society would place on them simply because of their ethnicity, sexuality, socioeconomic status, and other arbitrary prejudices. COVID-19 has already exacerbated existing divisions within our societies both local and global, but vaccine inequity and the resultant prolongation of school closures threaten to widen the chasm between the privileged and the oppressed for decades to come.
The arrival of the first COVID-19 vaccines late last year led many to declare that at long last we can see a light at the end of the tunnel. When we eventually emerge from this period of darkness, when we begin to rebuild from the ashes of this pandemic, what will be left for us to work with and build on? If we are to finally course-correct and #BuildBackBetter, our journey starts here: we must protect and nurture the most vulnerable among us by ensuring vaccine equity and educational equity, so that we can collectively step into a better future without leaving anyone behind.
Tiffany Nassiri-Ansari was an intern at UNU-IIGH and is currently a research assistant within Pillar 1. She is a recent graduate of Monash University Malaysia, where she majored in global and gender studies to complement her personal passion for social justice, minority rights, and equitable reforms of systems of oppression.