2017•08•14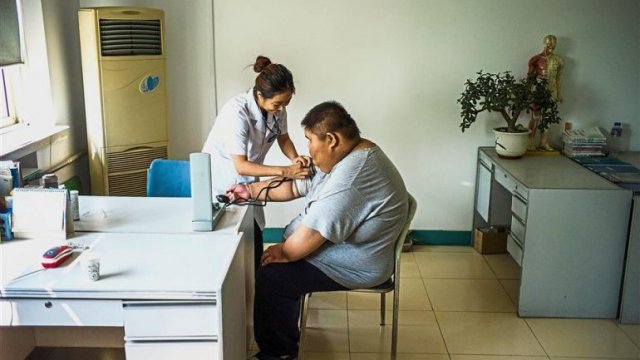 Photo: AFP
This file photo taken on May 25, 2015 shows a nurse taking the blood pressure of an overweight youth during his acupuncture and exercise treatment at the Aimin (Love the People) Fat Reduction Hospital in the northern port city of Tianjin.Researchers raised the alarm April 27, 2016 about an obesity explosion among children in rural China as a Western-style diet high in sugar and carbohydrates starts taking its toll. A 29-year survey of kids in Chinas eastern Shandong province revealed that 17 percent of boys younger than 19 were obese in 2014, and nine percent of girls — up from under one percent for both genders in 1985. Photo: AFP. Creative Commons BY-NC-ND 2.0.
13 August 2017
It is now widely accepted that communicable diseases are no longer the leading cause of death in low- and middle-income countries globally.
Cardiovascular disease, cancer, diabetes, and other non-communicable diseases (NCDs) now kill more people before their sixtieth birthdays than infectious diseases.
The mortality and morbidity burdens of NCDs constitute a major public health crisis that undermines, and in extreme scenarios, threatens to reverse decades of social and economic development in low- and middle-income countries.
In its Global Action Plan for the Prevention and Control of Non-Communicable Diseases, 2013-2020, the World Health Organization (WHO) stated that, "An estimated 36 million deaths, or 63% of the 57 million deaths that occurred globally in 2008, were due to non-communicable diseases, comprising mainly cardiovascular diseases (48% of non-communicable diseases), cancers (21%), chronic respiratory diseases (12%) and diabetes (3.5%)".
These NCDs have four behavioural risk factors in common: tobacco use, unhealthy diet, physical inactivity and harmful use of alcohol. Of these risk factors, diet and nutrition are critically important factors in the promotion and maintenance of good health throughout the entire life course.
Children are particularly vulnerable to death from NCDs. "Although morbidity and mortality from non-communicable disease mainly occur in adulthood", as observed by WHO, "exposure to risk factors begins in early life".
The vulnerability of children to dying from treatable NCDs such as rheumatic heart disease, type 1 diabetes, asthma and leukaemia increases "if health promotion, disease prevention and comprehensive care are not provided", so observed the WHO Commission on Ending Childhood Obesity.
While obesity as a risk factor and a major driver of NCDs globally differs in many regions, social, and economic contexts, the emergent obesogenic environment in most of South-East Asia raises policy conundrums and complexities that require coordinated and targeted public health interventions to address a looming epidemic of NCDs.
Economically, South-East Asia is a region shaped by the rapid industrialisation of Singapore, the rising economic growth of the low- and middle-income countries such as Thailand, Vietnam and Malaysia, and the disparities between these countries and the poorer countries in the region categorised by all economic indicators as part of the world's Least Developed Countries (LDCs).
As economic development accelerates in the region, globalisation contributes in complex ways to the marketing of unhealthy food and lifestyles.
As countries like Malaysia push to become fully industrialised by keeping faith with its Vision 2020, and the other countries in the region push to climb the development ladder, the accelerated quest for trade and foreign direct investment to create jobs and boost growth will likely have serious consequences for NCDs if public health interventions and innovations lag behind economic growth.
"The benefits of urbanisation, trade and global integration of consumer markets to developing countries have been tremendous: increased food production and distribution, improved hygiene and sanitation, disseminated medical innovations, lengthened lives, and millions lifted from abject poverty", observed the New York-based think tank Council on Foreign Relations.
Nonetheless, "these trends have also helped to fuel the rise of NCDs and associated risk factors that is faster than low- and middle-income countries have been able to establish the health and regulatory systems necessary to adjust".
The report of the WHO Commission on Ending Childhood Obesity, Global Action Plan for the Prevention and Control of NCDs, WHO Global Strategy on Diet, Physical Activity and Health and the Rome Declaration of the Second International Conference on Nutrition (ICN2) is loaded with policy recommendations, most of which target the tensions between economic growth and health promotion.
In order to address the policy deficits in various countries, think-tanks like the Kuala Lumpur-based United Nations University-International Institute for Global Health (UNU-IIGH), in partnership with leading universities, research institutes and other epistemic communities in South-East Asia should re-focus their strategies to address, among other issues, the policy implications of trade, investment, and globalisation as drivers of NCDs; the potential and limits of the Sustainable Development Goals (SDGs) as tools for prevention and control of obesity; public awareness programmes, health education, promotion and strategies to achieve non-binding targets such as the voluntary target of 30% reduction salt/sodium intake and replacing saturated with unsaturated fat; engaging the private sector (food and tobacco industry), civil society and professional bodies, and addressing the challenges in building public-private partnerships for healthy diet and nutrition.
To do this would entail shedding the toga of an Ivory Tower in order to focus on generating pragmatic and policy-oriented recommendations to assist governments address the emergent crisis of obesity in the region.
As a good first step, UNU-IIGH recently convened an international forum to address the issues, challenges and policy pathways for obesity in South-East Asia. More of such initiatives are needed as various countries in the region and beyond embark on a long and tortuous SDG journey that ends in 2030, which includes "good health and wellbeing".
***
This article originally appeared at The Star.