2017•01•06 Kuala Lumpur
On 6th December 2016, a workshop on Water Supply Management was held at the Faculty of Medicine and Health Sciences, Universiti Putra Malaysia (UPM). UNU-IIGH was the main organizer of this event, in collaboration with the Centre of Excellence for Environmental and Occupational Health (CoE, EOH), UPM which acted as the host. The participants were from universities and agencies such as the Universiti Teknologi Malaysia (UTM); Institute for Environment and Development (LESTARI) and the Centre for Water Research and Analysis (ALIR) of the National University of Malaysia (UKM); Ministry of Health Malaysia (MOH); the Drainage and Irrigation Department (DID) and the Department of Environment (DOE) from the Ministry of Natural Resources and Environment Malaysia (NRE); National Water Services Commission (NWSC); Lembaga Urus Air Selangor (LUAS); ALS Global; Academy of Sciences Malaysia; and Syarikat Bekalan Air Selangor Sdn. Bhd (SYABAS, Ahli Kumpulan Air Selangor).
The aim of this event was to deliberate on recommendations for the improvements of the security and sustainability of the water supply services in the Klang Valley. The recent water supply disruptions in the Klang Valley due to unresolved pollution have caused great concern among consumers. Water quality from the sources did not comply with the Malaysian raw water quality criteria which led to the closure of the water treatment plants. The continuous water supply disruptions in various areas of the Klang Valley have threatened economic development as well as the well-being and public health of the population. From the workshop, ideas on the improvement of the Integrated River Basin Management (IRBM) and water supply services through research and development and improved governance will be formulated.
The workshop was conducted in two sessions. The first session involved presentations from Prof. Dr. Jamal Hisham Hashim (UNU-IIGH) on Water Security and Health Risk Assessment of Water Supply, Dr. Zaki Zainudin (Water Quality and Modelling Specialist) on Water Source Pollution, Dato' Ir. Hj. Nor Hisham Mohd Ghazali (DID) on Water Security-Update on the National Water Resources Bill 2016, and Mr. Al Razi Kamarudin (DOE) on Environmental Monitoring Status in Malaysia-Water Quality. The second session was a roundtable discussion on the threats to Malaysia's water security, operational issues of agencies involved in water supply management, upgrading of water treatment technologies, setting water quality targets, and setting a platform for a more unified and comprehensive research on this matter.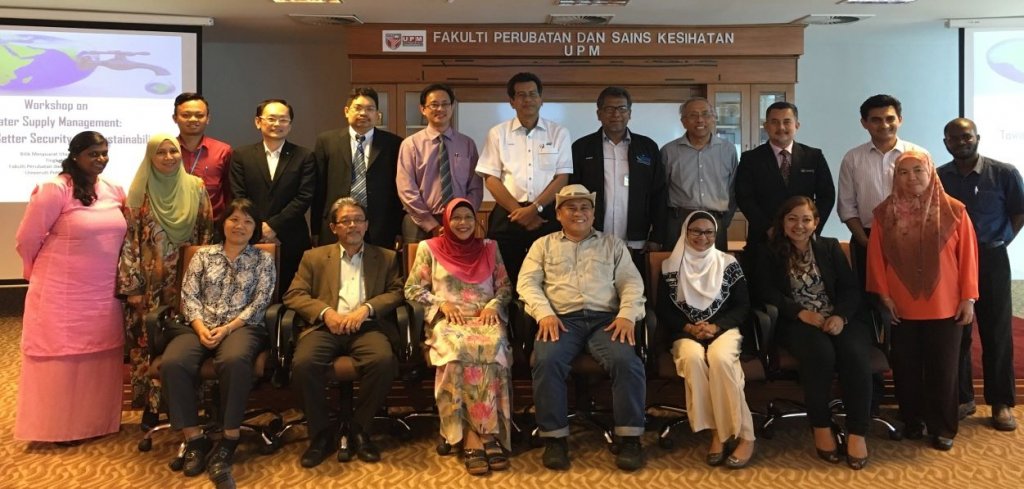 Workshop participants. Photo: UNU-IIGH. Creative Commons BY-NC 2.0