2020•08•05 Kuala Lumpur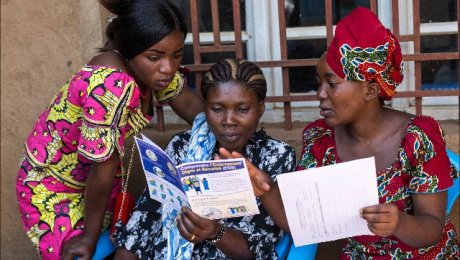 UN Photo by Martine Perret
The first joint webinar by the WHO and the World Bank on self-care interventions was held on 24th July 2020. The WHO defines self-care as "the ability of individuals, families, and communities to promote health, prevent disease, maintain health, and to cope with illness and disability with or without the support of a health care provider." Self-care interventions are evidence-based tools that can promote better health and well-being through self-care.
The UNU-IIGH contributed to a British Medical Journal (BMJ) series entitled 'Self-care interventions for sexual and reproductive health and rights,' on the conceptual and economic and financing aspects of self-care, which was launched at the United Nations headquarters in New York. The UNU-IIGH and WHO also co-convened an expert group meeting on the economic and financing considerations of self-care for sexual and reproductive health and rights at United Nations University- Center for Policy Research in New York in April 2019.
Dr. David Wilson, Program Director, Health, Nutrition and Population, The World Bank chaired the session, and began with his reflections on the increasing role of self-care interventions to build sustainable health care during and post-COVID-19 pandemic. With COVID-19's disruption of health services, demand collapsing, and services flagging, we need innovative models of care pending full confidence in the safety of health services. The one silver lining of coronavirus is the impetus it has given to health providers; there have been discussions of regulatory reforms, telemedicine, digital prescriptions, and immediate policy changes in countries as diverse as the U.S and South Africa. Many in wealthier countries have turned their homes into mini primary health care centers. The virus allows us to function in a telemedicine world, and we need to find ways of exporting these self-care approaches.
Dr. Ian Askew, Director, Sexual and Reproductive Healthcare and Research, WHO, shared opening remarks. WHO issued its first Consolidated Guideline on Self-care Interventions for Health in 2019. The guideline initially focused on sexual and reproductive health and rights and will be expanded over the next few years to include various types of evidence-based recommendations in other areas of health, such as non-communicable diseases and mental health. Ian highlighted three main points concerning self-care;
Science: Major guidelines and evidence generated must be based on updated scientific research and presented in a way that allows policymakers and program managers to use it in their day to day work.
Scaling-up: National responses to the COVID-19 pandemic have accelerated the need for rapid scaling-up of self-care interventions. Key options are urgently needed to balance the availability of self-care interventions for individuals and couples, such as telemedicine. Scaling-up some self-care interventions may be a case of promoting existing care practices, e.g., hand-washing, social distancing, exercise during pregnancy; others may entail legal, policy, or programming changes.
Success: The successful scale-up self-care interventions will require coordinated partnerships among different actors within the health system and across other sectors.
Dr. Ian ended by dedicating a short film, on WHO principles of self-care interventions, to the late Dr. Peter Salama, an Australian epidemiologist who worked for UNICEF and the WHO. He was mainly known for his work at both organizations managing their responses to Ebola epidemics in Africa.
The first panelist, Dr. Manjulaa Narasimhan, Scientist, SRH/HRP, WHO, then provided an overview of the guideline on self-care interventions. WHO's strategic goals in the wake of the COVID-19 pandemic is to promote health, keep the world safe, and serve the vulnerable through UHC, better health and well-being, and protection from health emergencies. Self-care interventions, preventive or curative, offer a unique opportunity to help reach these global targets and goals. Dr. Manjulaa noted the need for interventions that can help individuals and overstretched health systems in the context of human rights, gender equality and addressing determinants of health so that we are not placing more vulnerability on individuals who need support but instead placing choice, options, and power in their hands.
Mr. Allan Maleche, Executive Director, Kelin, then provided a community perspective on ensuring human rights and gender equality principles in the implementation of self-care interventions. A rights-based approach encompasses the principles of equality, participation, accountability, non-discrimination, and empowerment. The main challenge faced by development partners funding government programs is sustainability in terms of national governments owning, funding, and taking forward self-care interventions. Another challenge is the alignment, and mitigation of self-care interventions to prevailing inequalities such as lack of access to clean water, suitable housing, education, and emergency medical treatment. Self-care interventions must incorporate essential elements of the right to health in terms of quality, availability, accessibility, and acceptability in different cultural contexts.
Dr. Azra Fazal, Health Minister, EOC Sindh, then provided a country perspective. COVID-19, a nationwide lockdown and the ensuing collapse of health systems in Pakistan, have highlighted the necessity for self-care interventions. A critical observation has been the non-compliance of people to protect themselves, partly due to lack of information and resistance to wear masks, practice handwashing, and social distancing.  How do we reach out to individuals, communities, and families to make them understand self-care interventions? Amidst cultural barriers to self-care, particularly in developing countries and among the vulnerable and marginalized, we have to design communication strategies that deliver the importance of self-care in health.
Next, discussant Dr. Sameera Maziad Al Tuwaijri, Global Lead for Population and Development, Health Nutrition and Population (HNP) Global Practice, World Bank, spoke about the operationalisation of evidence-based interventions at the project level. COVID-19 has exposed many inadequacies of health systems but also helped us to cover needed mileage and lessons learned, one being the empowerment of individuals, families, and communities. The advancement of technology has shifted the mode and place of care, from healthcare facilities to living rooms, computers, or smartphones. The self-care intervention guidelines discuss environmental, financing and economic considerations, training needs of healthcare providers, and considerations about people on the move, vulnerable and displaced populations.
After that, Prof. Pascale Allotey, Director, UNU-IIGH, noted the need to be cognizant of rapidly evolving contexts and to future-proof developments in self-care, in order to strive to do better. The framework of self-care interventions demonstrates a thoughtfulness of the needs of individuals (demand-side) with the realities and ethos that we expect and require from the places of action (supply-side). For these two sides to advance to equality services, there needs to be active and mutual listening, not only on the problem but the causes of the problem, such as toxic environments, the lack of opportunities, inadequate or abusive health services, and lack of redress when human rights violations occur. COVID-19 has laid bare the many chasms in our health, welfare, and education systems, and public goods. Multiple inequalities intersect and underline the need to confront racial discrimination, gender inequality, and misogyny, and xenophobia directed against migrants. Self-care interventions give us an entry point to extend our responsibility and obligations to thinking differently about the outcomes we aim to achieve in public health, particularly during the pandemic.
Last but not least, Rt Hon Helen Clark, Former Prime Minister of New Zealand and Administrator of UNDP, Board Chair, Partnership for Maternal, Newborn & Child Health (PMNCH), weighed in her comments. In the context of COVID-19, self-care in terms of physical distancing and staying home during lockdowns and post-lockdown is vital in stopping transmission, but not viable for marginalized communities that depend on daily wages. Self-care interventions need to be backed by adequate social protection. The second aspect is the ability to do the self-testing/medication/management prescribed in the WHO guideline. For effective self-care, individuals need information, awareness, and continuity of supply. While self-care seems to by-pass traditional health service provider-user relationships, adequate self-care is not feasible unless health actors are held accountable for empowering individuals and communities to adapt to self-care.