2013•04•05 Kuala Lumpur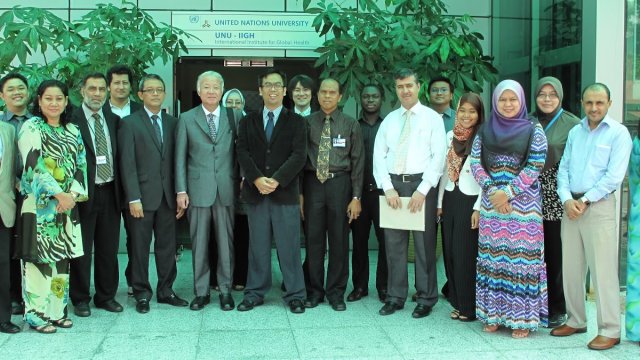 On 5th April, 2013, Prof. Kazuhiko Takeuchi, the Senior Vice-Rector of UNU and Director of UNU-ISP visited UNU-IIGH as part of his trip to Malaysia, after attending the Sustainability Science Workshop.
He was received by UNU-IIGH Research Fellow, Prof. Dr. Jamal Hisham Hashim and greeted by other Research Fellows and all our support staff.
Prof. Jamal commenced the meeting by presenting an overview of UNU-IIGH's history, activities and projects, as well as the institute's future plans. Further presentations were also given by Dr. Atsuro Tsutsumi, Dr. Nurhizam Safie and Dr. Zafar Ahmed, in relation to the programmes of related thematic areas.
After the presentations, Prof. Takeuchi shared with us the most recent developments in UNU and UNU-ISP. He stressed on the importance of UNU-IIGH's collaboration with our host government (Malaysia), and also reiterated that UNU-IIGH should continue collaborating with other UNU Institutes and UN agencies, so as to enable the realisation of the Millennium Development Goals (MDGs).
An active discussion followed between Prof. Takeuchi and the staff of UNU-IIGH. Prof. Jamal concluded the meeting by presenting a gift to Prof. Takeuchi. We then parted for a photo session and some light refreshment.
[picasa feed="https://picasaweb.google.com/data/feed/base/user/107489449396495456729/albumid/5868469628027851809?alt=rss&kind=photo&hl=ru" /]