2013•12•01 Shah Alam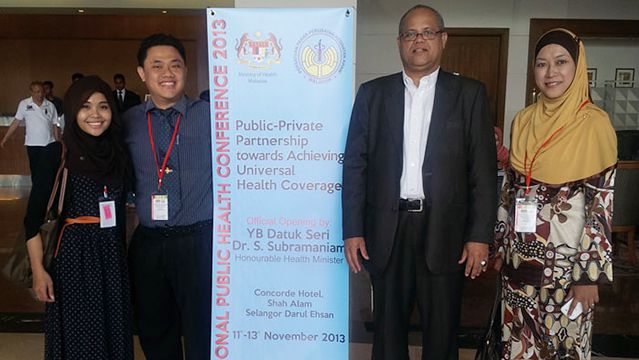 On 11–13 November 2013 around five hundred health professionals in the field of public health, government officials, members of NGO and academe across the country gathered in Concorde Hotel, situated in the heart of Shah Alam Selangor to participate in the 7th National Public Health Conference 2013.
The Public Health Conference, now in it's seventh year, was organized by Public Health Physician Association Malaysia, the Ministry of Health, Academy of Medicine Malaysia and twelve local universities. This year's event theme is "Public-Private Partnership towards Achieving Universal Health Coverage".
The main objective of the conference was to discuss ways to enhance partnerships between public and private sector in achieving universal health coverage. The Honarable Minister of Health Malaysia, Dato' Seri Dr S. Subramaniam officiated the opening of the conference. In his Opening Speech, the Honarable Minister stressed the important role of public health specialists play in planning and providing effective preventive and promotive health services that could enhance the efforts to achieve universal health coverage. The keynote address was given by YBhg. Datuk Dr Noor Hisham bin Abdullah Director General of Health, Malaysia.
Prof. Syed Aljunid, Senior Research Fellow of UNU-IIGH, who is also the Chairman of the Organising Committee of the conference, presented a paper on "Optimizing Health Care Resources for Universal Coverage in the Health Care Financing Symposium.
Two other postgraduate students of UNU-IIGH also presented their papers in this Conference. Ms Siti Athirah Zafirah, a PhD candidate in UNU-IIGH presented a paper on " Coding Errors and its impact on implementation of casemix system in Malaysia". Ms Noraita Tahir, a Master of Medical Science candidate presented a paper entitled " Economic Burden of Noise-Induced Hearing Loss in manufacturing industries in Malaysia".