2013•07•06 Kuala Lumpur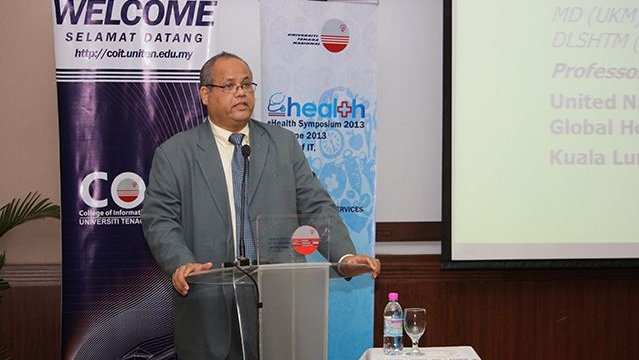 "e-Health: Real Solutions or Problems for Developing Countries?" was the title of the paper presented by Professor Dr. Syed Aljunid, UNU-IIGH Interim Director and Senior Research Fellow, at the e-Health Symposium held at the College of Information Technology, Universiti Tenaga Nasional, Malaysia on 26th June 2013.
The theme of the symposium was 'Revolutionizing Health Care – Delivering Health Services The Smart Way'. Professor Dr. Syed Aljunid officiated the event and Dr. Nurhizam Safie, UNU-IIGH Research Fellow on IT in Health, also participated in the symposium.
In his keynote paper, Professor Syed Aljunid highlighted the the importance of e-health as an enabler to support developing countries to achieve Universal Coverage. He also stressed the importance of research and development to evaluate the outcome of e-health projects since many such projects failed to achieve the intended objectives in developing countries.
The roles played by UNU-IGH in building health human resource capacties and developing softwares on casemix system and health information system based on open source technology in low income countries was deliberated in his keynote address.
In addition to the the keynote session, intern of Dr. Nurhizam Safie, Naima Omar presented her paper in the symposium track. The title of her presentation was 'Conceptual Modeling of Patient Management System: Malaysian Public University Health Center'.
The symposium was organised by Centre for Information Governance, Management and Audit and Department of Information Systems, at the College of Information Technology, Universiti Tenaga Nasional. It was attended by around 150 participants, mostly researchers, postgraduate students, government officers and ICT consultants.