2013•06•19 Kuala Lumpur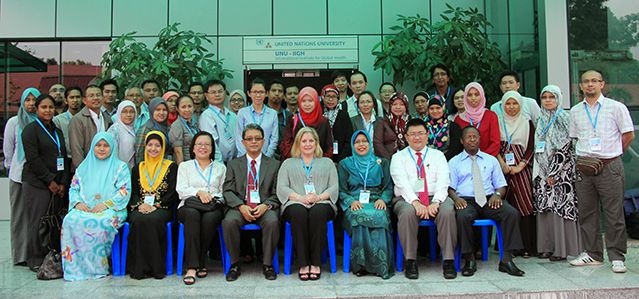 On 17-19 June 2013, UNU-IIGH together with AECOM, a leading global environmental consultancy firm, organized a Short Course on Health Risk and Impact Assessment for Environmental Applications, which was held at the UNU-IIGH Building, UKM Medical Centre, Kuala Lumpur.
Seven distinguished speakers led by UNU-IIGH Research Fellow, Prof. Dr. Jamal Hisham Hashim, from both public and private institutions delivered lectures on a variety of environmental topics with relevance to health risk and impact assessment.
Speakers also included Prof. Dr. Zailina Hashim (Universiti Putra Malaysia), Assoc. Prof. Dr. Mohd. Hasni Jaafar (Universiti Kebangsaan Malaysia), Dr. Lisa Bradley (AECOM US), Mr. Ng Hon Seng (AECOM Malaysia), Pn. Nur Syuhaida Mohd. Shamsudin (Department of Environment, Malaysia) and Mr. Chiew Teck Wee (EnviroSolutions and Consulting).
A total of 47 individuals participated in the course including environmental researchers, consultants and officers from government regulatory agencies.
Apart from lectures, the programme also included hands-on exercises on health risk assessment, risk characterization and conceptual site modelling, as well as demonstrations of exposure monitoring equipment, which are essential tools for the conduct of health risk and impact assessment for environmental applications.