2018•07•19 Kuala Lumpur
4/6/2018 – Malaysia is a success story of growth and development in many ways, according to Dr Amjad Rabi, the Deputy Representative & Senior Social Policy Specialist of UNICEF Malaysia. The country's success in reducing its poverty incidence from 50% pre-independence to less than 1% is almost unheard of. The laudable improvement in maternal and infant mortality also makes Malaysia a model for health care development and delivery.
However, it is the missing data in these glowing statistics that have the strongest effect on the country's policy outcome. For instance, billionaires can distort the average income of a country by artificially depressing the number of those who live with poverty. It is vital to zoom down to the aggregates to uncover the reality, as Dr Amjad explained how the intersection between vulnerability and access to needs and fundamental rights exposes the different dimensions of vulnerability. For instance, a non-citizen who is sick and poor will have a harder time getting access to healthcare compared to a citizen of Malaysia who is sick and poor.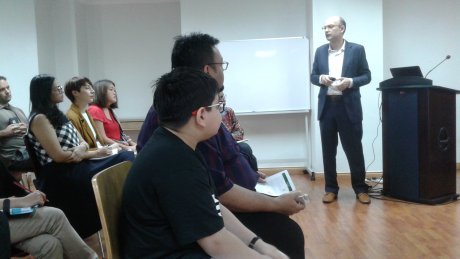 Dr Amjad Rabi addressing the audience. Photo: UNU-IIGH. Creative Commons BY-NC 2.0
He illustrated how national averages masks disparities through the example of education deprivation in Egypt. Although the figures improved from 7.8% in 2000 to 3.2% eight years later, 28% of children with disabilities are deprived of education. Analysing the data with parameters such as gender, maternal education, and location paints a better picture of the reasons for these deprivations and how it can be fixed.
In Malaysia, assessing vulnerable population is difficult when the focus has been in reducing absolute poverty rather than addressing relative poverty. Poverty line is the minimum level of income deemed sufficient to support the basic needs of a family that comprised of two adults with three children. The poverty line in Palestine is set at RM 2,548 per month while in Zimbabwe, the line is RM 2,200 per month. Malaysia's poverty line of RM 1,056 per month, distorting the reality of poverty in Malaysia; 21.1% of children and 16.3% of adults in Malaysia are affected by relative poverty which means the current poverty indicator ought to be reviewed.
He shared the findings of the "Children Without" study that was conducted by UNICEF in low-cost flats in Kuala Lumpur which found that the relative poverty among the urban poor was 99.7%. Among the children up to age 6 that was sampled in the study, 17.7% demonstrated stunting, which is an indicator of poor nutritional status and ironic when Malaysia is considered the fattest country in Asia. More than half of the 5-6 year olds did not attend pre-school, an important indicator of future education success, and nearly half of the households with children less than 5 years old have no toys. Although these households are eligible for the Bantuan Rakyat 1 Malaysia (now Bantuan Sara Hidup Rakyat), 40% of them did not receive this assistance; poverty targeting is difficult which is why UNICEF recommends targeting assistance for children, mothers and the elderly.
He noted that although the children sampled in the study had what some would say an unfortunate start in life, the older children were found to perform better than the national average in mathematics and science. This shows that the education system is supportive of these children's academic development although they may not have a place to study when not in school, no books and some even expressed not feeling safe in their home environment. Thus, Malaysia's success is also driven by the success of its education system that contributed to uplifting the people out of poverty.
UNICEF recommended several policies to address the situation of child poverty through taxes on sugar-sweetened beverage (SSB), which is a known contributor to childhood obesity and chronic morbidities in the population.  More than 28 countries worldwide have begun taxing SSB; Dr Amjad elucidated how the revenue from SSB can be used to support the universal child care allowance, nutrition and maternal leave, and creating safe social spaces for school-aged children. He praised the Government's measure to establish Amanah Dana Anak Malaysia 2050 (ADAM50), a form of social assistance for children born in 2018.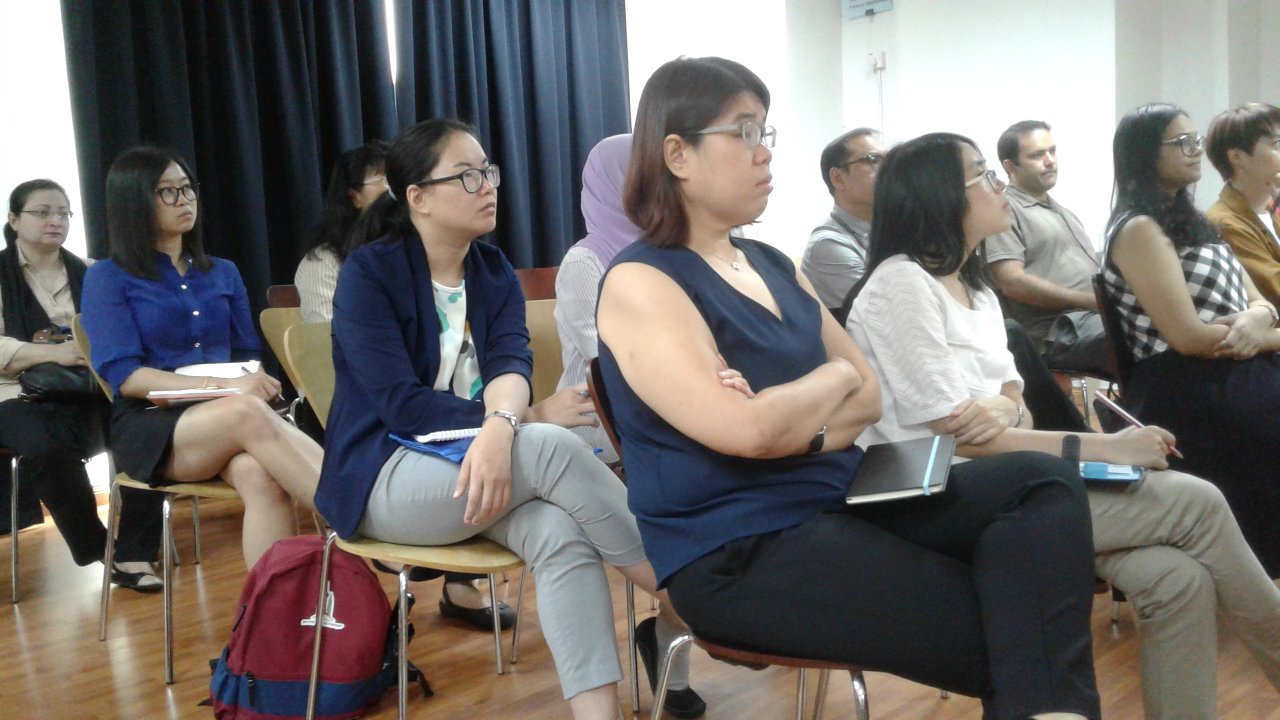 Childrens' issues will always garner rapt attention. Photo: UNU-IIGH. Creative Commons BY-NC 2.0
Dr Amjad ended his talk with how consolidating poverty eradication with universal health coverage can contribute tremendously to social protection, which makes up more than half of the 17 Sustainable Development Goals. During the Q&A session, he was asked why the Children Without study did not include non-Malaysians, he explained that UNICEF wanted the study to underscore the need for the Government to address this issue for its own citizen; later it may be extended to non-citizens sampling when the study is repeated in Sabah. After addressing several more questions, he concluded that it is time for Malaysia to shift from the charity model towards developmental model when designing the social safety net, thus targeting the assistance towards children, maternal and elderly care.
Dr Amjad's slides for the talk can be found here: Equity Focus by Amjad Rabi.