January 20, 2017 Kuching
As the effort to implement the 2030 Agenda for Sustainable Development intensifies, transdisciplinary engagement has taken an ever-more-central position. Whether in the guise of co-design/co-production of knowledge, evidence-based action, or the knowledge-policy interface, there a strong recognition of the need to more effectively bridge sectors and connect knowledge producers to decision-makers.
UNU-IIGH's SCHEMA project aims to foster transdisciplinary engagement and complex understanding for healthier Malaysian cities, using systems thinking and place-based methodologies. From 10-12 January, SCHEMA gathered a group of 34 representatives from government, academia, community groups and civil society in Kuching, Malaysia, to learn new skills, share experiences, and build new cross-sector collaborations. Attendees included 19 Malaysians representing 16 different organisations, plus a diverse set of international researchers and policy makers. The workshop focused thematically on the potential for nature-based infrastructure to improve urban health and sustainability outcomes.
The workshop was co-organized by UNU-IIGH and the Sustainable Places Research Institute at Cardiff University, together with two local partner organisations: the National University of Malaysia (UKM) Institute for Environment and Development (LESTARI) and the Penang Institute. SCHEMA is funded by a British Council Newton-Ungku-Omar Institutional Links Grant. A new SCHEMA workshop is planned for late 2017, and UNU-IIGH welcomes Malaysian researchers and other urban stakeholders to join the growing SCHEMA network. For more information, please contact iigh-info@unu.edu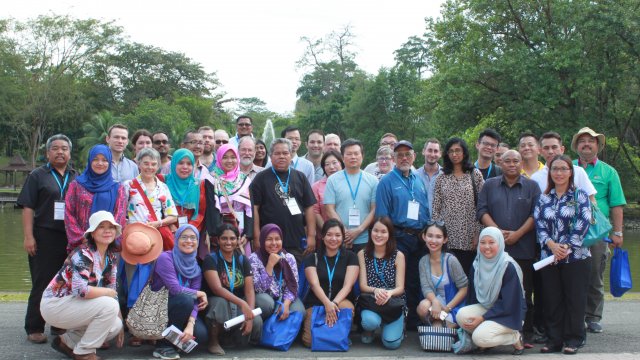 Workshop attendees. Photo: UNU-IIGH. Creative Commons BY-NC 2.0