2015•12•21 Kuala Lumpur
UNU-IIGH is proud to launch the THRIVE Arts Folio in preparation for the eagerly awaited Urban Thinkers Campus 'Health and Wellbeing in the City We Need' to be held in Kuching, Malaysia next month.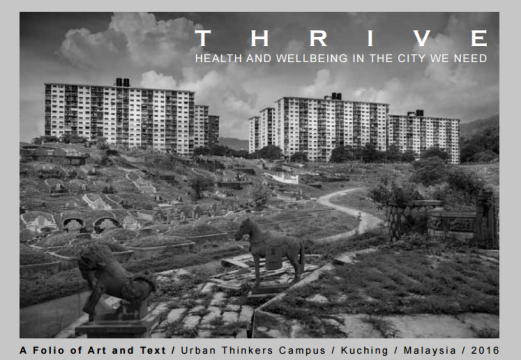 THRIVE 'Health and Wellbeing in the City We Need' is a portfolio collection of both art and text which addresses some of the myriad of ways in which the urban environment influences human health. Curated by Australian artist John Reid, the folio captures images locally within Malaysia and internationally, with a collaboration of over 20 artists, spanning different art mediums. Issues highlighted include green and healthy urban environments articulated perfectly with an image of a vibrantly coloured tree towering above a bustling street in Kuala Lumpur providing a refuge in the city. Other topics include those relating to mobility, transportation, sense of community and food, the latter depicted in the photograph of Penang's, seafood market, with a plethora of fresh fish in full display.
Whether intricate illustrations or a simple candid shot of the Kuala Lumpur skyline on a clear and haze filled day, the objective is to communicate messages about health and wellbeing in the city in a dramatic visual way. A platform to stimulate discussion, where words are not necessary as all participants and stakeholders, regardless of language spoken can be brought together to participate. Currently, THRIVE is available to view online and a selection of the artworks will be displayed in an exhibition throughout the duration of the Urban Thinkers Campus in Kuching.