2017•12•04 Oxford
This year's forum examined inequities in technology and treatment leading to serious inequities in healthcare globally, from Tuberculosis diagnostics to preterm births. A diverse array of speakers from industry, academia and donors gathered at Rhodes House in Oxford University between 4-5 November, along with over 120 current and previous Rhodes Scholars and Atlantic Fellows, a new program endowed by Atlantic Philanthropies whose secretariat is now at Rhodes house. Postdoctoral Fellow Nicola Pocock joined the meeting alongside the Rockefeller Foundation's Natalie Phaholyothin and Apricot Forest's COO Chenhui Liu as Atlantic Fellows from the Equity Initiative. Besides the main conference program, interaction over the weekend was enhanced by mentoring sessions with senior scholars.
Inequities and discrimination have led to the exclusion of specific groups in global health. Tim Evans (Head of Population Health, World Bank) highlighted the spread of aspirations for better healthcare globally via diaspora and the ways that we actively harm vulnerable groups, including millions of children born into statelessness who are not counted in mortality statistics, and "prehistoric" attitudes to mental health which saw conditions being criminalized in some countries.
Donors including the Bill & Melinda Gates Foundation's Trevor Mundel (Head of Global Health) and Clinton Health Access Initiative's Ira Magaziner (Chairman/CEO) discussed evolving donor funding strategies in global health. The global health landscape will look very different in 10 years due to the rapid ascent of China. Lincoln Chen (President, China Medical Board) discussed what he considered a third "tipping point" in global health, following the creation of the WHO in 1951 and the Gates Foundation's entry onto the scene. China's massive infrastructure investments worldwide, notably the One Belt One Road initiative, is twelve times the size of the US post-war Marshall plan and increasingly gives China clout in developing countries. China's establishment of its own Asian Infrastructure Investment Bank, posited as a rival to the Bretton Woods post-war regime of lending via the World Bank and IMF, further emphasizes this shift in the global order with undoubted repercussions for global health. Without an immigration or colonial history which might have infused ideas about human rights in Chinese consciousness, Chen questioned whether China have the "heart" behind the economic muscle in this Sino-centric century.
Mental health was a key feature of discussions. In capacity building for mental health research in developing countries, Melanie Abas (Deputy Director, Centre for Global Mental Health, Kings College London/London School of Hygiene and Tropical Medicine) noted the pervasiveness of "pedestrian science" stemming from extensive replication of studies and validating tools in LMICs. She urged academics to push their trainees to investigate big or new ideas in their context. Similarly, Vishwajit Nimgaonkar (Professor of Psychiatry, University of Pittsburgh) urged colleagues to make a 10 year plan for capacity building in LMICs and suggested holding intensive "Grantathon" meetings for mentoring of younger investigators to write and review research proposals, in partnership with domestic donors.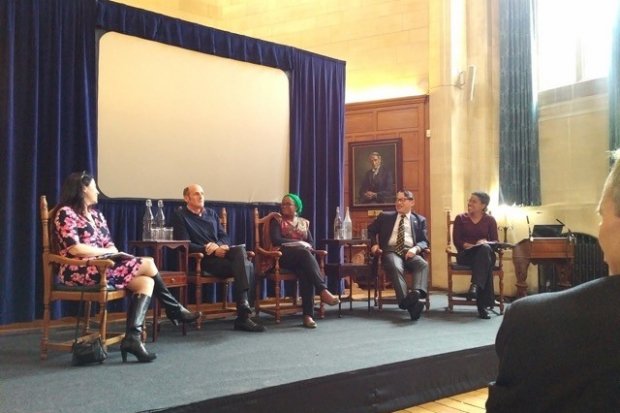 Panellists during the session on "Local and global challenges to health equity: Moving from policy to action". Photo: Nicola Pocock. Creative Commons BY-NC 2.0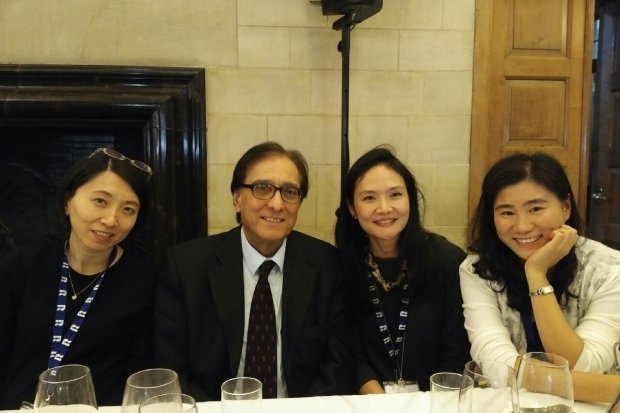 Atlantic Fellows from the Equity Initiative with China Medical Board scholar Linda Zhou and Oxford University's Sudhir Anand. Photo: Nicola Pocock. Creative Commons BY-NC 2.0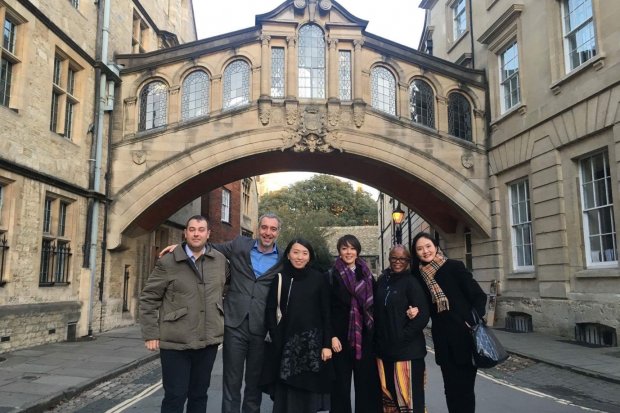 Atlantic Fellows from the Equity Initiative, Global Brain Health Institute and Tekano South Africa Health Equity Program. Photo: Nicola Pocock. Creative Commons BY-NC 2.0