2019•09•22 Kuala Lumpur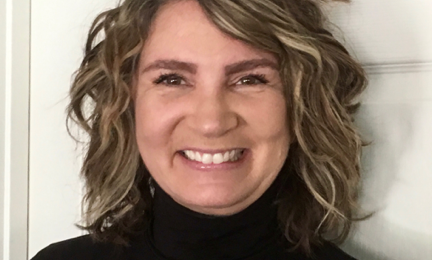 Kristin Kalla has a rich and varied history spanning 25 years in the global health and social justice scene, across multiple countries. Currently based in Malaysia, she serves United Nations University as the Chief Programme Officer at the UNU International Institute for Global Health (UNU-IIGH). Here's her story.
Compassionate, generous, and visionary, Kristin cares passionately about the rights of and improving the well-being of the marginalised, disenfranchised, vulnerable and at-risk populations.
Her childhood was deeply rooted in the memory, history, and inter-generational resilience of her Palestinian father's refugee experience, which is strongly influenced by a sense of discrimination, racism, inequality, structural violence and historical trauma.
"My ethnic identity has always been politicized, dismissed as 'non-existent' and stereotyped. Therefore, my sense of humanitarian imperative, embedded in human rights principles, has been inextricably linked to my family's experience."
All these experiences and drivers have helped shape and prepare her for a fulfilling career in global health and social justice.
A Wealth of Experience
Kristin's geographical focus has primarily been in the Global South, where she has worked extensively to strengthen capacities of ministries, and development and public health institutes. Her earliest foray into the global health and social justice scene was with global non-profit Pathfinder International, as an Associate Director of Technical Communications, in 1993.
There are few occasions in one's career where one gets to work with a visionary who inspires with their brave and innovative leadership. For Kristin, this was when she had the opportunity to work with the Honourable Archbishop Desmond Tutu as she led the development of the International Criminal Court's Trust Fund for Victims.
"I have so many fond memories from various agencies, teams and communities throughout my career. What stands out the most are the small acts of human kindness and generosity I have either witnessed or experienced, and often under very desperate conditions."
She has held key positions within multiple notable UN organisations, agencies, governments, donors and international non-profits around the world, such as UNICEF, Relief International, and the International Criminal Court, to name a few. She has also served as an advisor to multiple organisations such as AMREF, Open Society Institute, and the International Medical Corps.
Her work has been in areas such as women's and community health, livelihoods, nutrition, multi-sectoral justice and rehabilitation programmes, and gender-sensitive responses. She is also particularly adept at developing operational and programme practices in institutions whilst keeping to donor requirements, utilising strategy and business theories. She has managed grants and funds up to US$ 50 million.
Bringing UNU-IIGH to Greater Heights
Kristin's role is multi-faceted, with an overarching mandate to lead and strengthen UNU-IIGH's ability to deliver interdisciplinary programmes in global public health, and towards the achievement of the 2030 Sustainable Development Goals, through leading work with relevant partners, stakeholders, and across the UN.
She often engages in policy debates focusing on the reduction of impacts of marginalisation on health and access to health care. She emphasises the importance of considerations that lie in the intersections of gender, age, aging, migration, the role of universal health coverage, global health governance, accountability, and human rights. Her primary research focus includes gender analysis in health outcome, and social determinants of health, with a particular emphasis on strengthening decision-making capacities.
Some of her other responsibilities include supporting, leading and contributing to the 5-year strategy and work-plan; the institute's programmes, and representing UNU-IIGH in local and international fora. Because of her well-established grant management experience, she also oversees the implementation of fundraising activities, budget and financial and management duties.
Towards Better Change
Kristin notes that everyone should work more holistically and collectively, and to deepen our understanding of the complexity of human dimensions that are impacting global change.
"We are experiencing a great convergence of challenges and we need to reflect, consider and act systemically and collectively like never before. There is a vicious cycle between poverty, conflict, marginalized countries, lack of political leadership, corruption and governance failures. We are witnessing concerning developments converging such as violence, injustice, exclusion and the impact of climate change – and this means more people worldwide are affected through extreme needs".
She added that psychosocial concerns for traumatized populations, in particular for women and children, are largely unaddressed, and there are complex impacts of sexual violence on victims and communities. The need to connect families disrupted and displaced by conflict and the climate crisis are increasing in large numbers. All of these threats are interwoven and connected, yet tend to be dealt with separately in research, policy and action.
To Those who Seek To Enact Change
Kristin has some advice for those intending to work in similar fields: "I have always sought to lead by example and have benefited from the support of generous mentors along the way. So, it is very important to find great mentors who inspire you to dream more, learn more, do more and become more, and uplift you."
She also added that work experienced should be intrinsically meaningful, and inspiring to other staff. Building strategic partnerships based on shared vision, values, objectives, risks,  benefits, control, learning and joint contribution of resources is essential too.
For those intending to become managers, she suggests completing training in strategic leadership, resource mobilisation, effective communications and partnerships, knowledge management, managing for diversity, participative management, and organizational development.
"We are working towards the emerging consciousness of oneness that is central to our human and planetary survival and evolution. One of my favourite Buddhist principles is the need to take care of oneself before we help others. It seems inherently selfish to begin with yourself — but this is an important principle in life and an important reminder for anyone in service or working in the global health, humanitarian and development spheres."