2021•07•21 Kuala Lumpur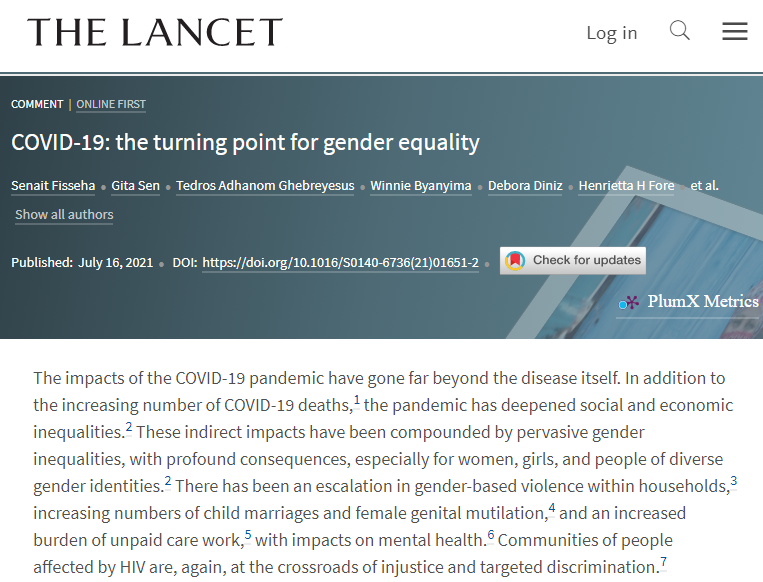 Representatives of UN agencies, the UN Special Rapporteur on the Right to Health and civil society partners, including UNU-IIGH Director Prof. Pascale Allotey, Senior Research Fellow Dr Michelle Remme, and International Advisory Board Member Prof. Senait Fisseha, issued a joint statement on COVID-19 and Gender published in correspondence with The Lancet to unequivocally support the urgent need to prioritise and address gender inequalities in the COVID-19 response and beyond. The commitments are laid out in the July 2021 commentary, "COVID-19: the turning point for gender equality".
The COVID-19 crisis has catalysed the need to drive the Gender Equality agenda forward. The commentary sheds light on the social and economic inequalities deepened by the crisis, and how these "have been compounded by pervasive gender inequalities, with profound consequences, especially for women, girls, and people of diverse gender identities."
The authors write that they "are seizing the opportunity to apply their collective knowledge and learning to focus efforts on strategies that have made change happen."
Representing UN agencies and civil society partners, the authors commit to leveraging their influence, access, and resources to make COVID-19 the turning point for Gender Equality.
They propose four commitments in their report. These include:
Reinforce and sustain institutional capacity to deliver gender equality by increasing gender expertise in health, especially at senior levels.
Obtain sex-disaggregated data from programmes and member states for priority health indicators.
Leverage the expertise and capacity of feminist civil society to support the design, implementation, and monitoring of health policies, programmes, and community-centred solutions and hold our institutions accountable to our commitments.
Tackle the structural determinants of gender inequality and the intersections with other inequities, and join forces with social justice movements to be able to do this.
The complete correspondence and commitments can be read in full at The Lancet Online First.