2017•05•12 Kuala Lumpur
On 4th May 2017, a training seminar on Climate Change and Health: Exploring the Linkages was held at the United Nations University – International Institute for Global Health (UNU-IIGH). The main objective of this seminar was to expose participants to various issues related to climate change impacts, adaptation, resilience and mitigation. The scientific evidence on the devastating impacts of climate on the environment are well established such as global warming, increase in surface and sea temperature, sea level rise and changes in precipitation. Climate change is also projected to have far-reaching effects on human health and well-being. However, this is less well documented and understood. Addressing climate change is one of the essential objectives in achieving the Sustainable Development Goals.
The main speakers for this seminar were Prof. Dr. Jamal Hisham Hashim (UNU-IIGH), Datuk Dr. Yap Kok Seng (National Project Manager for Third National Communication (TNC)/ Biennal Update Report (BUR) at the Environmental Management and Climate Change Division, Ministry of Natural Resources and Environment Malaysia), Dr. Norlen Mohamed (Disease Control Division, Ministry of Health Malaysia) and Datuk Ir. Dr. Azuhan bin Mohamed (Director General of the National Hydraulic Research Institute of Malaysia or NAHRIM). Five DrPH and PhD scholars under Prof. Jamal's supervision also presented their research findings on related topics. They were Ms. Kwan Soo Chen (Health Co-benefits from Mitigating Climate Change through Mass Rapid Transit System in Greater Kuala Lumpur), Dr. Siti Aisah Mokhtar (Environmental Risk Factors Associated with Plasmodium Knowlesi in Sabah, Malaysia), Dr. Zawiah Mansor (Prevalence and Associated Factors of Moderate to Severe Heat Related Illness among Solid Waste Management Workers in Negeri Sembilan, Malaysia), Dr. Mohd Firdaus Radi (Leptospirosis Outbreak Following the 2014 Major Flooding in Kelantan, Malaysia-A Spatial-temporal Analysis) and Ms. Noor Artika Hassan (The Impacts of Climate Change on Cholera in Malaysia). A total of about 60 participants from the academia, government agencies and private agencies attended the Seminar.
Presentations during the seminar and speakers' bio can be downloaded here.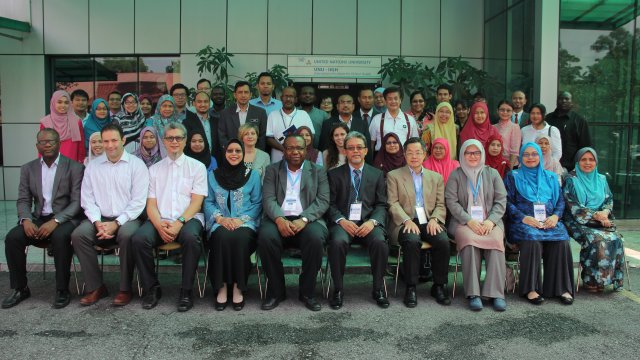 Seminar participants. Photo: UNU-IIGH. Creative Commons BY-NC 2.0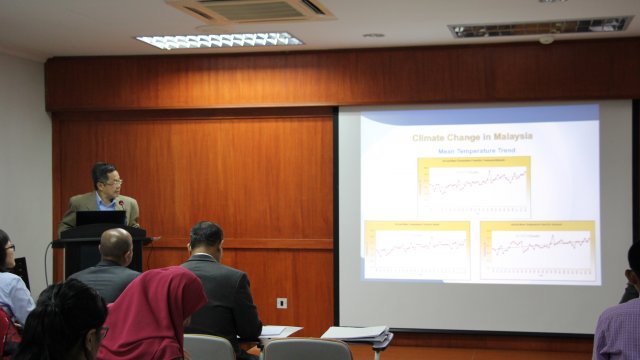 Datuk Dr. Yap Kok Seng. Photo: UNU-IIGH. Creative Commons BY-NC 2.0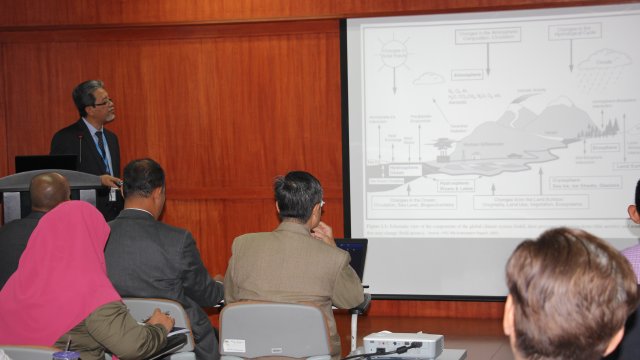 Prof Jamal Hisham Hashim. Photo: UNU-IIGH. Creative Commons BY-NC 2.0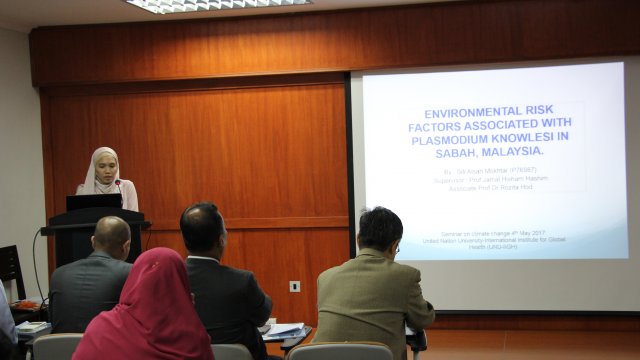 Dr Siti Aisah Mokhtar. Photo: UNU-IIGH. Creative Commons BY-NC 2.0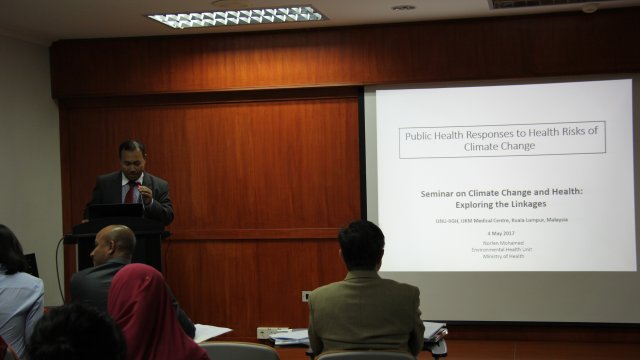 Dr Norlen Mohamed. Photo: UNU-IIGH. Creative Commons BY-NC 2.0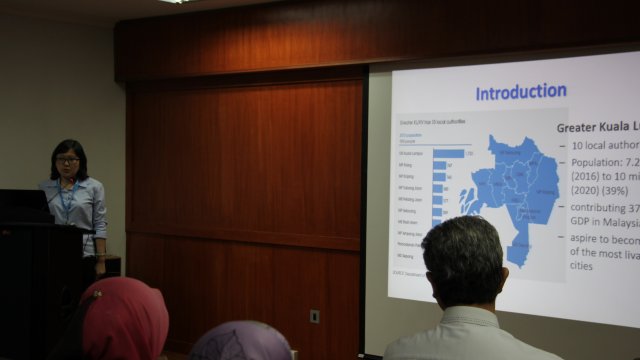 Ms Kwan Soo Chen. Photo: UNU-IIGH. Creative Commons BY-NC 2.0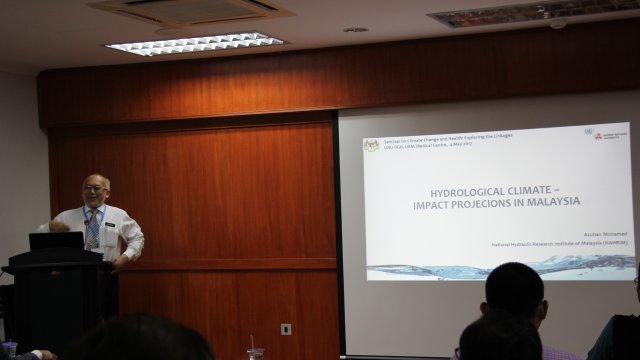 Datuk Ir Dr Azuhan Mohamed. Photo: UNU-IIGH. Creative Commons BY-NC 2.0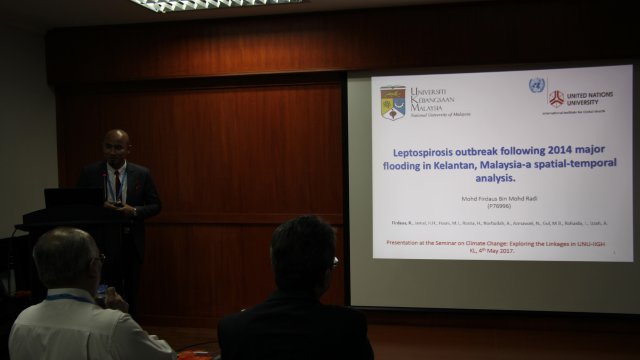 Dr Mohd Firdaus Mohd Radi. Photo: UNU-IIGH. Creative Commons BY-NC 2.0