2020•09•30 Kuala Lumpur
On 29-30 April 2019, the United Nations University International Institute for Global Health (UNU-IIGH) and the World Health Organization (WHO) co-convened a meeting at the Alila Hotel in Kuala Lumpur (Malaysia) with gender specialists from UN agencies with health-related mandates (UN Women, UNFPA, UNDP, UNICEF), as well as academia and civil society to review gender mainstreaming approaches in health. The subsequent What Works in Gender and Health – Setting the Agenda Summary Report highlights the limited progress in achieving results through gender mainstreaming in health, partly due to the chronic underinvestment in translating commitments into policy and action at the country level.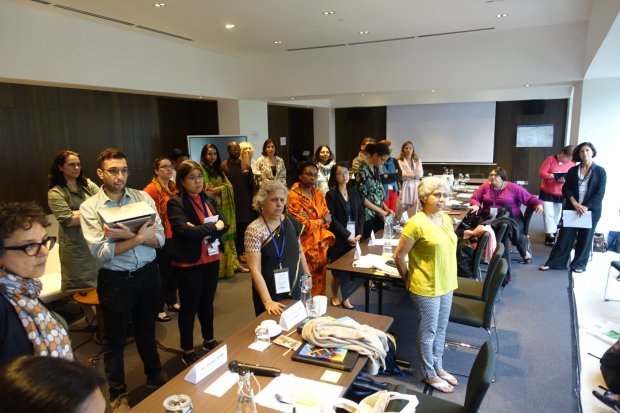 Participants of the meeting in 2019 (photo by UNU-IIGH)
The meeting statement set a forward-looking action and research agenda with four priority areas: (1) building partnerships for effective engagement; (2) consolidating evidence and transferable lessons on what has worked (and not worked); (3) generating new evidence in emerging health priority areas; and (4) investing in gender expertise, data and independent accountability mechanisms. It was agreed that a platform for collaboration and evidence generation was needed and that a proposal for a joint programme of work would be developed and resources mobilised.
The group of over 60 gender specialists across regions and portfolios reconvened on 12 May 2020 for a virtual meeting co-chaired by Prof Pascale Allotey (UNU-IIGH) and Dr Nono Simelela (WHO) to provide updates and seek inputs on the proposed programme of work, as well as share updates on several relevant research initiatives on gender and global health. In particular, the meeting discussed the operationalisation of a new platform for knowledge-sharing, evidence generation and collaboration to jointly progress the set agenda.
UNU-IIGH will continue convening these discussions and sharing updates on this joint programme of work, as part of its efforts to advance the gender equality agenda in global health policy and programming.
Read the meeting report here Summary of Alila +1 Meeting_12 May 2020