2016•08•01 Indonesia
From July 25-27, Surabaya, Indonesia hosted PrepCom3, the third and final session of the preparatory committee for the United Nations Conference on Housing and Sustainable Urban Development (Habitat III), to be held in Quito, Ecuador in October.
At PrepCom 3, UN member states negotiated toward a consensus draft of the New Urban Agenda (NUA) to be adopted in Quito. The NUA will strongly influence priorities and modalities for sustainable urban development for decades to come. This effort could not come at a more critical time, with most human beings now living in cities, and unprecedented urban impacts on global environmental, social and economic systems.
UNU-IIGH took this opportunity to launch its new publication, 'THRIVE 2: Health and Wellbeing in the City We Need,' drawing much-needed attention to the health and wellbeing of humans and the planetary systems that support them. The launch took place during an Urban Speakers Corner featuring a panel discussion by UNU researchers Uta Dietrich and Jose Siri, and the Secretary General of the Malaysian Ministry of Urban Wellbeing, Housing and Local Government, Datuk Haji Mohammad Bin Mentek. The Ministry partnered in the production of this publication. THRIVE 2 illustrates an eco-social perspective on urban health; it employs art and simple explanatory text in an effort to bridge conceptual barriers and spur new thinking. This second edition includes "People, Planet, Participation: the Kuching Agenda for healthy, just and sustainable urban development", the outcome statement of the Urban Thinkers Campus organised by UNU-IIGH in January 2016.
UNU-IIGH also hosted an exhibition with several partners, including the International Society for Urban Health and the International Council for Science's global interdisciplinary programme on Systems Thinking for Urban Health and Wellbeing. This space featured selected projects, including a new network for urban health research in Latin American and Caribbean (LAC-Urban Health), co-founded by UNU-IIGH, the Economic Commission for Latin America and the Caribbean and the Drexel University Dornsife School of Public Health.
UNU-IIGH has engaged extensively with the Habitat III process, aiming to strengthen the focus on health and wellbeing in sustainable development and promote better data, evidence-based policy, and the co-creation of knowledge for implementation. Highlights of this engagement included:
Co-organization of a global expert forum on health, sustainability and urban development ahead of PrepCom3;
Extensive participation in the work of the Researchers and Academics Partner Constituent Group of the General Assembly of Partners
Close collaboration with the World Urban Campaign
UNU-IIGH will continue these efforts as it prepares for Habitat III this fall.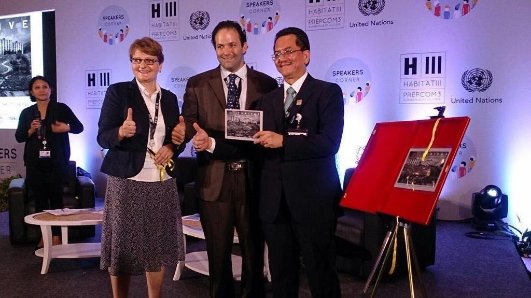 (L-R) Sharon Gil, Uta Dietrich, Jose Siri, YBhg. Datuk Haji Mohammad bin Mentek at the THRIVE 2 Launch.
Photo: UNU-IIGH. Creative Commons BY-NC 2.0