2018•11•12 Bandung
Dr Shantesh Kumar Singh, postdoctoral fellow at UNU-IIGH presented a paper at the 2nd International Conference on International Relations & the 12th APISA Congress 2018. This conference was organized by Parahyangan Center for International Studies, Parahyangan Catholic University, Indonesia in collaboration with Asian Political and International Studies Association (APISA).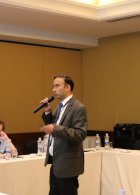 He described the health condition of Afghanistan – which provides a cohesive bond in between communities in the society – and how health Confidence Building Measures (CBM's) can assist Afghanistan government in moving towards peace-building. He continued by defining how entities such as nations or blocs, or small entities like community groups, contribute towards attaining peace in post-conflict systems, through multi-track actions at several levels, in which health plays an integral role.
He concluded with an analysis of India's role in peace-building process of Afghanistan since 2001. In last few years, global health assistance has turned into an integral part of India's soft power policy program and its significance is growing exponentially over the years. In line with its broader assistance strategy, India prefers bilateral health assistance to multilateral programs. Afghanistan appears to have received the most health assistance, both in terms of absolute cost and range of projects. As per records, Afghanistan become the second-largest recipient country of Indian aid. Being Afghanistan's 10th largest aid donor, India is widely believed to be gearing up for an even larger role in the Afghan peacebuilding efforts through health initiatives.