2017•09•28 Kuala Lumpur
Think City, a community-focused urban regeneration organisation, hosted its 8th in a series of public talks on urban issues on 26th September at the Art Printing Works campus in Bangsar, Kuala Lumpur, Malaysia. UNU-IIGH was represented by Dr. David Tan who gave a presentation, "One Weird Trick for Losing Weight (as a City)," discussing the strong linkages between walkability and urban health, especially obesity and diabetes – health issues of growing concern in Malaysia and around the world. Health promotion needs to go beyond improving knowledge. By investing in good urban design and infrastructure, we can lower the barriers to healthy living by enabling all to incorporate physical activity into our daily commutes. By advancing walking and walkability for health, we not only advance SDG 3, good health and well-being, but improve infrastructure (SDG 9), the sustainability of cities and communities (SDG 10), and reduce inequalities (SDG 10).
James Speirs from Think City and Ian Goh from Obikes were the other speakers at the Think City talk on alternatives to care-centric transport. The Public Talk was also reported in the Malay Mail Online.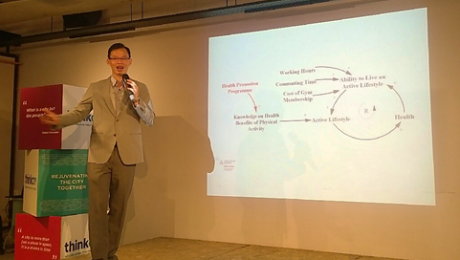 David Tan at the Public Talk. Photo: Nicola Pocock. Creative Commons BY-NC 2.0