2017•05•20 Kuala Lumpur
Pursuant to its mission as a think-tank for global health in the United Nations system, UNU-IIGH convened an international conference to address the issues, challenges and policy pathways to the obesity crisis in Southeast Asia. Held at the Faculty of Medicine, National University of Malaysia on 17 and 18 May, the conference was attended by representatives of the World Health Organization (WHO, Western Pacific Region), UNICEF Country Office in Malaysia and Regional Office in Bangkok, and scholars and researchers from universities and research institutes in Malaysia, Thailand, Scotland, Vietnam, Sri Lanka, The Philippines, and the Asia Development Bank Institute in Tokyo.
According to the World Health Organization, noncommunicable diseases (NCDs) – mainly cardiovascular diseases, cancers, chronic respiratory diseases and diabetes – are the biggest cause of death worldwide. More than 36 million deaths (63% of global deaths) result annually from NCDs, including 14 million people who die too young before the age of 70. More than 90% of these premature and preventable deaths from NCDs occur in low- and middle-income countries. In its final Report published in 2016, the WHO Commission on Ending Childhood Obesity made 6 key policy recommendations highlighting the actions and responsibilities for Stakeholders: World Health Organization; International Organizations; Member States; Nongovernmental Organizations; The Private Sector; Philanthropic Foundations, and Academic Institutions.
The conference explored these policy recommendations from diverse and multidisciplinary perspectives through the opening remarks by Dr Obijiofor Aginam (UNU-IIGH), keynote presentations delivered by Dr Jessica Blankenship (UNICEF Regional Office, Bangkok), Emeritus Professor Dr Mohd Ismail Noor (Taylor's University, Kuala Lumpur), and Dr Paul Soo (WHO Country Office, Malaysia). Other presenters included Matthias Helble (Asian Development Bank Institute, Tokyo); Henrique Gobbi Hedler (University of Edinburgh); Nurul Ain Bt Mohd Emeran (University Sains Malaysia); V. Pujitha Wickramasinghe (University of Colombo); Ruhaya Salleh (Institute of Public Health, Kuala Lumpur); Reynu Rajan (UKKM, Kuala Lumpur); Weena Gera (University of the Philippines, Cebu); Elise Mognard (Taylor's University, Kuala Lumpur);  Luong Vinh Quoc Duy, University of Economics, Ho Chi Minh City, Vietnam); Uta Dietrich (UNU-IIGH); Alia Cynthia G. Luz (HITAP, Thailand); Zafar Ahmed and Euphrasia anak Bari (University Malaysia Sarawak – UNIMAS); Rohaida Bt Ismail (Kelantan State Health Department); Kuan Pei Xuan (Clinical Research Centre – CRC, Kuching); Teh Pei Nee (Hospital Seri Manjung); and Darunee Poosanasuwansri (Thai Red Cross Society, Bangkok).
UNU-IIGH will coordinate the publication of a Policy Brief, an op ed, and Special Issue of a journal from the papers and perspectives presented in the conference to explore innovative policies to address the obesity crisis in Southeast Asia.
Conference presentations with consent can be downloaded here.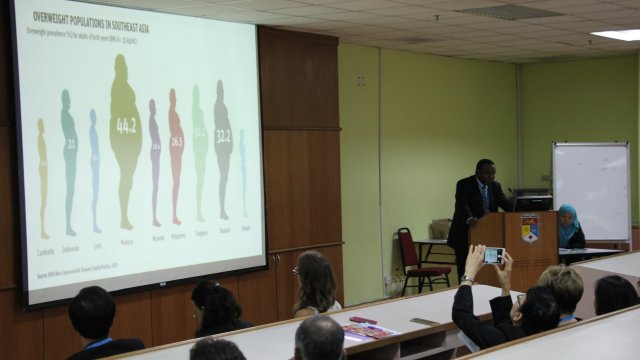 Dr Obijiofor Aginam delivering the welcoming remarks. Photo: UNU-IIGH. Creative Commons BY-NC 2.0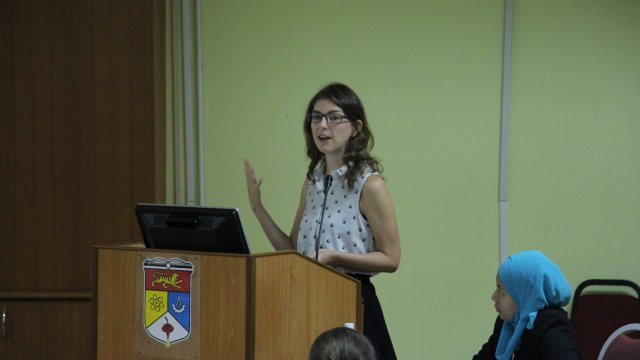 Keynote presentation by Dr Jessica Blankenship. Photo: UNU-IIGH. Creative Commons BY-NC 2.0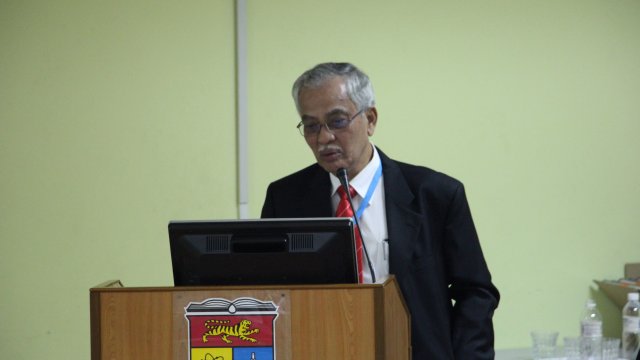 Keynote presentation by Emeritus Professor Dr Mohd Ismail Noor. Photo: UNU-IIGH. Creative Commons BY-NC 2.0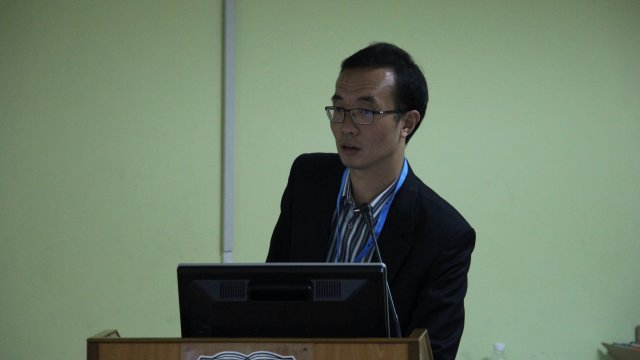 Keynote presentation by Dr Paul Soo. Photo: UNU-IIGH. Creative Commons BY-NC 2.0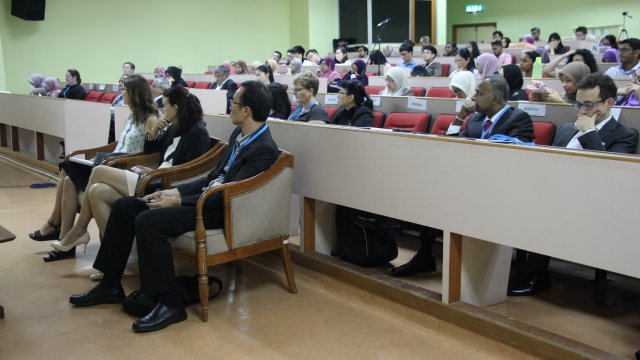 Conference participants. Photo: UNU-IIGH. Creative Commons BY-NC 2.0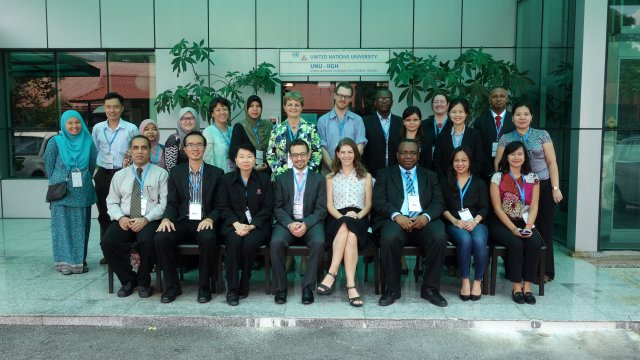 Conference speakers and presenters. Photo: UNU-IIGH. Creative Commons BY-NC 2.0