2017•12•18 Kuala Lumpur
Dr. Shantesh Kumar Singh, IIGH-Postdoctoral Fellow, shared his views on the linkages of "National Security, Infectious Diseases and Globalisation" during in-house seminar presentation on 15 December 2017 at the United Nations University-International Institute for Global Health. In very beginning, he stated that national security historically paid no attention to public health, although, biological weapons have been on the national security agenda of states since at least the prohibition of the use of biological weapons in 1925. Moreover, the worldwide perceptions of national security, which were largely limited to the defense of territorial borders and national interests. The UN Development Programme (1994) stressed to move "from nuclear security to human security," meaning safety from "hunger, disease and repression".
He illustrated that health issues are among the key challenges to every society and have political and cross-sectoral ramifications. In this regard, public health challenges have become key to national, regional and global security. The concept of national security has been changing from time to time as per the political, economic and social condition of the globe, he added. The process of globalisation has bought new dimensions to the concept of national security. He remarked that the shift in the concept of security moved from securing state to individual life and then he proceeded to discuss the inability of individual states to deal with such emerging infectious diseases.
Dr. Shantesh opined that Infectious diseases can challenge national security in many ways i. e. increased rates of morbidity and mortality, massive damage on public health and health infrastructure, political instability and economic volatility. Addressing the issue of globally spreading threat of infectious disease requires special consideration within the context of the developing definition of security in the post-Cold War era.  He concluded his talk by stating that, in changing scenario, global health governance (UN/WHO) may play a vital role in ensuring global security because state centric structures of security are ineffective in coping with the health issues. The seminar was attended by academicians, fellows and students.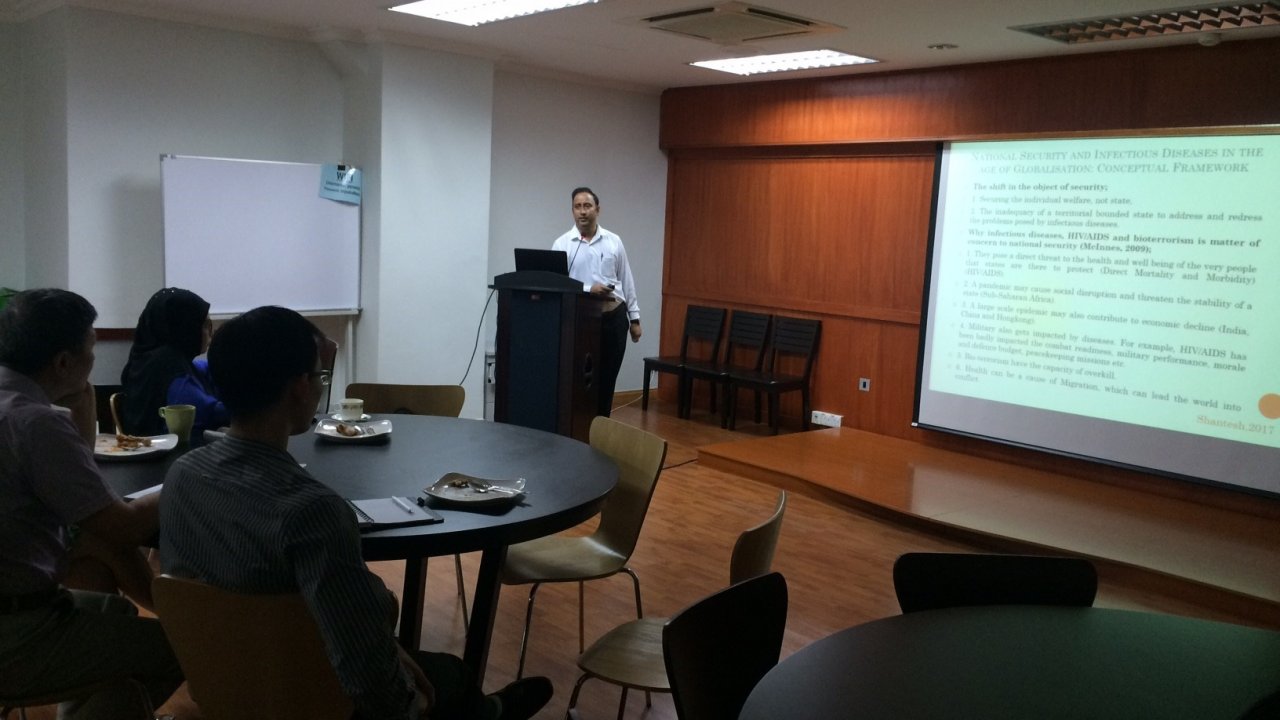 Shantesh during the in-house seminar. Photo: UNU-IIGH. Creative Commons BY-NC 2.0