2019•12•17 Kuala Lumpur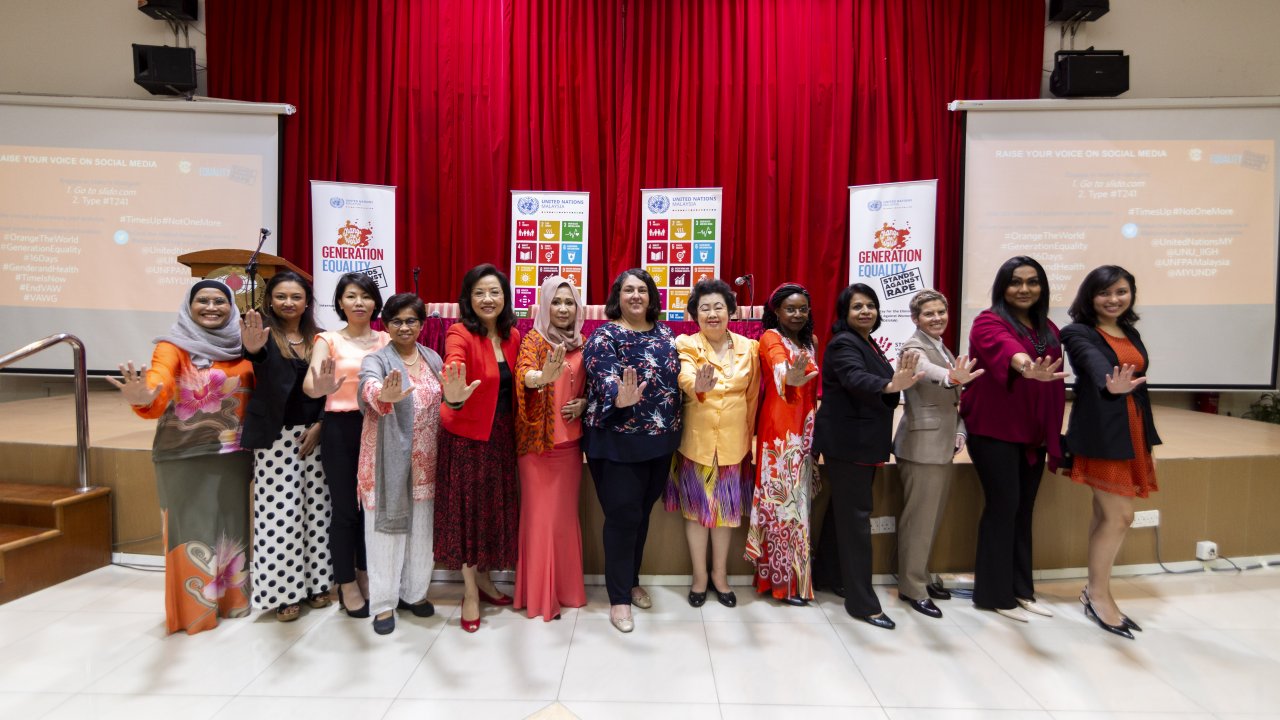 Panellists and organisers of the t out in force to eliminate violence against women. (Photo by UNU-IIGH) Creative Commons BY-NC 2.0
The 25th of November each year is marked as the International Day for the Elimination of Violence against Women, as well as the first day of 16 Days of Activism, in a bid to raise awareness to end violence against women and girls.
Focused on the elimination of sexual harassment, assault, violence and rape committed against women and girls, a forum themed 'Orange the World: Generation Equality Stands against Rape!' was organised by the UN in Malaysia on 25th November at the premises of co-organiser Women's Institute of Management. Part of UNU-IIGH's Gender and Health Seminar Series, the forum saw a crowd of approximately 120 individuals from academia, civil society, the government and the public.
The forum took a multi-pronged approach incorporating two panel sessions to address violence against women and girls (VAWG). It featured multiple speakers from various backgrounds and perspectives from the policy side, survivor experiences, service providers, women's rights, and human rights.
Efforts by the Malaysian Government
Prof. Dato' Dr. Rashila Ramli, Principal Fellow/ Professor of Political Science at UKM, gave a detailed policy-based overview of efforts by Malaysia over the past five years to eliminate sexual harassment, assault, violence and rape, with strategies guided and informed by CEDAW, Global Agenda SDG 2030, and the Beijing +25 reports.
In the works are a national roadmap for the well-being of children, the development of a sexual offender registry and a national guideline for the management of adolescent sexual health problems. Additionally, a Children's Commissioner will be attached to SUHAKAM. They have also recently piloted a Family Based Care programme in the state of Negeri Sembilan for children in need of care and protection.
However, there still remain multiple issues within the clearly insufficient Domestic Violence Act, such as a failure to recognise Intimate Partner Violence (IPV); lack of protection for unmarried individuals in domestic or intimate partnerships, and a lack of standardised implementation of said law. There is also poor accessibility and insufficiency of shelters for survivors of violence and lack of accessibility to related services in the Klang Valley.
She suggested that educating young children and their educators is key to changing society's focus from survivors to perpetrators, and to change the culture of acceptance and impunity for perpetrators of violence. She ultimately recommended that inputs by multiple stakeholders are valuable and necessary to inform future strategies in order to maximise freedom from indignity.
Listen, not silence survivors of violence
Liya Red shared her personal experience of domestic violence and abuse, encouraging fellow survivors to forgive and love themselves, and shift their perspective of their experiences from victim to survivor. She suggested that to help empower and heal survivors, sharing their stories should be encouraged, and that society can play a part by not minimising or underestimating their voices and experiences, and instead, amplify these stories so survivors and society can collectively progress.
She encouraged survivors to express their feelings and not keep them inside. She reminded them of the support available from many organisations, and to let the people close to them go if they are neither supportive nor attentive.
Treat transgenders as human beings
Prominent transgender activist Nisha Ayub spoke about discriminatory laws, rampant transphobia and a lack of social awareness of human rights for transgenders in Malaysia. She highlighted how regression in the observation and violation of their human rights through religiously-influenced law changes has increasingly negatively impacted the lives of many transgender women, which have resulted in indignity, harassment, violence, and deaths of scores of trans women in Malaysia.
She emphasised the importance of inclusivity in society, urging people to treat transgenders as equals, reminding them of the SDG2030's goal of 'leaving no one behind'. She urged the government to recognise the existence of LGBTs and see them through a human rights instead of religious lens; to listen to their issues and concerns; recognise that their existence is not a result of 'Western influence', but instead, part of humanity; and create awareness of these concepts for civil servants at every level.
Strengthening healthcare system is critical 
Prof. Dr. Sajaratulnisah Othman spoke about working towards a survivor-centred approach with a focus on the crucial role primary healthcare providers play by providing safe spaces and training for early detection of abuse in clinical settings. A recent study found that 1 in 5 women in clinics have experienced domestic violence over the past year, with doctors often failing to identify early signs of abuse, which she believes is tantamount to making practitioners complicit in the silencing of survivors of violence.
She acknowledged multiple layers of issues such as inadequate training at the clinical level, poor support for management of domestic violence at the organisational level, and a lack of primary prevention and a focus on crisis intervention at the policy level. A key point to note is that there is often prejudice in responses by providers, who view these issues as 'family' problems and therefore evade responsibility for taking action. Adequate provider training is vital to the elimination of VAWG, and she strongly urged authorities to strengthen health system leadership, health service delivery, programming to prevent VAWG, and data collection to inform effective policy-making.
Legal system
Shareena Sheriff from Sisters in Islam brought up major hurdles within both the civil and Islamic legal systems in Malaysia, and called for a paradigm shift in mindsets, values and state accountability in order to eliminate VAWG. Child marriage, Female Genital Mutilation, emotional violence, polygamy inequality and marital rape remain pervasive, protected and perpetuated within monolithic, impotent legal systems resistant to change. Survivors and victims of violence frequently cannot exact justice.
This is further exacerbated by poor attitudes by lawmakers and the community at large to acknowledge these as actual issues of violence and push for reforms of these legal systems for the safety and security of women and girls. For progress to be made, it is imperative that VAWG is treated as a national agenda of importance and supplemented by a holistic plan and efforts to particularly educate men and boys, a view echoed by Prof Dr Othman.
Human rights perspective and international legal accountability
Dr Brigid Inder gave an overview of the multitude of international efforts working towards the elimination of violence against women and children. VAW is now recognised as the most widespread human rights violation in the world. Efforts such as the 40-year-old CEDAW, the Beijing World Conference on Women and the 1998 Rome Statute of the International Criminal Court which complement each other have effected much positive change in the international movement pushing for increased legal accountability for human rights violations.
These have resulted in progress in the elimination of VAWG, protection of the rights of women and gender equality. Dr Inder noted that "ongoing implementation will continue to make a difference", and hopes that Malaysia would similarly follow in the footsteps of the people who have worked to make these efforts a reality.
Impactful change will be driven by multiple stakeholder efforts
It became increasingly clear that a lot of effort is still needed from the government and high-level leadership. These stakeholders ought to view these issues through a human-rights centred lens and acknowledge the existence of and deal with the various kinds of VAWG in the country.
Propensity for real change lies in strategic, impactful policy-based action by leaders across various government sectors. These should ideally be moulded on evidence-based successes in global policies and efforts, which will then complement the work by civil society to enact paradigm changes in attitudes, behaviours amongst the healthcare and legal systems, as well as society at large. Together, these efforts will lead to impactful change in the elimination of violence against women and girls.