2013•02•15 Kuala Lumpur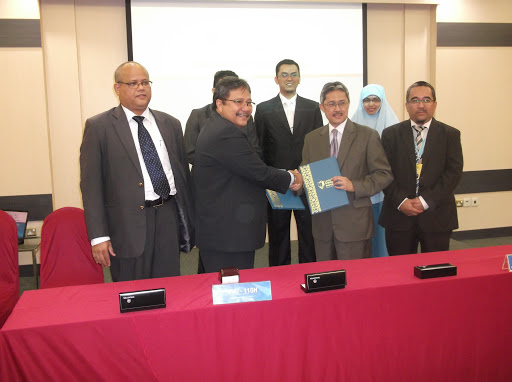 UNU-IIGH and Universiti Malaysia Pahang (UMP) signed a Memorandum of Understanding (MoU) for joint collaboration in developing the Open Source Health Information and Casemix System for UMP Student Health Center (UMP-SHC) on 15th of February 2013.
The MoU was signed by Dr. Mohamed Salleh Yasin, Director of UNU-IIGH and Prof. Dato' Dr. Daing Nasir Ibrahim, Vice Chancellor of UMP in Universiti Malaysia Pahang, Gambang, Malaysia.
The signing was witnessed by UMP's Board of Director, Tuan Syed Mohamad Hamzah Al-Junid and was attended by Prof Dr. Syed Mohamed Aljunid, Senior Research Fellow of UNU-IIGH, and Prof. Dato' Dr. Ir. Badrulhisham, Deputy Vice Chancellor of UMP.
UNU-IIGH delegates took the opportunity to visit the UMP-Student Health Centre and they were briefed by Dr. Khairul Salleh and Associate Professor Dr. Wan Maseri, Director of UMP-IT Centre.
Through this MoU, UNU-IIGH will conduct a series of Capacity Building Workshops with UMP to train academic and IT staff of UMP to develop the Open Source Health Information System in the UMP-SHC. UMP will be given access to UNU-CBG Casemix Softwares and UNU-HIS to be customised for UMP-SHC. UMP-SHC will be the first student health centre in Malaysia to use UNU-CBG/MY-DRG Casemix system to improve efficiency and quality of care.
UMP plans to integrate this Open Source Health Information and Casemix System with their university management system (KIEM UMP) and will package it together for future deployment.