2011•10•09 Hanoi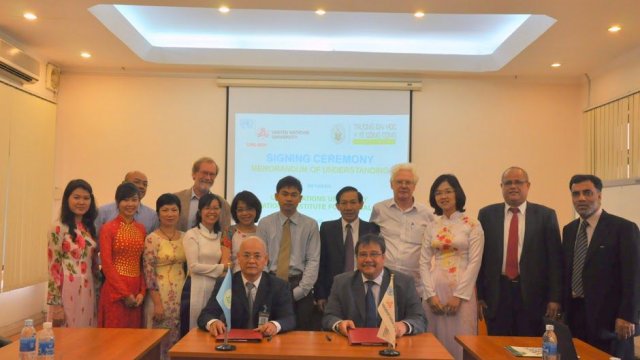 United Nations University International Institute for Global Health (UNU-IIGH) and Hanoi School of Public Health (HSPH) signed a Memorandum of Understanding (MoU) on October 09, 2011, at HSPH, Hanoi Vietnam.
The MoU was signed by Professor Dr. Le Vu Anh, Dean Hanoi School of Public Health and Dr. Mohamed Salleh Yasin, Director of UNU-IIGH. The ceremony took place at the HSPH and was attended by Senior Research Fellow of UNU-IIGH, Prof. Dr. Syed Aljunid and Dr Zafar Ahmed from UNU–IIGH. Key faculty members from HSPH led by Associate Professor Dr. Phan Van Tuong, Head of Hospital Management Department also attended the ceremony.
Dr. Ron van Konkeleberg, Asian Development Bank Consultant with Ministry of Health Vietnam and Mr. Johann W. von Krause, Counsellor in Hospital Management at Department of Hospital Management HSPH was also invited to witness the signing ceremony.
With this MoU in place, UNU-IIGH will provide support to build human resource capacity in development and implementation of UNU-CBG casemix system in Vietnam. This will facilitate the current effort of Government of Vietnam, and Vietnam Ministry of Health to introduce Health Sector Reform using Casemix system as a tool to improve quality and efficiency in health system.
UNU-IIGH, HSPH and MOH Vietnam will work together to conduct modular courses leading to Certificate in Casemix Management to health care workers in Vietnam. The parties will jointly run the modular courses as part of the curriculum in HSPH Master and PhD programme in Hospital Management and Public Health.
Arrangement will be made for PhD candidates in HSPH to spend part of their training period in UNU-IIGH to gain hands on experience in developing and implementing casemix system in developing countries.
Apart from a comprehensive training package provided by UNU-IIGH, HSPH and MOH Vietnam will have access to UNU-CBG Casemix Grouper, Clinical Coding Tool and Clinical Cost Modelling Software for training as well as deployment in all hospitals and health centres in Vietnam. HSPH is the only University in Vietnam specializing in Public Health Training and Research.
The School was founded in 2001 when public health was relatively a new discipline in Vietnam but has grown into a major institution providing research and training for the Public Health professionals in Vietnam both at undergraduate and post graduate levels.
With the signing of the MoU, it is envisaged that the UNU-IIGH can assist to develop the core capacity of the academic staff of HSPH which in turn can facilitate the implementation and sustenance of the Casemix system in Vietnam.