2017•12•14 Kuala Lumpur
From 20-21 November 2017, the Malaysian Association for the Study of Obesity (MASO) organised its biennial scientific conference in Kuala Lumpur. MASO has collaborated with an international organisation, the National Centre for Scientific Research (CNRS) France in organising this scientific meeting. The theme for this event was "Battling Obesity: Causes, Management and Preventive Actions", integrating a multi-disciplinary approach in fighting the obesity epidemic in Malaysia.
UNU-IIGH's Research Officer, Yi Yi Lee participated in one of the symposium sessions on "Integrated Health and Treatment of Obesity". She made a presentation based on the findings of her PhD thesis, which explains the association of objectively-measured neighbourhood walkability with physical activity and obesity among adults in Malaysia.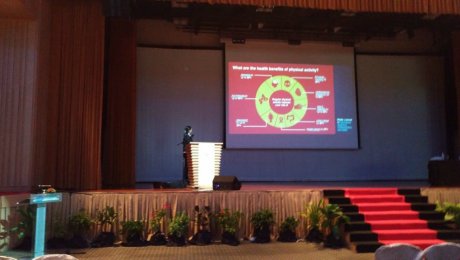 Yi Yi speaking on the various health benefits of physical activity during her presentation. Photo: Emy Huriyati. Creative Commons BY-NC 2.0