2017•06•15 Kuala Lumpur
Dr Natasha Kuruppu, a post-doctoral fellow at UNU-IIGH since 2015, presented her research work entitled Mainstreaming Indigenous and local knowledge into Health-related Climate Adaptation and SDG 3 Planning in the Pacific Islands: Challenges and Opportunities on 14 June 2017. The attendees consisted of UNU-IIGH staff, as well as representatives from NGOs and other local universities.
Dr Kuruppu talked about Small Island Developing States (SIDS) in the Pacific and its vulnerability to the projected impacts of climate change due to their special characteristics such as physical size, proneness to natural disasters, the extreme openness of their economies and low adaptive capacity. As most of the populations in SIDS live in coastal urban settlements comprising high population densities, they are particularly threatened by expected impacts of climate change and variability such as increased flooding and salinisation of groundwater resources.
Given their particular vulnerabilities, climate adaptation investments are being made through both national and international efforts to build the capacity of various sectors and communities to reduce climate risks and associated disasters. However, within the nexus of human health and climate change adaptation, there has been limited consideration and understanding of the role of Indigenous and local knowledge (ILK) in reducing the vulnerability of communities.
It was acknowledged, there is a need to look beyond a single intellectual stream and to acknowledge the value of multicultural knowledge streams in effort to address the challenges of climate change and meet the new Sustainable Development Goals (SDGs).
Dr Litiana Kuridrani from the University of Fiji, connected via Skype, to share discussion outcomes as a result of the SDG Workshop: integrating Indigenous Knowledge into Health Policies to Meet SDG 3 in Fiji which was held form 24-25 May 2017 in Suva, Fiji. The two day lab which was funded through a small grant from Future Earth and IR3S was designed to understand the transformations needed to navigate towards a set of futures that integrate Indigenous Fijian knowledge explicitly in SDG 3 planning. Various activities were designed to engage a diverse set of stakeholders ranging from government agencies, donors and private sector to envision a set of radically new pathways and associated strategies that are required to navigate towards these desired futures. The workshop was designed in collaboration with University of Fiji, Ministry of Health and Medical Services and WHO regional office in Fiji. The outputs of the workshop will be presented at the forthcoming 7th International Conference on Sustainability Science to be held in Stockholm in August 2017 and hosted by Future Earth in partnership with Stockholm Resilience Centre.
Discussions that followed, centered on the reality that communities in SIDS would prefer to continue living on the islands in the interest of preserving their traditional livelihoods and cultures. However due to progressive climate change impacts, they recognize the need to take mitigation steps including re-skilling training for living in cities whereupon they are forced to migrate to other countries, in the event that the islands are no longer viable in the future.
Please find the powerpoint presentation here.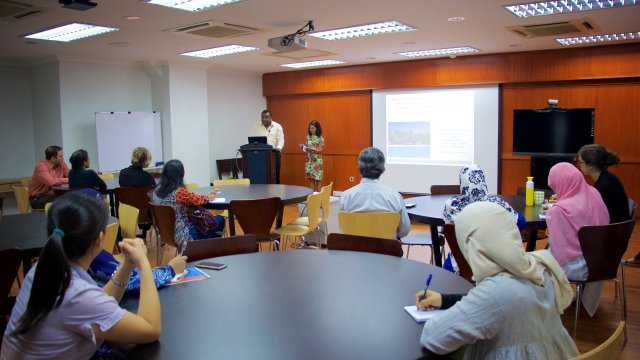 Dr Obijiofor Aginam introducing Dr Natasha Kuruppu to the attendees. Photo: UNU-IIGH. Creative Commons BY-NC 2.0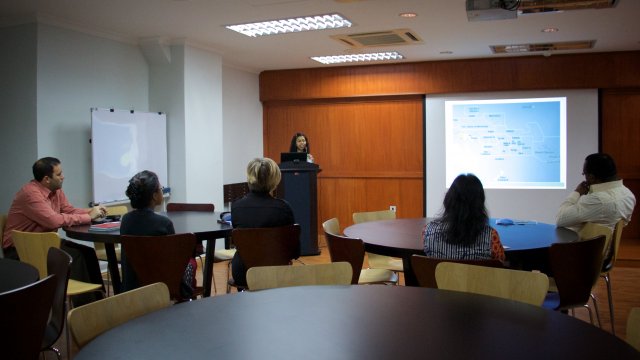 Dr Natasha Kuruppu delivering her public seminar. Photo: UNU-IIGH. Creative Commons BY-NC 2.0