2018•10•19 Shah Alam
The Islamic Medical Association's (IMAM) 20th Annual Scientific Conference focused on Healthcare for Marginalized & Vulnerable Communities. Held between 27-30th Sept, speakers included frontline health workers and specialists from all disciplines sharing experiences of providing care to refugees, the Orang Asli, children with disabilities and the urban poor.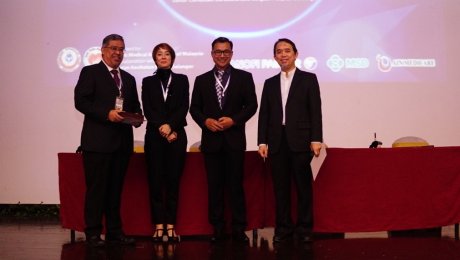 Dr. Mohd Daud Sulaiman, Dr. Jamali Wagiman and Dr. Nicola Pocock after the migrant and refugee health symposium (Photo credit: IMAM)
At the symposium on migrant and refugee health, UNU consultant Nicola Pocock gave a talk on the impact of migration on public health systems, focussing on common myths and assumptions that underpin migration related policies. For example, migrants are often assumed to bring infectious diseases to destination countries. In reality, most migrants are healthy when they arrive, but their health can deteriorate in transit and in "dirty, demeaning and dangerous" (3D) jobs or poor living conditions in destination countries.
Similarly, assumptions about migrants being a burden on health systems have proven unfounded, with studies in several European countries showing that migrants tend to under use services. Evidence from Thailand suggests that Thai patients use the public health system much more frequently at higher cost than do migrants.
Co-panelists Dr. Jamali Wagiman (Columbia Hospital Asia) and Dr. Mohd Daud Sulaiman (KPJ Damansara Specialist Hospital) spoke about maternal and child health services and NCDs respectively among refugees at volunteer clinics. Refugee women are not included in maternal mortality rates and with high hospital fees, many have high-risk births outside of facilities. For NCDs, 65% of patients surveyed at a volunteer clinic preferred to self-treat rather than seek care at public facilities. IMAM's humanitarian arm IMARET also discussed their work in Cox's Bazaar and around Kuala Lumpur with Rohingya refugees at fortnightly clinics. Sessions at the conference went on to explore health needs of other marginalized groups. Overall an enriching few days with an engaged audience of committed humanitarians and health professionals.