2017•11•29 Kuala Lumpur
Natural disasters have a significant impact on human lives and on communities as whole. According to the United Nations Office for Disaster Risk Reduction (UNISDR), about 0.7 million people have been killed with a further 1.7 billion people affected by disasters during the last ten years (1).
In order to compare between countries and to improve disaster preparedness and management, the United Nations University has calculated the World Risk Index (2). This index measures the disaster risk via four factors – exposure, susceptibility, coping capacities, and adaptive capacities. Accordingly, the last world risk report showed that disasters risk is considerably higher in inadequate infrastructure and weak logistic countries.
Beyond natural disasters, war and conflicts lead to material and human losses. Conflict weakens countries' infrastructure and can subsequently facilitate the spread of infectious diseases. Until today, the number of conflicts worldwide has markedly decreased since World War II, however, the number and intensity of violence during conflicts is markedly increasing during the last few years (3). According to the WHO, 815 million people worldwide are suffering from hunger and food insecurity; this rise of global hunger is mainly due to on-going conflicts (4).
In her in-house seminar at UNU-IIGH on "Overlapping Disasters: the relationship between natural catastrophes and conflicts" on 16 November 2017, Dr. Weiam Al-Hunaishi discussed these linkages and how conflicts and disaster can increase each other's risk, therefore, compound health crises when they occur simultaneously.
Delivered as part of the in-house seminars organised by the UNU – International Institute for Global Health (UNU-IIGH), the lecture provided insight into conflicts/disasters interface means. The lecturer Dr. Weiam presented case study examples from Sudan, Syria and Yemen.
Addressing its health issues during concurrent disaster and conflict settings requires recognition of this negatively mutually reinforcing relationship and understanding of the socio-ecological context.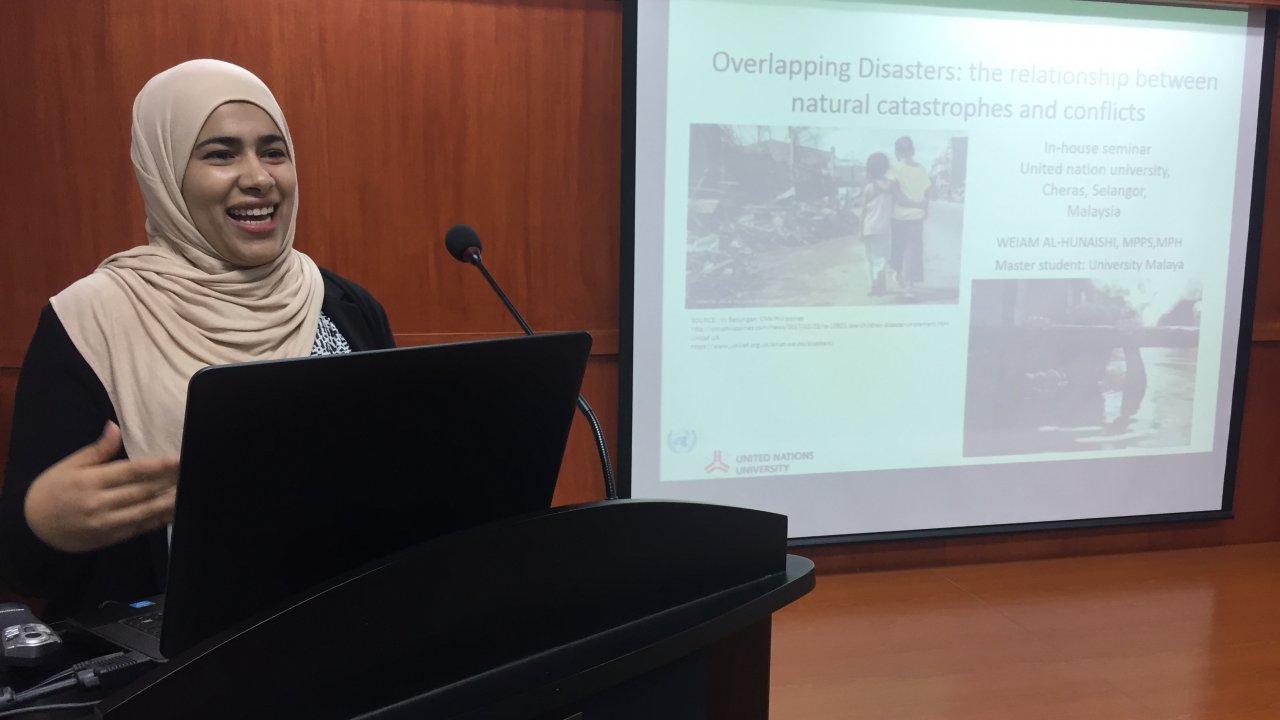 Dr Weiam delivering her seminar. Photo: UNU-IIGH. Creative Commons BY-NC 2.0
***
References
United Nations Office for Disaster Risk Reduction (UNISDR). Economic and Human Impacts of Disasters, 2005-2014. 2016; [online] [Accessed 26 Nov.2017]. Available from: https://www.unisdr.org/we/inform/disaster-statistics.
United Nations University, Institute of Environment and Human Scurity – UNU-EHS. The WorldRiskReport. 2016; Berlin: Bündnis Entwicklung Hilft (Alliance development works).
Institute for Economics and Peace (IEP). Global Peace Index 2016. 2016; Sydney, Australia. [Cited 27 Nov 2017]. http://visionofhumanity.org/app/uploads/2017/02/GPI-2016- Report_2.pdf,
Food and Agriculture Organization of the United Nations (FAO), International Fund for Agricultural Development (IFAD), the United Nations Children's Fund (UNICEF), World Food Programme (WFP), World Health Organization (WHO). The state of food security and nutrition in the world 2017. 2017.