2013•06•09 Kuala Lumpur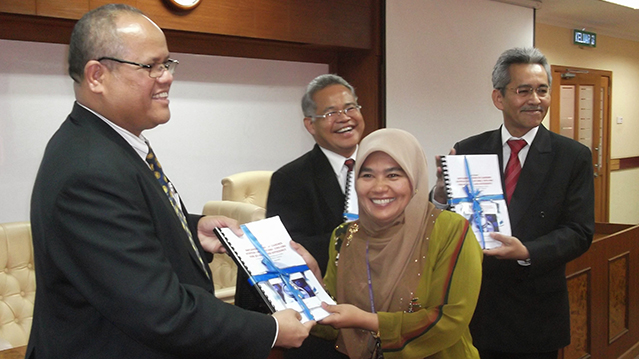 The management of Universiti Sains Malaysia (USM) collaborated with UNU-IIGH to implement the Casemix System in its teaching hospital in Kubang Kerian, Kota Baru, Kelantan in order to enhance efficiency and quality of healthcare services.
As a leader in the Casemix implementation in the developing countries, UNU-IIGH has devised a systematic methodology for implementing the Casemix system. After nearly one year of conducting a series of structured capacity building workshops, the implementation team led by Professor Dr Syed Aljunid, Senior Research Fellow of UNU-IIGH and Dr Rosminah Mohamed from Faculty of Health Sciences, USM – has successfully developed the UNU-CBG Casemix tariff based on data from more than 95,000 patients medical records.
The Hospital Universiti Sains Malaysia Casemix Tariff was officially launched in by the Vice-Chancellor of USM, Professor Datuk Dr Omar Osman whom in his official address praised the team for their efforts and commitment to support the project.
The collaborative project between USM and UNU-IIGH will be continue for the next two years and the outcome of the project will be closely monitored to ensure that the hospital will reap the long-term benefit of implementing the Casemix system. USM will also make this project one of its priorities in the Apex agenda in the next few years.
The Vice-Chancellor had also welcome other interested parties in Malaysia and within the region to visit HUSM to learn the Casemix system implementation.