2016•11•08 Quito
Habitat III, the United Nations Conference on Housing and Sustainable Urban Development, took place from 17 to 20 October, 2016 in Quito, Ecuador. For UNU-IIGH, it was the culmination of a multifaceted effort to increase the focus on health and wellbeing in the New Urban Agenda (NUA), the conference's outcome document. The NUA was adopted by 170 nations and will guide sustainable urban development in the decades to come.
In the run-up to Habitat III, UNU-IIGH facilitated an influential Urban Thinkers Campus in Kuching, Malaysia, actively participated in regional and international preparatory meetings, contributed to a WHO document positioning Health as the Pulse of the New Urban Agenda, and more.
Building on this work, UNU-IIGH led a variety of activities at Habitat III itself:
Research fellow Jose Siri also participated in an ICSU panel on "The Role of Science in Healthy Cities" with fellow panel members Trevor Hancock and Eugenio Raul Villar Montesinos (WHO), moderated by Franz Gatzweiler, Executive Director of the ICSU Urban Health and Wellbeing programme.
These efforts were well-received. In particular, THRIVE GLOBAL was praised as satisfying a need for effective engagement on healthy, sustainable urban development in languages other than English (the Kuching Statement having been translated into seven languages) and for emphasizing the role of aesthetics in urban health and the use of art to inspire new thinking in this challenging area.
Most of all, Habitat III offered opportunities to explore the use of systems approaches to improve health and wellbeing in cities through revitalized partnerships and new connections. Ongoing work at UNU-IIGH will build on these opportunities.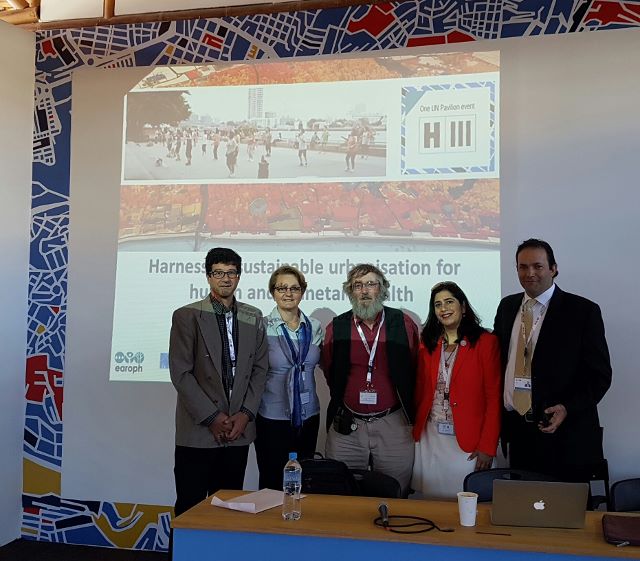 (L-R) Jose Puppim de Oliveira, Uta Dietrich, Trevor Hancock, Shipra Narang Suri, Jose Siri. Click here for more photos.

Photo: UNU-IIGH. Creative Commons BY-NC 2.0