2018•07•11 Edinburgh
The first global Migration, Ethnicity, Race and Health (MERH) congress was held in Edinburgh between 17-19 May 2018. Organized by the University of Edinburgh, the European Public Health Association and NHS Health Scotland, the congress addressed broadly themes on diversity and health.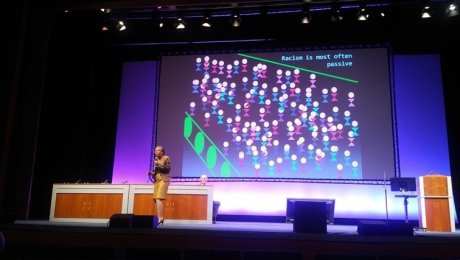 Camera Jones, former head of the American Public Health Association. Photo: Nicola Pocock
The opening plenary saw MP Fiona Hyslop present on Scotland's inclusive migrant health policies, which includes a waiver of the immigration health surcharge for migrants with valid visas (unlike in the rest of the UK where migrants are charged). Jacqueline Weekers, Director for Migration Health of the International Organisation for Migration (IOM) discussed the lack of health in the UN's Global Compact for Safe, Orderly and Regular Migration, which is the first, inter-governmentally negotiated agreement governing international migration. WHO's Health and Migration coordinator for Europe, Santino Severoni, presented tools used to monitor inclusiveness of European health policy. In other plenary sessions, human rights Professor Gorik Ooms offered a powerful message to healthcare workers resisting policies that restrict rights to health for mobile populations, assuring them that human rights were on their side. Camera Jones, former President of the American Public Health Association, gave a compelling talk on tools and stories we can use to illustrate systems of power that structure racism and inequity.
UNU-IIGH Postdoctoral Fellow Nicola Pocock participated in several sessions of the congress, presenting in sessions on exclusion, discrimination & exploitation and via a jointly organized UNU-IIGH and the African Centre for Migration & Society (ACMS), University of Witwatersrand workshop on "Racism, xenophobia and prejudice against migrants and ethnic minorities: imperatives for action for societal well-being". In this session, empirical case studies from South Africa and Myanmar attesting to migrant and ethnic minority experiences of discrimination and health workers' strategies to respond to health needs.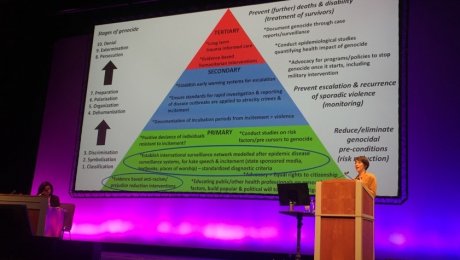 Nicola Pocock, UNU-IIGH, presenting a framework for public health professionals to engage in genocide prevention & mitigation. Photo: Sock Teng Tan
At a side event of the Migration Health and Development Research Initiative (MHADRI)  network, participants discussed (re)framing the migration and health research agenda and objectives of this new network, whose secretariat is hosted by the IOM. MHADRI aims to advance evidence-informed global migration health policies and practices (through unique international migration health researchers' collaboration, particularly increasing South-South connections and representation in migration health research) that will improve the health and wellbeing of people and communities affected by migration. Interested parties can sign up to join the MHADRI network here.
An interdisciplinary approach is essential for understanding and tackling ethnic and racial inequities in health, with priorities to eliminate barriers to healthcare and inclusion for irregular or undocumented groups, and their full participation in policy development, healthcare delivery and research.
Abstracts from the conference can be found here. The Edinburgh declaration on MERH (conference statement) can be found here.