2012•02•03 Dubai, U.A.E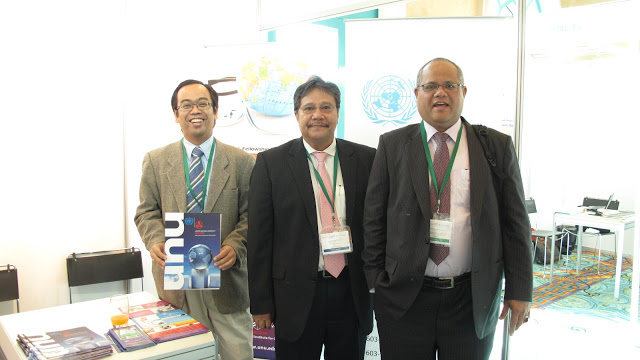 UNU-IIGH headed by Dr. Mohamed Salleh Yasin, Director of the Institute, together with Prof. Dr. Syed Aljunid, Senior Research Fellow, Dr. Nurhizam Safie, Reasearch Fellow and Mr. Hidzuan Hashim, Programmer participated in the 4th e-Health and Environment Conference in the Middle East in conjunction with the Hamdan Bin Mohammed e University (HBMeU) 2012 Annual Congress from 30 January to 2 February 2012 in Dubai, U.A.E.
The theme of the conference was "Building an Innovative and Competitive Vision for e-Health and Environment in the 21st Century". As partner institution, UNU-IIGH had done major impact in the said conference. Professor Dr. Aljunid was one of the panelist during the debate on " Patient Safety: Innovations, Cost and Quality Dilemma". Dr. Safie assisted by Mr. Hidzuan Hashim delivered a presentation on ""Delivering e-learning Strategy in Competitive e-health Sector of Developing Countries" in the e-Health in UAE and Developing Countries Concurrent Session.
UNU-IIGH team conducted the post-conference workhop on Open Source Hospital Information System (HIS): Sustainable Solution for Developing Countries. During the workshop participants from Dubai and Kingdom of Saudi Arabia were interested and would like to implement Open HIS in their respective facilities.
In addition to the above major involvement of UNU-IIGH in the conference, the Institute was given a booth to showcase and promote its significant role in the improvement of global health. Following the Workshop, Prof Dr Aljunid was invited to to visit Zayed Centre for Global Health, United Arab Emirates University in Al-Ain, Abu Dhabi on 6 February 2012. During the visit, Prof Aljunid had meetings with academic staff of the Centre to explore potential collaborative projects.
He also delivered a special lecture in the Centre entitled " Global Health and Universal Coverage: Can we meet the Challenges?" Finally, the conference was definitely the avenue to have a broad overview of the current e-health solutions used in healthcare environment and eventually in education.