2018•11•23 Chirsovo, Moldova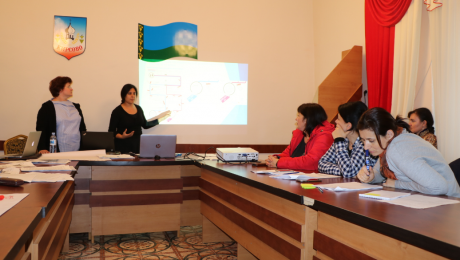 Dr Fatima Ghani delivering the presentation (which was translated into Russian) on the cost and value for money analysis to stakeholders at the Mayoralty of Chirsovo (Moldova). Photo credit: UNDP Moldova partners
UNU-IIGH is partnering with UNDP on the global project on 'Ending Gender-based Violence (GBV) to Achieve the Sustainable Development Goals' (2017-2020) funded by the Republic of South Korea. Local GBV action plans guided by a participatory planning and paying approach across sectors and stakeholders are being developed and piloted in specific sites in Moldova, Peru, Uganda, Indonesia, Lebanon, Bhutan and Iraq, through partnership with UNDP country offices. These comprehensive, coordinated and localized action plans will reflect the needs and priorities of the selected communities and will be accompanied with suggested financing options that pool resources from multiple sources.
The specific role of UNU-IIGH under this UNDP project is to lead the research and policy translation on the costs, value for money and financing of localised multi-sectoral GBV plans in 5 countries, including Moldova. Based on the evidence generated by the pilots, this project (led by Dr Michelle Remme) will synthesise the lessons learned that can be transferred to other settings and scaled up levels of implementation.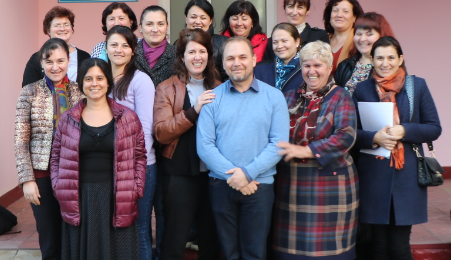 Dr Fatima Ghani (bottom left) with UNDP partners and the recently created multidisciplinary working group at the Mayoralty of Chirsovo (Moldova). Photo credit: UNDP Moldova partners
Moldova was the first pilot to be visited by UNU-IIGH (represented by Dr Fatima Ghani) to initiate the costing analysis and conduct an activity mapping and data scoping.  During this mission, Dr Ghani met with UNDP Moldova partners on 5 and 8 November 2018 in Chisinau (Moldova) and presented on the cost and value for money analysis to stakeholders at the training workshop on 6-7 November 2018 in Chirsovo (Moldova). The workshop, called Planning and strengthening measures for prevention of GBV and mechanisms of identification and referral for the protection and assistance of the victims on the community, was aimed at building the capacity of the recently created Multidisciplinary Working Group (including social workers, nurses, teachers and police) as part of the local participatory process to identify priorities and responses to GBV in Chirsovo.