2013•12•09 Kuala Lumpur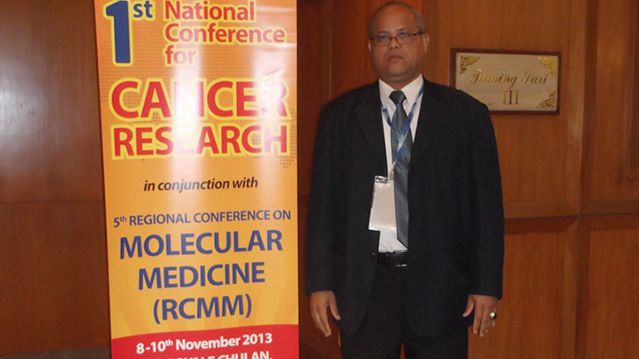 Globally in 2010 it was estimated that the world requires around USD 290 billion to manage 13 million new cases of cancer.
This was a conclusion presented by Professor Dr Syed Aljunid, Senior Research Fellow of UNU-IIGH, in his paper entitled Economics of Cancer Therapy: Can we afford to provide universal coverage for cancer patients? The paper was presented at the First National Conference For Cancer Research and 5th Regional Conference on Molecular Medicine held in Kuala Lumpur from 8 to 10th of November 2013.
In his paper Professor Aljunid shared findings from his research indicating that Malaysia will need as high as USD 28 billion or 12.5% of its annual GDP to manage common chronic non-communicable diseases including cancers by year 2020. He concluded that most low and middle-income countries would find it very difficult to find adequate resources to treat cancers. The solution lies with the preventive and promotive services to prevent and detect early cases of cancers.
The Conference was organised by the UKM Medical Molecular Biology Institute in collaboration with the Ministry of Health, Malaysian Genome Institute, Institute of Cancer Research University of Malaya UM, Institute for Research in Molecular Medicine at Universiti Sains Malaysia, Institute of Molecular Medicine and Biotechnology, Universiti Teknologi Mara and, last but not least, the Institute of Bioscience, Universiti Putra Malaysia.
The Conference brought together around 250 clinicians, oncologists, epidemiologists, molecular biologists, researchers as well as postgraduate students who came to update themselves on the current progress in molecular medicine and cancer research.