2020•11•06 Kuala Lumpur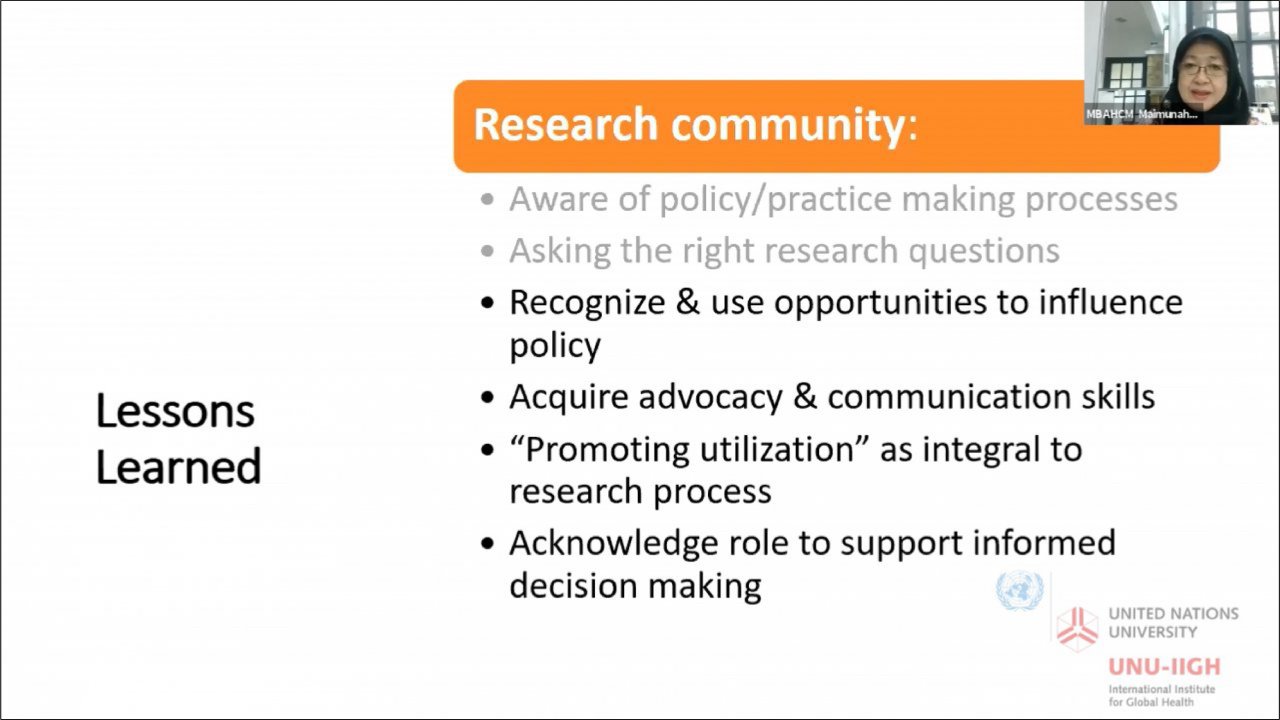 On 14 October 2020 UNU-IIGH, together with Lancaster University, hosted the first workshop in a new series for early-career professionals looking to work at the intersection of research and policy.
Prof Dato' Dr Maimunah Abdul Hamid opened the workshop with a series of reflections and lessons learned from her career as an academic and a policymaker, both within the Malaysian Ministry of Health and the World Health Organisation. She stressed the importance of understanding the complexity of the decision making process for policymakers. She also identified vital skills that researchers need to develop to work effectively with policymakers, for instance, strong communication and advocacy skills.
Subsequent presentations explored the importance of crossing interdisciplinary boundaries (Dr David Tan, Head of Experimentation, UNDP Malaysia Accelerator Labs), the need for a whole of society approach to health and to situate health research and policy within the broader socio-economic context (Dr Yonette Thomas, founding board member and former vice president of the Interdisciplinary Association for Population Health Science (IAPHS)), and the importance of adapting engagement strategies to different stakeholders including policymakers, civil society, and community groups (Dr Charles Ebikeme, Policy Officer, London School of Economics and Political Science (LSE)).
Two participatory breakout sessions accompanied the presentations. In these, attendees were able to build skills in identifying a wide range of cross-sector stakeholders, explore why it is essential to engage stakeholders, as well as discussing some of the strategies researchers and policymakers can use to engage stakeholders.
This workshop forms part of the early career professionals workshop series to strengthen capacity and to build South-South collaboration. A recording of the panel sessions and workshop report for this first event are now available. The next workshop in the series, The art of storytelling for influencing policy, will take place on 18 November 2020.  Registration for the workshop is now open.
You can also follow us on social media (Twitter, Facebook, LinkedIn, and Instagram) for updates on the next workshop in this series, and other UNU-IIGH events.