2019•04•30 Lima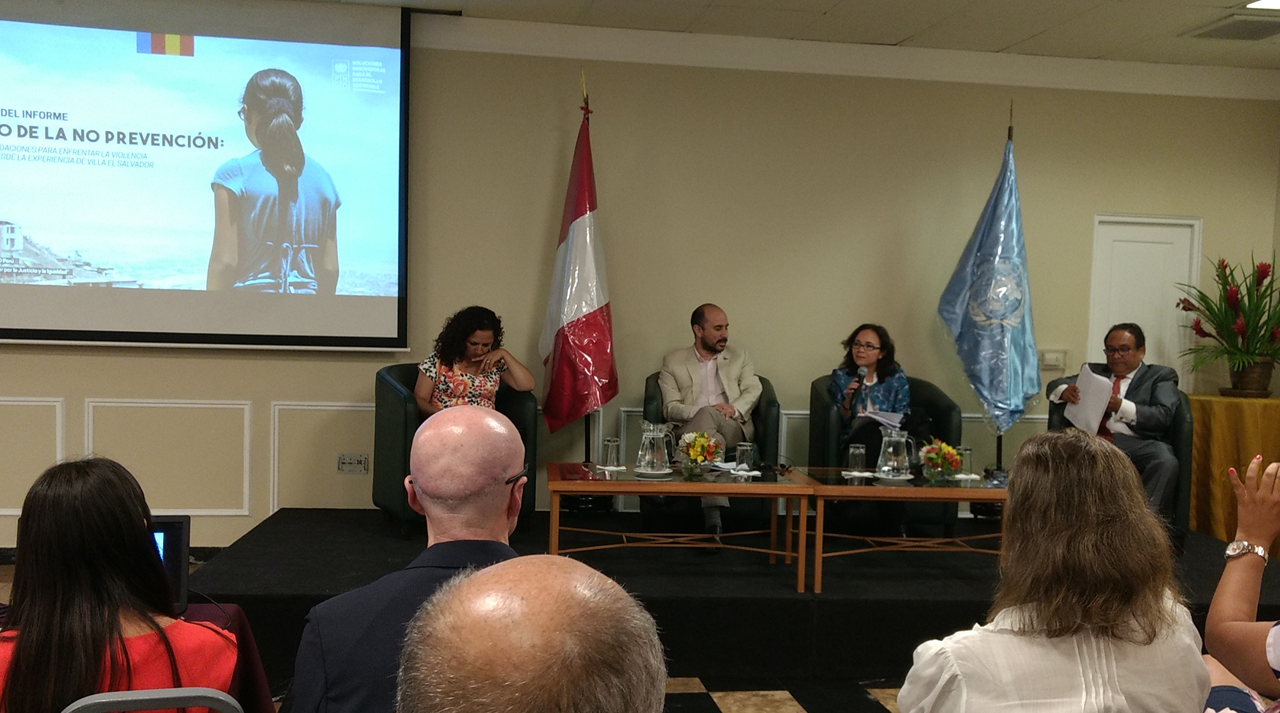 Panel at the launch of the results from the cost of no prevention study in Villa El Salvador in 5 March 2019. This launch resulted in 15 articles and 5 interviews. Photo: UNU-IIGH Creative Commons BY-NC 2.0
Peru was the second pilot for the costing analysis, activity mapping and data scoping on the costs, value for money, and financing of localised multi-sectoral Gender-based Violence (GBV) plans in 5 countries (the first was Moldova). This is part of the UNDP/UNU-IIGH collaboration on the 'Ending Gender-based Violence (GBV) to Achieve the Sustainable Development Goals' (2017-2020) global project, funded by the Republic of South Korea. Based on the evidence generated by the pilots, the UNU-IIGH team (led by Dr Michelle Remme) will synthesise the lessons learned that can be transferred to other settings and scale up levels of implementation.
During this mission, UNU-IIGH visited the localised participatory planning and paying pilot to address GBV in the District of Villa El Salvador, located in Lima (Peru) and referred to as JUSTA (Villa El Salvador for Justice and Equality).  Dr Fatima Ghani, UNU-IIGH postdoctoral fellow, joined the UNDP team in Lima and UNDP staff from the Global Project on 4-8 March 2019 in Lima. The overall purpose of this mission was two-fold:
Political advocacy to promote transformative change and increase accountability regarding the National GBV Strategy and the SDG 2030 Agenda by using the results from the cost of no prevention study conducted in Villa El Salvador, and through hosting strategic multisectoral meetings with key stakeholders, including the Supreme Judge and president of the Gender Justice Commission, the Ministry of Women and Vulnerable Populations; Congresswomen Tania Pariona and the President of the Minister's Council (led by Mr Diego Antoni and Dr Gabriela Alvarez); and
Community engagement to provide technical support with participatory processes, including linking the national pilot with the global project and developing a Monitoring and Evaluation (M&E) Framework (led by Dr Gabriela Alvarez and Dr Erin Stern) as well as initiate the costing analysis and conduct an activity mapping and data scoping as part of the UNDP/UNU-IIGH partnership to build, synthesise and communicate the evidence base on approaches to pay for localised multi-sectoral GBV responses (led by Dr Fatima Ghani).
Political Advocacy
The cost of no prevention study conducted in Villa El Salvador was fully funded by UNDP to estimate the 2018 GBV-related direct cost (e.g. health care cost of physical violence), and indirect costs (e.g. absenteeism from work, loss of income) on affected women, their children and families, their network, and their community. This study estimated that 3 in 4 women have been affected by some type of GBV in their lifetime, with 1 in 2 women affected in 2018. GBV cost USD 72.9 million in 2018 (4 times what the Municipality invests in infrastructure); 45% of which was absorbed by the affected women, 11% by households, and 44% by the community (in terms of social capital and networks which subsidise the consequences of GBV – usually a hidden cost). The cost of GBV to the Government is currently being estimated in addition to the already estimated USD 72.9 million .
Community engagement
UNDP's pilot JUSTA aims to raise community awareness and prevent GBV by engaging women and youth to promote equality, tolerance, and mutual respect through art, culture, sport, broadcasting of a community radio program and transforming public spaces through art and culture (several murals have been painted by local artists in strategic locations and several art festivals are being planned).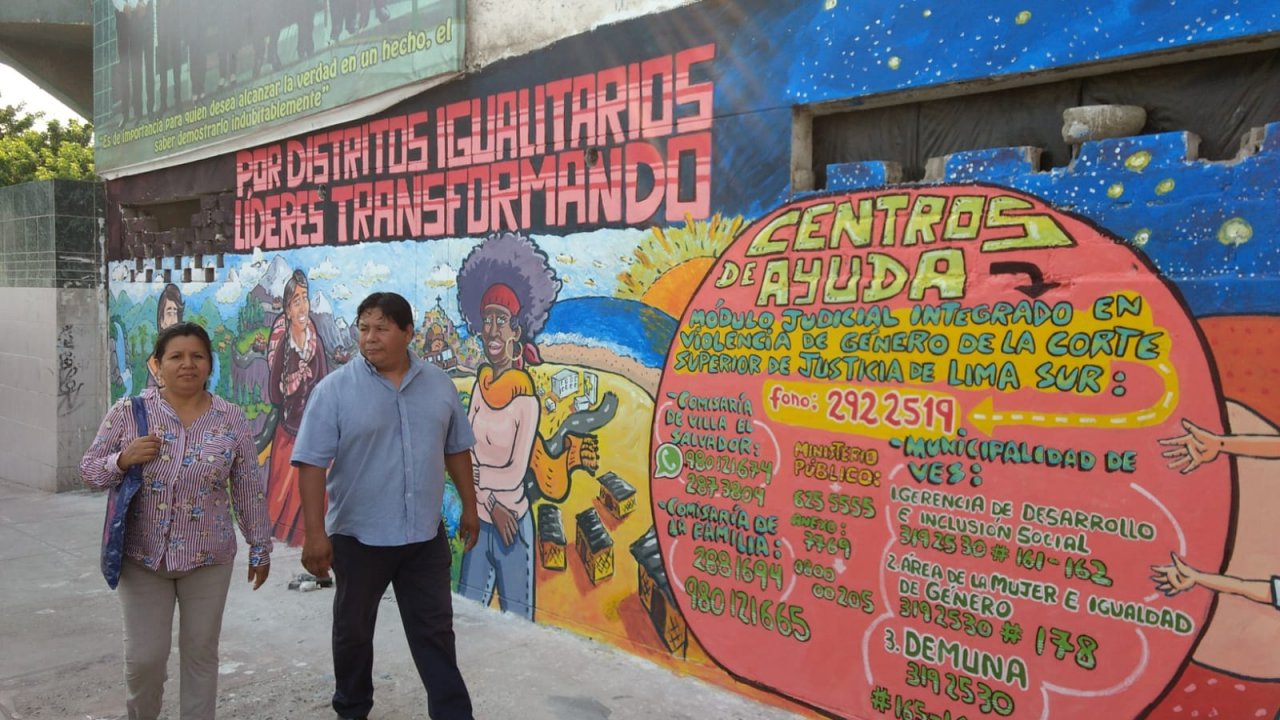 Recently painted mural displaying the emergency contact numbers for GBV services as part of the awareness raising activities being undertaken in Villa El Salvador. Photo: UNU-IIGH Creative Commons BY-NC 2.0
The UNDP team in Lima has supported the establishment of the Women's Leader Network as well as the District Instancia (a multisectoral working group in Villa El Salvador which includes community members and representatives from local authorities and service providers) who will review and update the previous GBV action plan. These groups receive training through thematic workshops to address GBV-related issues and to increase women's participation in decision making, planning and management regarding the GBV services provided in Villa El Salvador, considering their appropriateness, quantity and quality. The UNDP team is also producing tools and guides that can be used and adapted by local governments.
Next steps
UNU-IIGH will continue collaborating with the UNDP team in Lima to estimate the costs of the participatory planning process and the implementation of the localised action plan to inform the potential replication and scale-up of the participatory planning and paying approach in other localities in Peru, as well as feed into the global project's lessons learned.