2013•01•09 Jakarta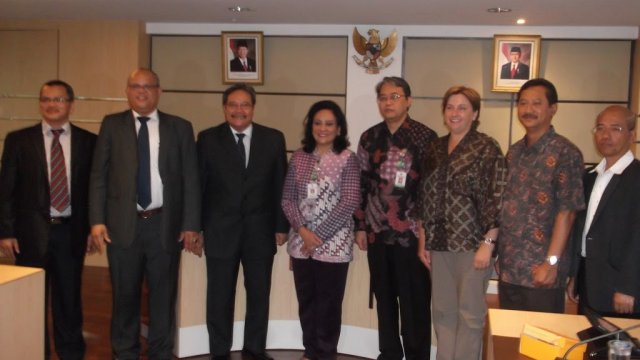 Following the successful implementation of UNU-CBG Casemix System in Indonesia, UNU-IIGH officially handed over five INA-CBG manuals to Ministry of Health Indonesia in a ceremony on 9 January 2013 at the Ministry of Health, Jakarta, Indonesia.
The manuals were developed specifically to support the use of UNU-CBG Casemix System as a provider payment mechanism under Social Health Insurance Scheme for the Poor.
UNU-CBG is currently implemented in 1,498 hospitals in public and private sector in all the provinces of Indonesia covering nearly 75 million people. The Government of Indonesia has decided that the Casemix System will be extended to cover all social health insurance programmes under National Health Insurance Programme (SJSN) in Indonesia by 2014 involving nearly 250 million people. This will be the largest deployment of Casemix System in the world.
The ceremony was officiated by Dr. Nursjanti, Secretary of Directorate General of MOH representing the Director General of Health Services Development, MOH Indonesia. Among the senior officers of MOH attending the ceremony were Dr. Bambang Wibowo, Head of National Casemix Centre, and Dr. Usman Sumantri, Head of Centre of Health Insurance (PPJK). Dr. Debbie Muirhead represented AUSAID, which funded the project.
Director of UNU-IIGH, Dr. Mohamed Salleh Mohamed Yasin, led the UNU-IIGH delegation. He was accompanied by Prof. Dr. Syed Aljunid, Senior Research Fellow and Lead Consultant for the project and Dr. Amrizal M Nur, Research Fellow.
In the opening speech, Dr. Nursjanti thanked UNU-IIGH for the support in assisting MOH Indonesia to implement the Casemix System. She also hoped that UNU-IIGH would continue to work with MOH Indonesia in the future to build human resource capacity in the area of health financing. MOH is in the process to obtain the financial support from Government of Indonesia to engage UNU-IIGH to train its staff at Certificate, Masters and PhD levels in the area of Casemix system.
Dr. Mohamed Salleh, in his speech highlighted the role of UNU-IIGH in assisting developing countries in research and capacity building. Prof Aljunid and Dr Amrizal presented the overview of the five manuals. Prof. Aljunid informed the audience that since the signing of Technical Arrangement with MOH and the Grant Agreement with AUSAID in August 2011, UNU-IIGH had conducted 13 Casemix Training and Development Workshops involving more than 1,200 health care workers in Indonesia from MOH, public and private hospitals.